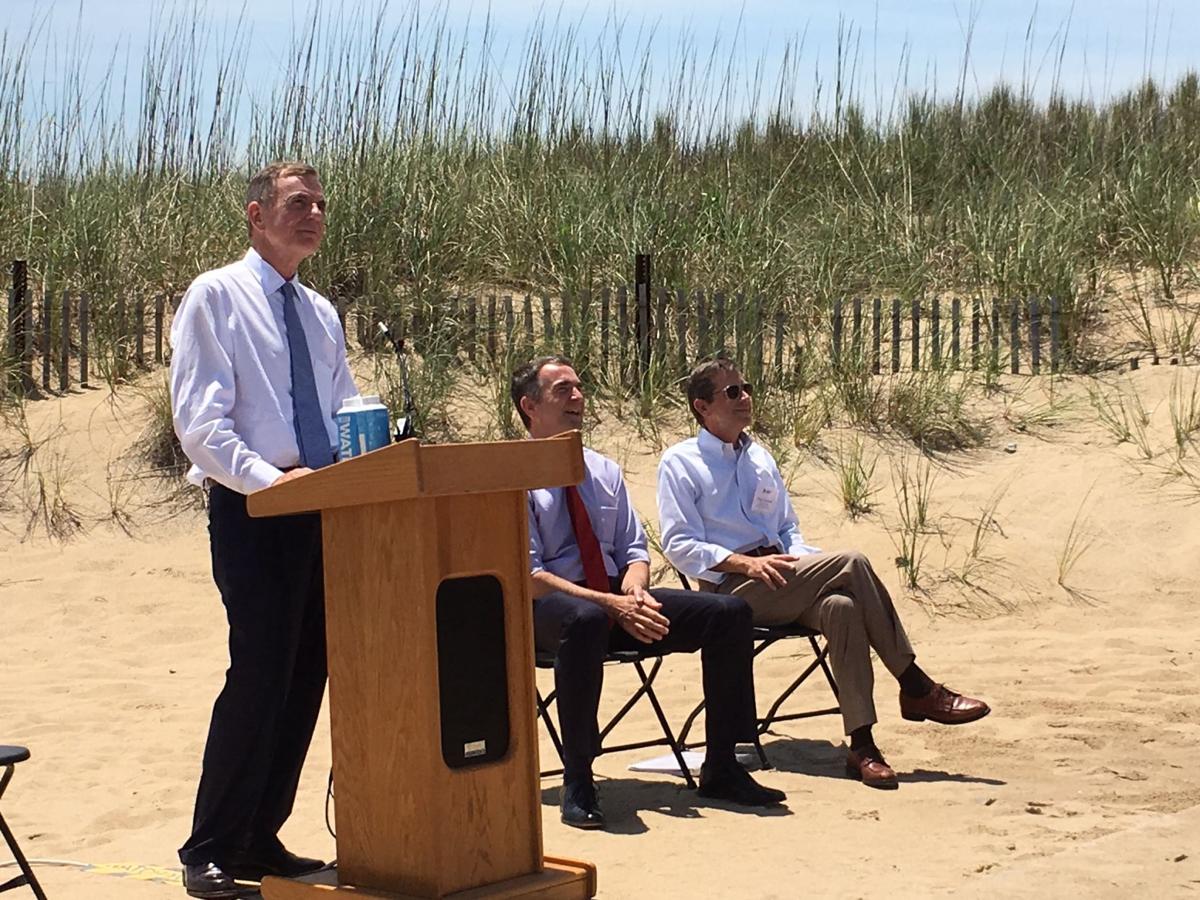 Welcome to the new version of the old Virginia Electric & Power Co.
Dominion Energy's double-barreled decision on Sunday to abandon the $8 billion Atlantic Coast Pipeline and sell its natural gas transmission and storage operations for almost $10 billion is part of a new company commitment to focus on the old business of running state-regulated electric and natural gas utilities.
"The sale of these gas transmission and storage assets further positions the company as a pure-play, state-regulated utility operating in some of the most attractive regions in the United States," said Tom Farrell, the company's chairman, president and CEO, in a call with energy stock analysts on Monday, the morning after announcing Dominion's plans.
Dominion, a holding company originally spawned by VEPCO more than 30 years ago as a way to take advantage of deregulated markets, paid a steep price for the strategic change in direction. The value of its stock fell by more than $9 a share, and its credit was downgraded by Credit Suisse on Monday.
Dominion also said Monday that it is taking pre-tax charges of up to $3.2 billion from the cancellation of the pipeline, which will save the company in taxes by reducing its earnings.
At least one analyst thinks the decisions were a smart way to take advantage of the opportunities for profit in a relatively safe utility business, as the company did when it pushed for re-regulation of the electric utility business in 2007 with a new Virginia law that allowed attractive returns on capital investments.
"In my mind, this is a continuation of that strategy," said Charles Fishman, who follows the company as an analyst at Morningstar.
Instead of being rewarded with returns for investments in natural gas-fired power plants and other traditional forms of electric generation, Dominion plans to put its money into renewable energy, including a massive offshore wind farm in the Atlantic Ocean that it launched with a state-supported pilot project off the coast of Virginia Beach.
"That's where they're going to put their money now," Fishman said. "It's unfortunate they had to take an earnings hit and a dividend cut to get there."
The Atlantic Coast Pipeline, a 600-mile project, already was more than three years behind schedule and more than $3 billion over budget. It is anathema to the environmental coalition that wants Virginia to shift from fossil fuels to renewable energy.
"Getting the ACP off the books is an important step in the right direction for Virginia and North Carolina," said Greg Buppert, senior attorney at the Southern Environmental Law Center in Charlottesville. "It clears the decks so the states can move quickly into renewable energy."
Buppert, the law center and its environmental clients played a major role in the demise of the Atlantic Coast Pipeline, which struggled to get the federal and state permits it needed for construction in the face of numerous legal setbacks in the 4th U.S. Circuit Court of Appeals.
Dominion won a high-profile battle at the U.S. Supreme Court last month for permission to build the pipeline beneath the Appalachian Trail in the Blue Ridge Mountains between Augusta and Nelson counties.
But the company and its last remaining partner, Duke Energy, still needed permits to cross national forestlands and the Blue Ridge Parkway, ensure protection of endangered and threatened species, and build a natural gas compressor station next to an African American community in Buckingham County, in the face of accusations of racism.
The decisive legal blow landed on the other side of the country, where a federal court in Montana threw out a nationwide water quality permit used to build pipeline projects across waterways across the nation. The prospect of more litigation was just too much for Dominion and Duke.
"To state the obvious, permitting for gas transmission and storage has become increasingly litigious, uncertain and costly," Farrell said in the investor update on Monday. "This trend, though deeply concerning for our country's economic growth and energy security, is a new reality."
One casualty of the new strategy is Virginia Natural Gas, once a Dominion subsidiary and now owned by a former partner in the pipeline, Southern Company Gas.
The gas distribution company, based in Virginia Beach, was committed to buying 5% of the capacity of the pipeline to help avoid a bottleneck for supplying fuel to the Hampton Roads region.
Now, the company is "in a tight spot to serve the region," said Jim Kibler, president of Virginia Natural Gas, with more than 300,000 customers from Hanover County through South Hampton Roads.
Kibler said the cancellation of the pipeline makes clear "the stark reality of trying to serve economic development in a region that really needs it."
"I understand it from a business perspective — you've got to cut your losses and move on," he said.
But Kibler said the region has 139 prospective economic development sites that depend on a reliable, uninterruptible source of natural gas like the Atlantic Coast Pipeline proposed to supply.
"We're at a critical inflection point," he said.
Environmentalists don't agree that the Atlantic Coast Pipeline was necessary to meet the needs of Hampton Roads.
"The ACP was the most expensive way to get gas to Hampton Roads," said Buppert at the Southern Environmental Law Center.
It thinks Dominion's money is better spent on energy technologies that do not emit carbon dioxide, methane and other greenhouse gases linked to global warming and climate change.
On that point, Farrell agrees. He expects Dominion to spend $55 billion in the next 15 years on "zero carbon" power generation and storage, replacing old gas distribution lines, capturing methane from animal waste and retiring coal-fired electric plants.
"We are allocating capital in a way that reflects our public environmental commitments," he said.