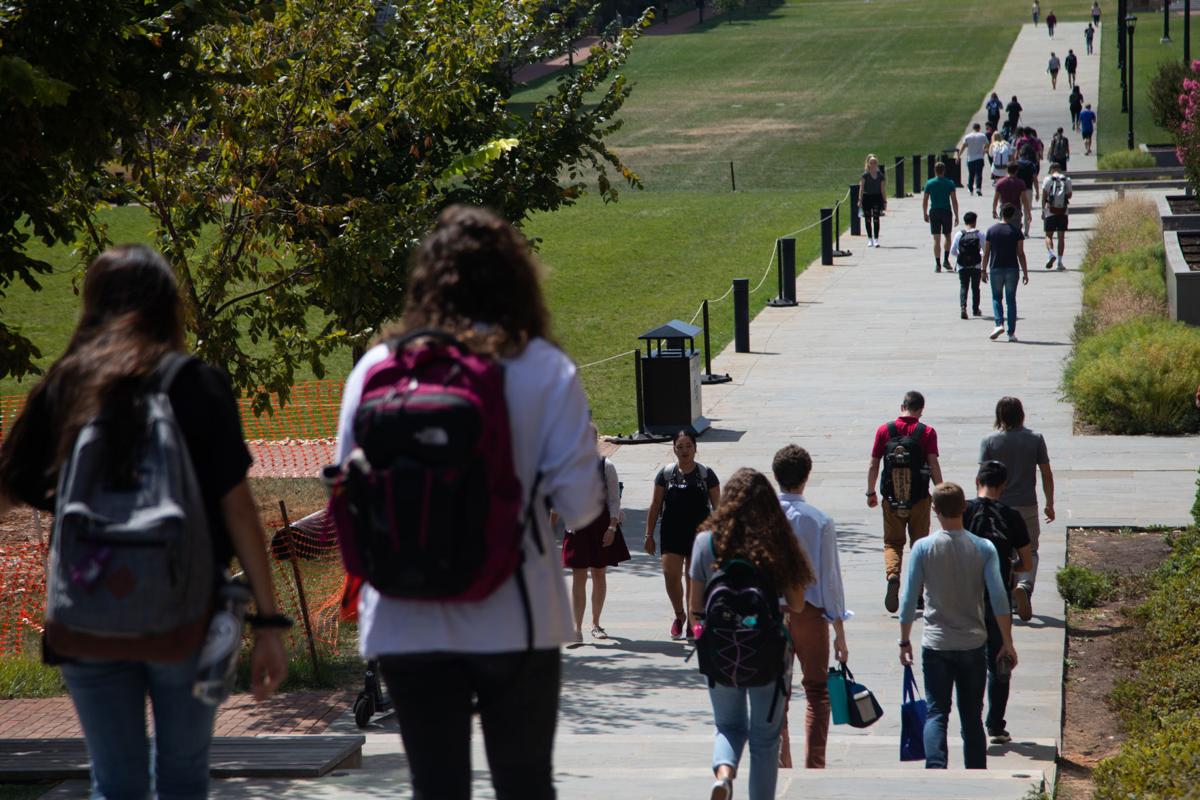 Liberty University will continue to hold in-person classes when students return from spring break March 23, even as a wave of other colleges across Virginia and the nation have closed their campuses due to the growing coronavirus threat, President Jerry Falwell Jr. announced Friday.
"I don't see us doing the same thing that other schools have done," Falwell said in a taped interview streamed online with campus pastor David Nasser.
Falwell said the university has canceled "almost all gatherings of large crowds" on campus and will livestream convocation from a studio for the next several weeks instead of hosting the twice-weekly assembly in the 10,000-seat Vines Center.
Despite the moratorium on large gatherings, Falwell also said the university still plans to hold an outdoor graduation ceremony May 9. The university previously announced U.S. Secretary of State Mike Pompeo will deliver the commencement address.
Graduation is "something we're not going to deny our graduates who've worked so hard to reach that milestone," he said.
Falwell said he has been flooded with messages from students in recent days who have pleaded with him not to cancel classes.
"You guys paid to be here, you wanted to be on campus and I want to give you what you paid for," Falwell said of the nearly 15,000 students who attend classes on campus.
No cases of COVID-19, the disease caused by the novel coronavirus, have been confirmed locally. But on Friday, the Virginia Department of Health announced the number of confirmed and presumptive cases had risen to 30. The majority of the cases are in Northern Virginia, though one case has been identified in nearby Prince Edward County.
The rising number of cases in the state prompted Gov. Ralph Northam on Thursday to declare a state of emergency and led several Virginia colleges to cancel in- person classes, including the University of Lynchburg, the University of Virginia and Virginia Tech.
Falwell's announcement immediately drew criticism on social media from some segments of the student body.
Nathan Creekmore, a Liberty University sophomore studying nursing, was one of more than 1,700 people by Friday evening to affix their name to an online petition calling on the school to extend spring break and move to online classes.
Creekmore said Falwell's announcement left him concerned students returning from break could help spread the disease when they return to Lynchburg later this month.
"I think it's super embarrassing for the school and super embarrassing for the students," Creekmore said. "It tarnishes my future degree and it's frustrating."
In his interview Friday, Falwell suggested "the hype in the press" surrounding the coronavirus pandemic could be a politically motivated attack against President Donald Trump.
"We're hopeful that that's the case, that it's overhyped, that it's not as bad as everybody wants to think it is," Falwell, who has at times acted as a political surrogate for Trump, said. "We're praying that that's the case."
Earlier this week, Liberty announced it had canceled all university-sponsored international travel in the spring and summer semester after a recommendation from the Centers for Disease Control that institutions of higher learning reconsider study abroad programs.
Richard Chumney covers Liberty University for The News & Advance. Reach him at (434) 385-5547.