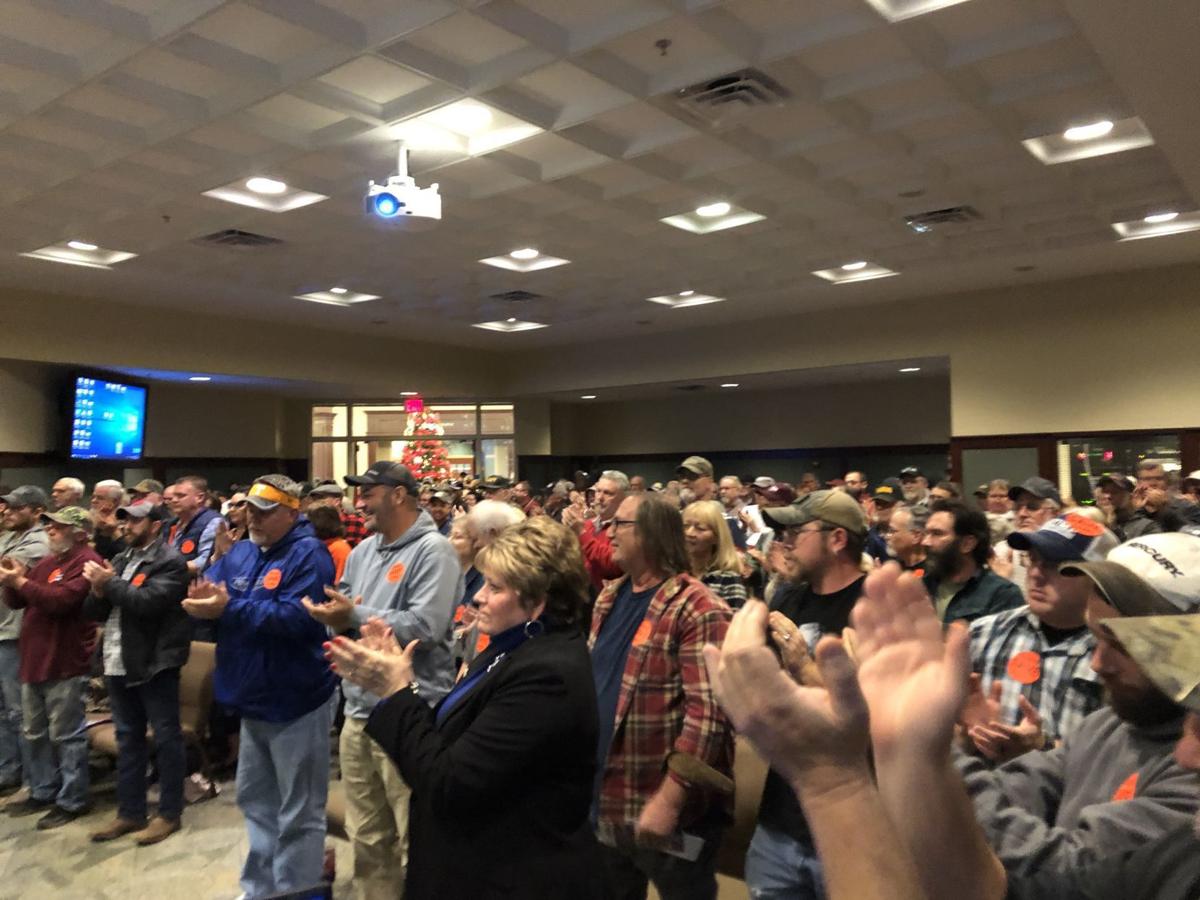 ROCKY MOUNT — The Franklin County Board of Supervisors unanimously voted to join the growing Second Amendment sanctuary movement, sparking a standing ovation Tuesday afternoon from hundreds of gun rights activists who packed the meeting room for the second month in a row.
The board's choice hardly came as a surprise, as all seven members spoke in favor of the idea during the November meeting. Counties in Southwest Virginia, including Botetourt, Bedford, Pulaski and Roanoke, and across the state have declared themselves Second Amendment sanctuaries in recent days as a reaction to gun control legislation advocated by Democrats who took control of Virginia's legislature in the November election.
Franklin County's resolution, modeled on the one Alleghany County passed Dec. 3, takes care to state that the board of supervisors has no authority to regulate the purchase and possession of firearms and no authority to direct how the county's constitutional officers, such as the sheriff and the commonwealth's attorney, enforce laws.
The resolution does include a political statement.
"The board is concerned that introduced 2020 legislation for the Virginia General Assembly, if passed, could infringe upon rights guaranteed by the Second Amendment" and the Virginia constitution, said Board Chairman Cline Brubaker, reading from the resolution.
The document urges state and federal authorities "to vigilantly preserve and protect those rights by rejecting any provision, law or regulation" that infringes on law abiding citizens' right to bear arms.
Will Pace, legislative assistant to Del. Charles Poindexter (R-Franklin), read a letter from Poindexter supporting the resolution. "Law abiding gun owners are rightfully concerned and furious about the host of anti-Second Amendment bills being proposed."
The supervisors all signed a copy of the resolution, which they gave to Pace to take to Richmond.
Franklin County Sheriff Billy Overton also endorsed the resolution.
The gun rights activist group Virginia Citizens Defense League is driving the push for these declarations statewide. The league member who led the Franklin County effort, Henry resident William Dyer, 37, asked that supervisors consider chartering a bus to send residents to Richmond on Jan. 20, known as Lobby Day, where the league plans to hold a rally. The board did not address his request.
In other business Tuesday, Virginia Department of Transportation resident manager Todd Daniel told the board that the agency is altering its plans for a $2.8 million upgrade to the intersection of Virginia 122 and Hardy Road.
Originally slated for the addition of a turn lane to reduce fender benders, the agency has decided to convert the T-intersection into a roundabout in response to fatal crashes that have occurred there since the project was approved in 2016. VDOT will hold a public meeting on the revised project in January.
"There is no question that this is the route to go," said Gills Creek supervisor Bob Camicia. The site is at the center of his district.
A roundabout is also proposed at the intersection of Burnt Chimney Road and Brooks Mill Road.