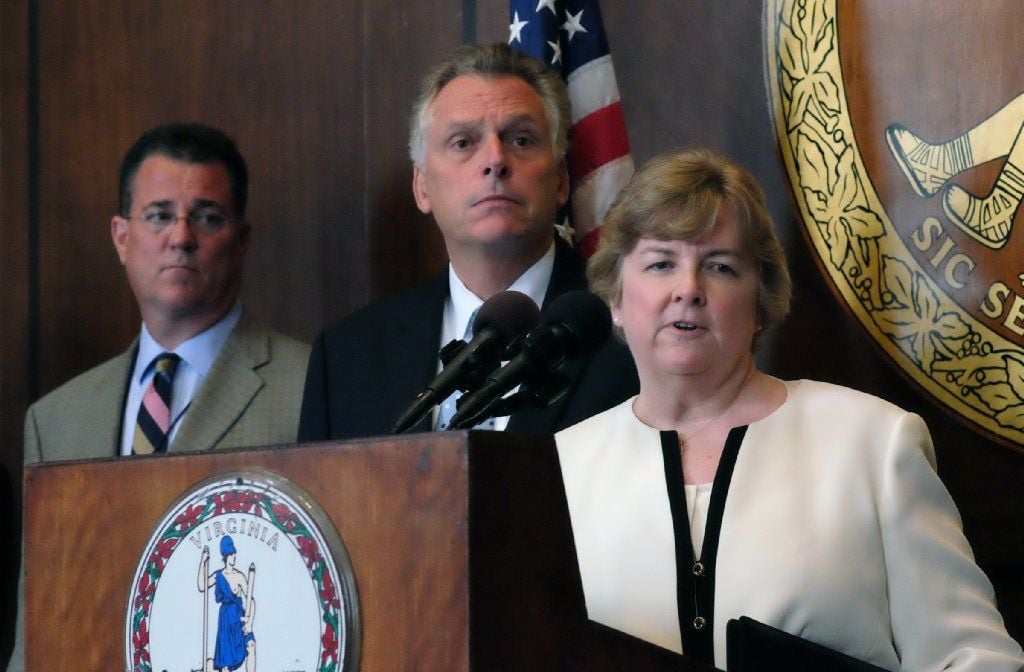 Virginia Supreme Court Justice Jane Marum Roush will get a chance to publicly state her case ahead of a possible vote in the legislature this week that could lead to her ouster.
After being thrown off track early in the session by the defection of a freshman senator, General Assembly Republicans laid out a new process Tuesday for proceeding with plans to remove the embattled court pick of Gov. Terry McAuliffe.
Roush, a former Fairfax Circuit Court judge, has been invited to interview Wednesday in front of a House of Delegates committee, along with Court of Appeals Judge Rossie D. Alston Jr., whom many Republicans want to appoint as Roush's replacement.
"The best way to facilitate an end to the current impasse is to give both candidates a vote on the floor," House Speaker William J. Howell, R-Stafford, said in a statement.
A joint resolution calling for floor votes on Roush and Alston as early as Thursday easily passed the House after Democrats were assured it was merely procedural. The measure didn't gain enough votes to immediately pass the Senate, which requires a committee hearing that can be waived only through a two-thirds vote.
Roush has not been asked to interview with the Senate, where Republicans hold a slim majority that could be overruled on the court appointment after Sen. Glen H. Sturtevant, Jr., R-Richmond, said he will not support removing Roush from the bench.
Meeting on the chamber floor, the Senate Courts of Justice Committee approved the joint procedural resolution on an 8-7 vote Tuesday afternoon. Sturtevant sided with Democrats, who argued against voting on the judgeship without first interviewing Roush.
"To my mind, that is unfair," said Sen. A. Donald McEachin, D-Henrico, chairman of the Senate Democratic Caucus. "To my mind, that is politicizing the judiciary to an unusual degree."
Majority Leader Thomas K. Norment Jr., R-James City, said Senate rules do not require all judicial candidates for a position be interviewed, but McEachin said it has been the "custom, usage, and practice" of the body to do so.
Howell has made clear that the House leadership supports Alston over Roush, but the interview process will give Roush a chance to publicly make the case for why she should remain on the court after being selected by McAuliffe in a recess appointment last summer.
Republicans have said McAuliffe broke protocol by failing to properly consult them on the judicial appointment, an area in which the legislature has ultimate authority.
Though few have questioned Roush's credentials, Howell has said she "disqualified" herself by accepting a reappointment from the governor last fall amid dispute over whether the legislature lawfully adjourned its special session last August.
The Senate adjourned the session when Sen. John Watkins, R-Powhatan, Sturtevant's predecessor in the 10th District, voted with Democrats, which allowed McAuliffe to reappoint Roush to the seat. The House did not adjourn.
McAuliffe has protested the push to remove Roush, saying she is the most qualified jurist for the position and came with the recommendation of Del. David B. Albo, R-Fairfax.
Albo, who chairs the House Courts of Justice Committee that will interview Roush and Alston Wednesday, said he'd be "shocked" if both candidates don't emerge from the interviews for a floor vote.
"It's just to see whether or not the person is qualified to be a judge," Albo said. "I think probably even most Republicans would agree that she's one of the best judges in the state. They just happen to like Alston better."
(804) 649-6839
Staff writer Michael Martz contributed to this report.