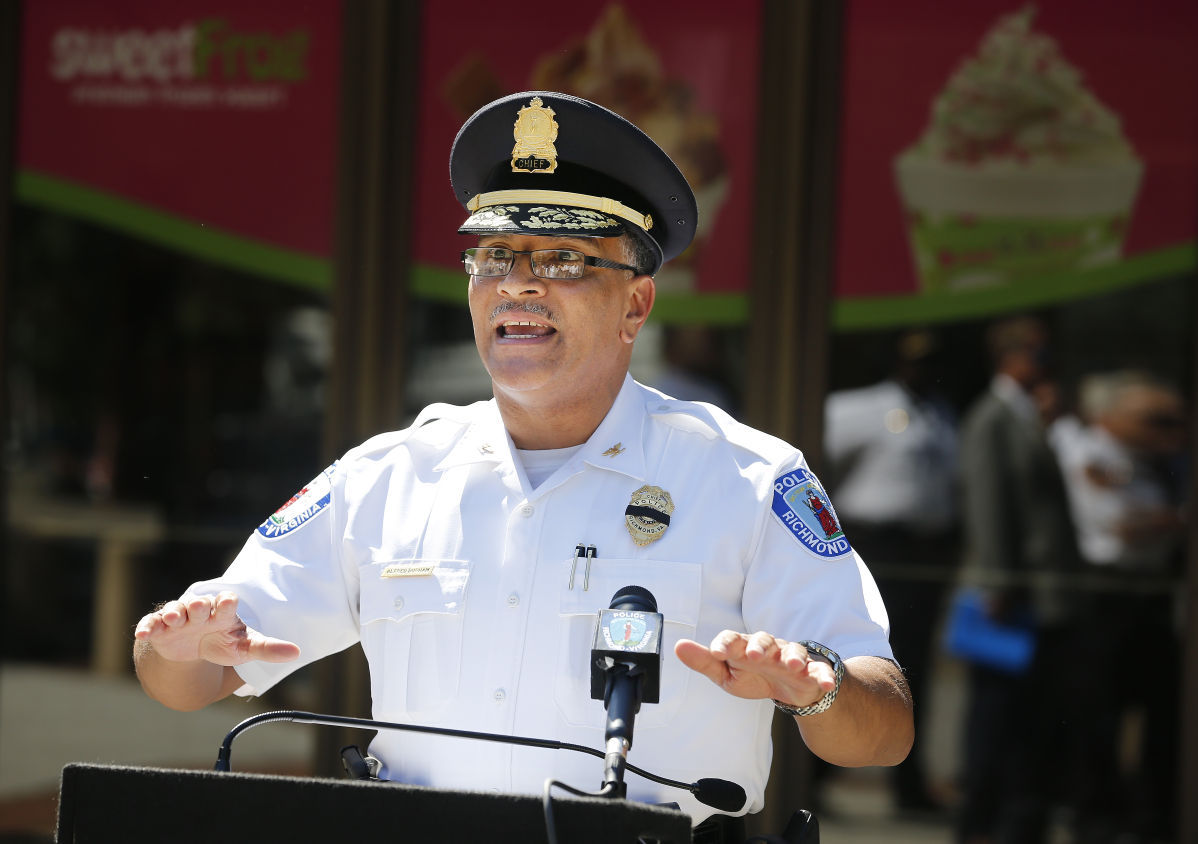 Law enforcement will be out in full force for Donald Trump's rally and accompanying protests tonight in Richmond, according to the city's police chief, who vowed that police will "extend every right, every courtesy, but if you break the law, you will be arrested."
Chief Alfred Durham said police have been preparing around the clock for the 8 p.m. Trump rally at the Richmond Coliseum and for protests.
The visit from the presumptive Republican presidential nominee comes on the heels of violence outside a Trump rally last week in San Jose, Calif. Reports indicated that protesters set upon Trump supporters — that at least a dozen people were punched, car windows were broken, Trump hats taken from supporters and set on fire on the ground, and an egg was thrown in the face of a woman who wore a Trump jersey. Seven suspects had been arrested as of Thursday afternoon.
"We don't want to be a story," Durham told a group of journalists Thursday evening. "We refuse to let anybody come here and tear our city up."
The Richmond Coliseum is at 601 E. Leigh St. Doors open at the North Seventh Street entrance at 5 p.m.
As of Thursday afternoon, at least two anti-Trump rallies were being planned on Facebook to coincide with the GOP candidate's rally.
Trump opponents planned a 7 p.m. rally in Monroe Park, urging participants to wear black and to "come ready to film and take photos."
A second Facebook page, created for the Constitution Party of Virginia, asks "all conservatives who are #NEVERTRUMP to PEACEFULLY PROTEST Donald Trump's rally" at the Coliseum.
Its organizers add: "The protest by liberals has actually helped DT by being violent."
Durham said there would be a heavy presence of local, state and federal law enforcement inside the Coliseum and in the surrounding area, though he declined to tip his hand about particular resources or tactical strategies, to avoid giving potential wrongdoers any advantages.
Durham said he's received about 50 emails this week from residents who have expressed safety concerns. In a news conference Thursday, Durham read aloud an email from a Hopewell resident, who planned to attend Trump's rally but expressed fear and begged that police prioritize safety.
"'I also would hate to end up in jail for defending myself, because I do not just want to get beaten up on,' " the resident wrote, as read by Durham.
Durham then told reporters: "With that being said, I want to be perfectly clear that we will not allow or tolerate any types of illegal behavior at this event. Police personnel will take swift action and make arrests if they witness any unlawful acts."
"You can get your point across and be civil about it," Durham said, also asking for the public's help ensuring the Trump events remain peaceful.
The Secret Service will scan all attendees with magnetometers at the door of the Richmond Coliseum. Attendees are prohibited from bringing signs that have sticks, banners, bags, backpacks, food, drinks, weapons or anything that can be construed as weapons, according to Richmond police as relayed by the Secret Service.
The American Civil Liberties Union of Virginia says the rules of engagement for protests tonight will differ inside of the Coliseum and outside of the building, which the Trump campaign is renting for the rally.
"They have the right to control their message inside the venue," said Charlie Schmidt, public policy associate for the ACLU of Virginia. "Outside, it's another story."
Schmidt will act as supervising attorney for a half-dozen or more ACLU legal observers, who will monitor the actions of protesters and police outside of the Coliseum. "We're most concerned with outside in the streets and on the sidewalks," he said.
The observers will wear distinctive blue vests, marked as "ACLU Legal Observer," taking notes, photos and video of interactions between protesters, counter-protesters and police. "They're basically there to observe and record," Schmidt said.
The biggest challenge for police will be to keep access open to the Coliseum while allowing protesters and counter-protesters the opportunity to have their say, vocally or with signs and other forms of expression, he said. "If police go too far in trying to preempt any disruption by protesters, they run the risk of infringing on their free-speech rights."
Inside the Coliseum, the Trump campaign will have the right to remove people who disrupt the event as trespassers, but Schmidt said it cannot discriminate against people as a class in a place of "public accommodation."
"They opened up the Coliseum as a public venue," he said. "You can go, you can get tickets — it's not a private event."
There will be several street closures for the rally.
East Leigh Street will be closed to all vehicle and foot traffic from North Fourth to North Eighth streets beginning at 3 p.m.
No parking will be allowed in that area of East Leigh Street today. East Jackson, East Marshall and East Broad streets can be used as alternates.
North Seventh and North Eighth streets will be closed from East Marshall to East Leigh streets at 6 p.m. North Fifth, North Ninth, and North 10th streets can be used as alternates.
The left travel lane of North Fifth Street between East Jackson and East Marshall streets is reserved for media vehicles.
All parking decks in the area will be open.
GRTC said there will be a number of bus detours and temporary bus stop closures as a result of street closures around the Coliseum.
Durham suggested that attendees park several blocks away and walk to the Coliseum to avoid getting stuck in particularly heavy traffic near the rally site.
Officials said Trump's Richmond stop will be preceded by a private fundraising event at an undisclosed location.
A copy of the invitation, obtained by The Associated Press, asks for donations up to $25,000 per couple. Donors wishing for a "photo opportunity" with Trump are asked to give $10,000 per person.
Durham said Richmond police are well-prepared for the Trump rally and protests. He cited the 2015 UCI Road World Championships as an example of a major, highly attended event in the city that Richmond police have under their belts.
"It's the unknown that we're fearful of," Durham said, adding that police will be prepared for the worst but hopeful that it will be a peaceful, successful event.
He said that a large contingent of law enforcement and EMS personnel will be on hand today and he's advising them to "get some rest ... because tomorrow's going to be a long day."
(804) 649-6391
Twitter: @ShulleetaRTD
(804) 649-6964