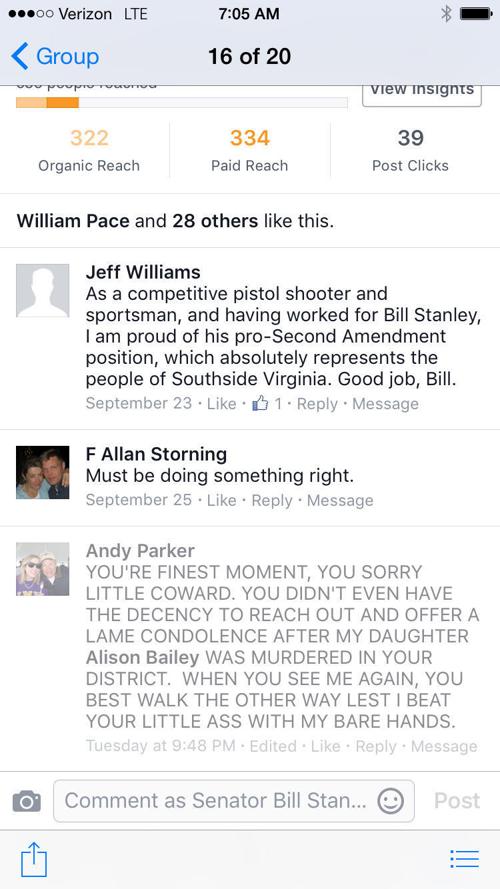 Pre-election feuding over gun control took a bitter turn Thursday as Gov. Terry McAuliffe told a Republican state senator to "man up" over a perceived online threat from gun-control advocate Andy Parker, who later apologized after it was revealed he posted a Facebook comment threatening the senator with a beating.
In a radio appearance Thursday morning on Richmond's WRVA, McAuliffe said state Sen. William M. Stanley Jr., R-Franklin County, was pulling a "political stunt" by making a report to the Capitol Police over a harshly worded online comment from Parker. Parker's daughter, Roanoke-area TV journalist Alison Parker, was shot and killed by a former co-worker in August during a live report from Smith Mountain Lake.
On Wednesday, Stanley contacted police and obtained an application for a concealed-carry permit after Parker sent him a Facebook message that said: "I'm going to be your worst nightmare you little bastard."
McAuliffe characterized the message, which Parker said was a political threat, as ill-advised, but he suggested Stanley was blowing the issue out of proportion and knew Parker did not intend physical harm.
"Come on, Bill, you're tougher than that," McAuliffe said during his radio appearance. "Man up. Come on. This is ridiculous."
Stanley, who represents Southside Virginia's 20th District, pointed Thursday to a second comment that he said clearly shows a physical threat from Parker, adding that McAuliffe "in effect is condoning threats of violence against elected officials."
In an interview after McAuliffe's radio remarks, Stanley highlighted a comment Parker made Tuesday night beneath a post touting an endorsement of Stanley by the NRA.
The comment, one of more than a dozen Parker posted to Stanley's page within roughly 30 minutes, accused Stanley of failing to offer condolences after the shooting and concluded: "WHEN YOU SEE ME AGAIN, YOU BEST WALK THE OTHER WAY LEST I BEAT YOUR LITTLE ASS WITH MY BARE HANDS."
"Taken together, it is without a doubt that he means to do me physical harm," Stanley said.
Parker, who lives in Henry County and is a constituent of Stanley's, apologized Thursday in a statement issued through Everytown for Gun Safety, the gun-control advocacy group he has worked with to produce television ads in several key Virginia Senate races.
"In my grief over the murder of my daughter and my anger over a political system that allows incidents like that to continue, I spoke regrettably," Parker said. "I apologize for my words, but make no mistake, I will continue to seek justice and change as a father in memory of my daughter."
Gun control has become a major issue in several high-profile state Senate races, and Parker has appeared in ads that benefit Democratic candidates in key contests in Richmond and Northern Virginia. A spokeswoman for Everytown for Gun Safety, which is backed by former New York Mayor Michael Bloomberg, said the ads featuring Parker will continue to air.
The legislative elections, which will decide party control of the state Senate, take place Tuesday.
Stanley said he found the second comment Wednesday night after hearing that Parker said he had not intended the "worst nightmare" message as a physical threat. Someone attempted to erase the second comment, Stanley said, and it was not visible Thursday on Stanley's public page. Stanley shared a screen capture of the post with the Richmond Times-Dispatch.
During the radio show, McAuliffe was asked to weigh in on the dust-up before the second comment became publicly known.
McAuliffe, who has appeared regularly with Parker and praised his high-profile advocacy for stronger gun restrictions, said Parker "shouldn't have written" the "worst nightmare" comment.
"I think Andy needs to be a little smarter in what he says," McAuliffe said. "But I'll give the guy a break."
Stanley called the governor's "man up" comment "appalling and quite stunning."
"He needs to be helping the healing, not agitating the situation with such flippant comments," Stanley said.
Stanley said McAuliffe and his allies are using Parker as a "pawn" in the push for gun control.
"I think they should have been a little more careful in the selection of their spokesman and should have been a little more mindful of the emotions that Mr. Parker is going through during a grieving process for a horrible tragedy that occurred to him," Stanley said.
McAuliffe has pushed for background checks on private gun sales and other reforms, but his proposals have not gained much traction in the Republican-controlled General Assembly.
The governor has acknowledged that background-check legislation wouldn't have stopped the killings of Alison Parker and her cameraman, Adam Ward, because the shooter passed a background check. But he has argued that "common-sense" reforms can prevent future tragedies. McAuliffe recently signed an executive order that, among other things, banned openly carried firearms in most state buildings.
McAuliffe said he called the Parker and Ward families shortly after the shootings.
"I want to be the last governor to go through this," McAuliffe said.
In its "A" rating for Stanley, the NRA highlighted the senator's votes to repeal the state's one-gun-per-month law, exempt concealed-handgun permits from public-records laws and allow armed guards at schools.
In the past, Stanley has spoken about guns with bravado.
In 2011, a redistricting shuffle forced Stanley to move in order to run for office from a new district. That prompted reporters from The Roanoke Times to ask Stanley if he had seen anyone from the opposing campaign investigating to see if was actually living in his new house. Stanley responded: "Not that I know of, unless they want to get a face full of my Glock."
On Thursday, Stanley said that, unlike the governor, he doesn't have "the luxury" of having bodyguards, but he is taking steps to protect his family. He added that his 13-year-old son was texting his mother from school Thursday because he was worried about her safety.
"Should I tell my son that the governor tells him to man up?" Stanley said.
On the radio, McAuliffe said jokingly that Stanley is "cowering today in his home" and "probably has a contingent of police out in front of his house."
"Listen, if I called the police every time someone went online and said much worse than 'I'm going to be your worst nightmare,' I would spend 24/7 on the phone calling the police," McAuliffe said. "You know what, it's silly season."
The governor's office did not back down from his radio comments when asked to weigh in again Thursday afternoon after Parker's second comment came to light.
"The governor is disappointed that politicians would use comments from a father who lost his daughter in a senseless shooting to try to distract the public from the need to keep guns out of dangerous hands," said McAuliffe spokesman Brian Coy.
"Virginians need leadership on common-sense issues like background checks, not more political gamesmanship and false outrage."