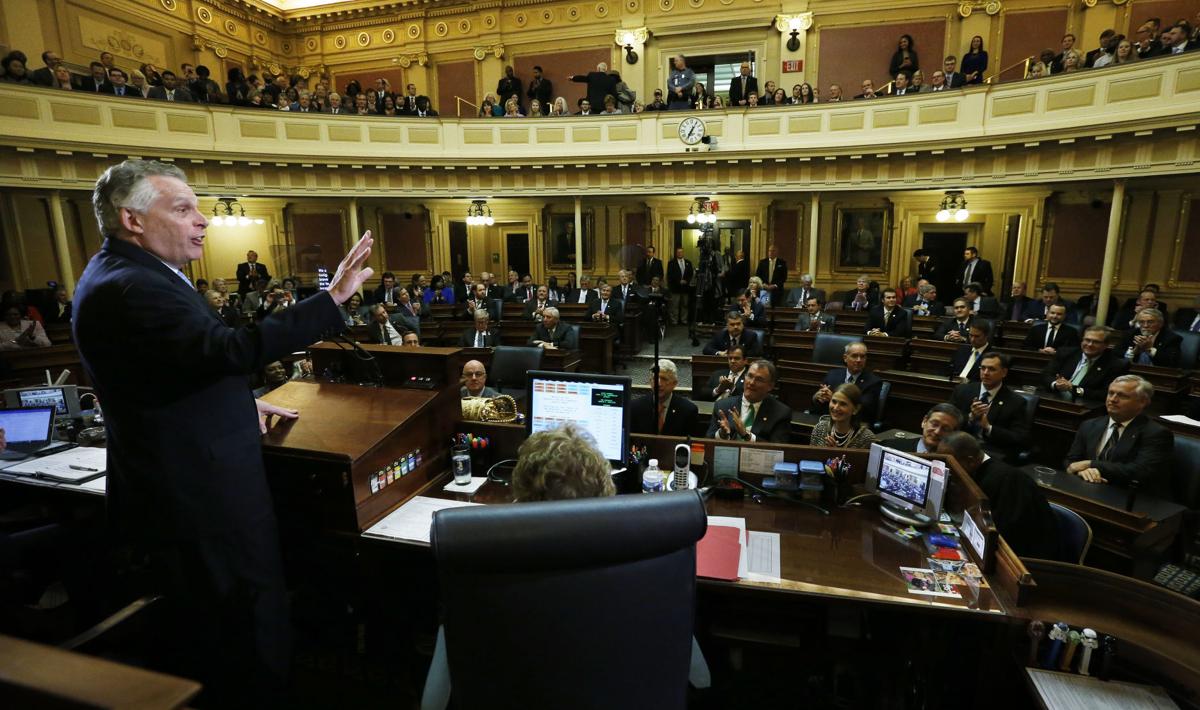 Spending tends to dominate debate over Virginia's budget, but a projected $1.26 billion revenue shortfall has spurred Gov. Terry McAuliffe and General Assembly leaders to look for money to help pay for it.
With new taxes unlikely in an election year, their focus has turned to revenues already owed to the state and the potential for a windfall from a proposed tax-amnesty program that McAuliffe estimates could net $58.2 million for the general fund that pays for core services.
The amnesty proposal is part of a package of tax-policy changes in the governor's budget that would net almost $140 million in additional revenues, most of it in the next fiscal year.
"Amnesty is the big one," said Senate Finance Co-Chairman Emmett W. Hanger Jr., R-Augusta, whose committee will hear a presentation this morning from state tax officials about the governor's proposal.
The tax amnesty would be the fourth in Virginia history. It would be modeled on the most recent amnesty offer, which netted the state $103 million in 2009. Earlier amnesty programs, brought in $90 million in 2003 and $32.2 million in 1989.
"Each time, it actually out-performed expectations," Hanger said.
The outcome of the legislative debate isn't much in doubt. The legislation is being carried by Senate Majority Leader Thomas K. Norment Jr., R-James City, the finance committee's other chairman, and House Appropriations Chairman S. Chris Jones, R-Suffolk.
Mark Haskins, director of policy development at the Department of Taxation, briefed the appropriations committee on the proposal on Monday.
The amnesty would be offered over a 60- to 75-day period in the next fiscal year, which begins July 1, though state officials won't say exactly when because they don't want to encourage people not to pay back taxes without it.
Taxpayers who take the offer would be exempt from penalties and half of the interest they otherwise would be charged, but if they're eligible and still don't pay, the state would slap them with an additional 20 percent penalty. The offer isn't available to taxpayers under investigation for fraud or for recently filed returns.
Tax officials estimate the amount that could be collected would total almost $71.5 million, mostly from corporate and individual income taxes owed, followed by sales taxes that include money earmarked for localities and the transportation trust fund. The program would cost about $5.5 million to administer, which would be repaid to the Treasury from proceeds of the amnesty.
The other measures proposed by the governor to increase revenues without new taxes are likely to face more political opposition.
A proposal to delay the phase-out of accelerated sales tax collections — used to boost revenues in one fiscal year at the expense of the next — would raise about $35.1 million this year and $12.8 million the next, but retailers are furious about state back-tracking on commitments in last year's budget to greatly reduce the number of businesses subject to accelerated collections.
McAuliffe also wants to collect a portion of the $250 million to $300 million he said Virginia is losing because Congress hasn't acted on the proposed Marketplace Fairness Act to make internet sales subject to state taxes. As a stopgap, the governor proposed to require out-of-state merchants that use warehouses or "fulfillment centers" in Virginia to register as dealers who would be subject to collection of sales tax.
He estimated the proposal would generate $21 million in state and local revenues, including $12.56 million for the general fund next year.
Finally, the governor has proposed to cap the amount of tax credits that could be taken in any year for rehabilitation of historic properties and for land preservation, which are programs with long histories and passionate defenders. A limit of $5 million per return in a tax year for historic tax credits would generate almost $10 million for the state next year, while limits on land preservation tax credits for individual and joint returns would produce an additional $6.1 million.
The Joint Subcommittee on Tax Preferences is studying the historic rehabilitation tax credit, which has been used widely in redeveloping parts of Richmond, but the panel has not made recommendations to limit its use.
Secretary of Finance Richard D. "Ric" Brown said the governor's proposal would not place "an overall cap" on the credits, as the state already has done for land preservation tax credits.
"What this is is a cap on an individual return," he said, noting that the only limit now is to prevent a taxpayer from claiming a credit for more than he or she owes.
"If you were taking $4 million a year, it wouldn't affect you," Brown said. "It affects very, very few returns."