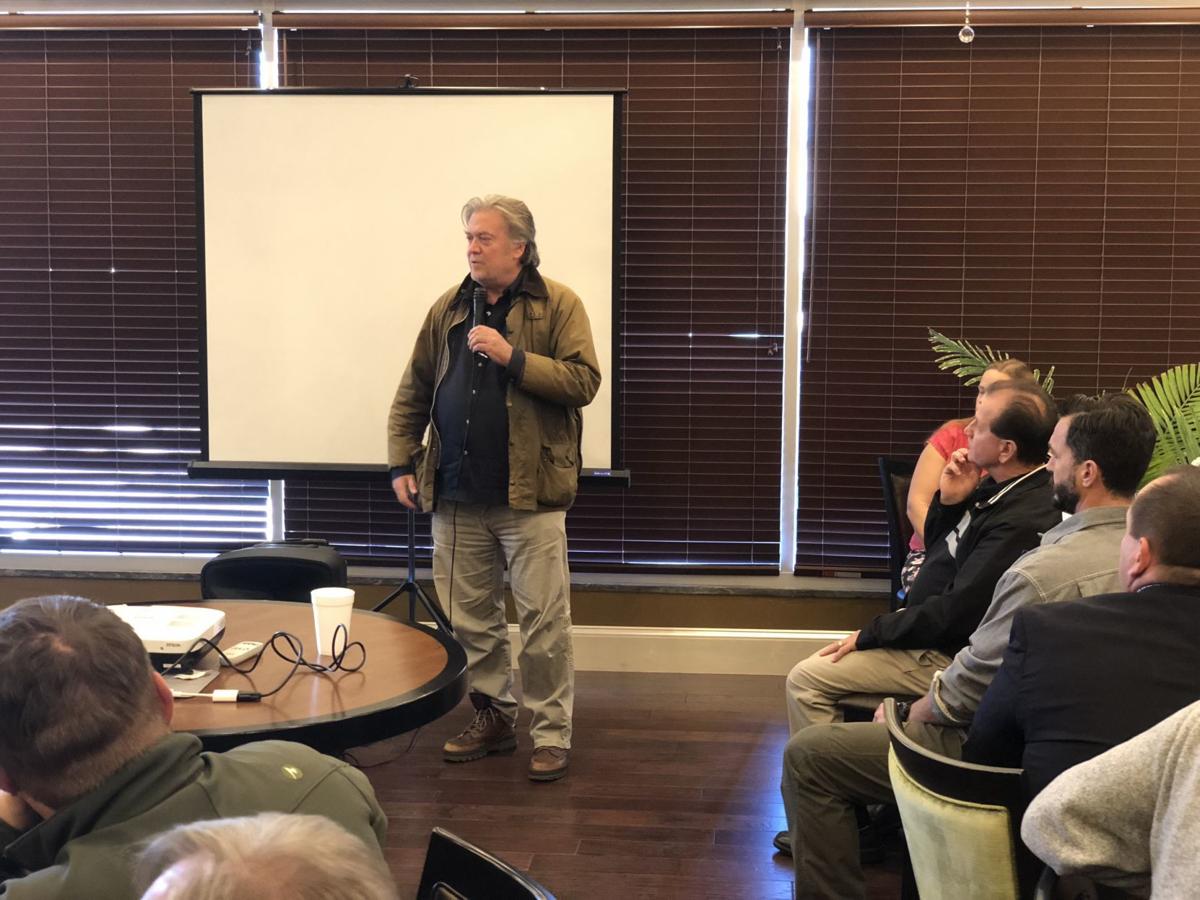 CULPEPER — Steve Bannon, who helped Donald Trump win the White House in 2016, visited GOP Rep. Dave Brat's district on Saturday with a message for supporters of the president: Turn out to vote Tuesday or lose control of the House.
Bannon has been traveling the country through his 501(c)(4), Citizens of the American Republic, to promote a movie about Trump and, he said, try to save the House of Representatives from a Democratic takeover on Tuesday.
"This is a referendum on President Trump," he told a group of Republicans gathered in the town of Culpeper, a Republican stronghold in the 7th U.S. House District, where Brat is in a dead heat with Democratic challenger Abigail Spanberger. He later said in an interview, referring to the Tuesday election: "I'm very nervous right now."
Bannon, a Richmond native who was White House chief strategist after Trump's surprise win, told the group he admired the grit and determination of Democrats and liberals in this election cycle, and said he has worried that the 2018 midterms will be a reversal of 2010, when the Tea Party energized votes against President Barack Obama to flip control of the House to Republicans.
"I will guarantee you, if we lose this district we're going to lose the House of Representatives," Bannon said of the 7th. "There's no doubt. This is an absolute bellwether of the entire country. Plus if you lose this and you lose it early, it's going to be used as a club beating on people all night. Remember, there's still five hours of voting in Arizona, Nevada, Washington state, California. We have so many, so many seats in play."
"Virginia 7 — you have to hold the line."
The audience included Culpeper Sheriff Scott Jenkins and Jon Russell, a member of the Culpeper Town Council.
Bannon reminded the audience of about 50 people of Brat's stunning primary upset over House Majority Leader Eric Cantor in 2014, when Brat campaigned against the Washington establishment.
"This is one of the biggest victories of the civil war of the grass roots, and the Breitbart crowd and the Tea Party patriots and all that, and all of you, against the establishment," Bannon said. At the time, Bannon headed Breitbart News, which covered the race and attacked Cantor for being soft on immigration.
Outside the event at the Culpeper Center & Suites, five women held signs supporting Spanberger. Lynda Bloomberg of Culpeper County said she was outside because she wants a change from Trump's policy on immigration.
"I think he has a lot of destructive ideas," she said of Bannon. "I think he's done great harm to the country, him and Trump, in dividing the country. We're not united, and we should be united. Republicans and Democrats should be working together. We should be bipartisan, and we're not. And I think that they're trying to divide us to conquer."
(804) 649-6061
Twitter: @patrickmwilson