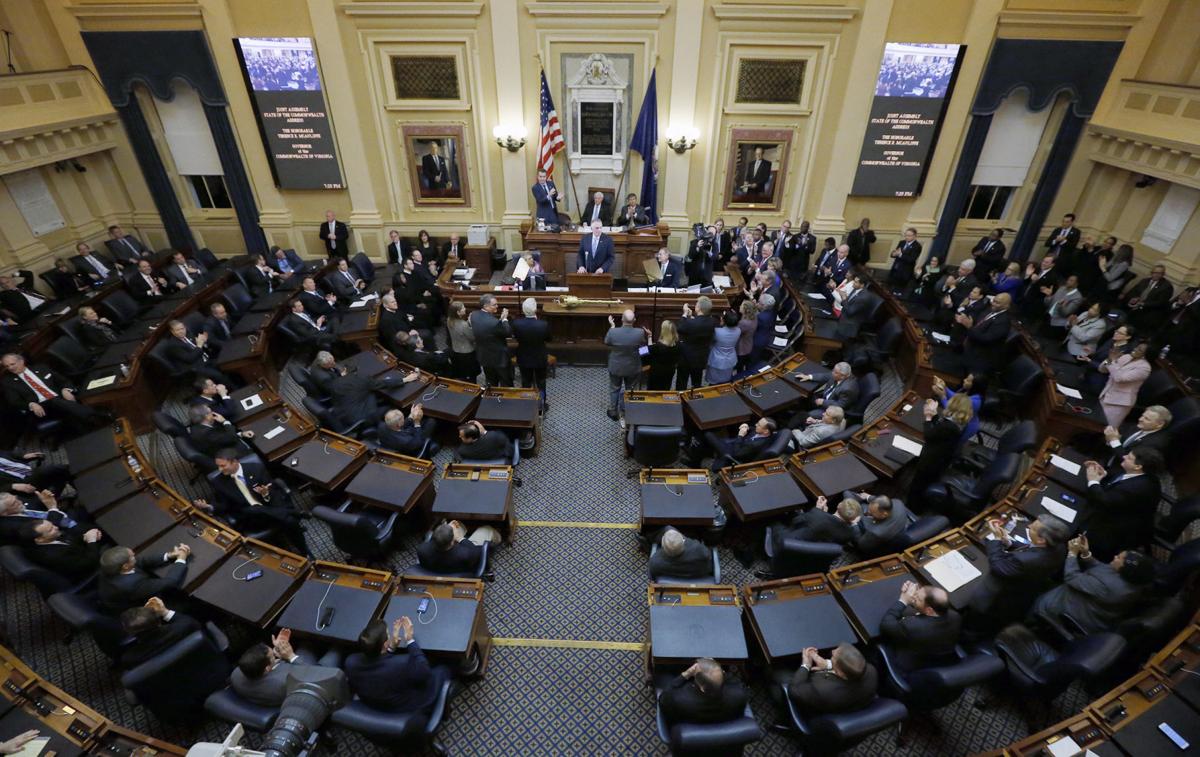 Virginia Democrats are poised to claim at least a share of control of the House of Delegates after erasing a 32-seat Republican advantage in a "tsunami election," with control of the chamber likely to be ultimately decided by vote recounts.
Northern Virginia journalist Danica Roem made history by becoming the first openly transgender candidate elected to the Virginia legislature, while her party appeared to make a epochal gain in power in a legislative chamber that has been under an iron Republican grip.
Democrats picked up three open seats — including one in Henrico County — and knocked off at least 13 Republican incumbents on Tuesday to draw even in power in the House, pending recounts that could still swing in either direction.
"It's quite an experience to experience a tsunami election, and this is it!" said House Minority Leader David J. Toscano, D-Charlottesville, who conceivably could become the next speaker of the house instead of Majority Leader M. Kirkland Cox, R-Colonial Heights.
The tsunami resulted from the electoral earthquake a year ago that put Republican Donald Trump in the White House, Toscano said. "You can't get away from this being a very clear reaction to Trump."
Upsets rocked House races from one end of Virginia's urban crescent to another, with Roem vanquishing prominent social conservative Del. Robert G. Marshall, R-Prince William, along with seven Republican incumbents in Northern Virginia.
In the Richmond area, Democrat Debra H. Rodman defeated 17-year incumbent Del. John M. O'Bannon III, R-Henrico, a high-ranking member of the House Appropriations Committee, by more than 900 votes, and Democrat Dawn M. Adams shocked Del. G. Manoli Loupassi, R-Richmond, by almost 500 votes.
"I'm shocked, too," O'Bannon said after conceding the race. "This is what happens when you get on the wrong end of a wave election."
Schuyler T. VanValkenburg, a high school government and history teacher, defeated longtime Henrico Republican leader Eddie Whitlock to claim the seat opened by the retirement of Del. Jimmie Massie, R-Henrico.
"I think people are ready for change," said Rodman, an assistant professor of anthropology at Randolph-Macon College and one of 10 women newly elected to the House, for a total of 27. "They're sick of divisive politics, and they're ready to unify."
Del. Roxann L. Robinson, R-Chesterfield, held off a challenge by Democrat Larry V. Barnett by 138 votes. Del. Riley E. Ingram, R-Hopewell, survived a close race with Democrat Sheila Bynum-Coleman.
While Democrats picked up three open seats, including Massie's, Republican John J. McGuire III defeated Democrat Melissa Dart to keep GOP control of the Richmond-area seat being vacated by retiring Del. Peter A. Farrell, R-Henrico.
In Hampton Roads, Democrats knocked off at least two Republican incumbents, Del. Ronald A. Villanueva, R-Virginia Beach, and Del. N.D. "Rocky" Holcomb III, R-Virginia Beach, and Del. David E. Yancey, R-Newport News, won by 12 votes in a race that is automatically subject to recount.
Even in Southwest Virginia, around the college town of Blacksburg, Democrats won a marquee race framed by tragedy. Democrat Chris Hurst, whose fiancee and fellow journalist Alison Parker was shot to death during an interview on live television two years ago, defeated Del. Joseph R. Yost, R-Giles.
But nowhere was the Democratic wave more powerful than in Northern Virginia, especially Prince William County, which Toscano had called "the battlefield" for the House.
Democrats defeated five Republican incumbents who represent parts of Prince William, including House Republican Caucus Chair Timothy D. Hugo, R-Fairfax, who lost by 68 votes to Democrat Donte Tanner in another race that will go to recount, and House GOP Whip Jackson H. Miller, R-Manassas, who was beaten decisively by Lee Carter despite tepid Democratic support for the challenger.
Del. Richard L. Anderson, R-Prince William, and Del. L. Scott Lingamfelter, R-Prince William, both members of the House Appropriations Committee, lost to Democrats Haya Ayala and Elizabeth R. Guzman, respectively.
But the biggest prize for Democrats was defeating Marshall, who had championed politically divisive social legislation that even fellow Republicans sometimes couldn't stomach, including a bill that would have prevented transgender people such as Roem from using public bathrooms according to their chosen gender.
"Bob Marshall is no longer the fringe of the Republican Party," House Democratic Caucus Chairwoman Charniele L. Herring, D-Alexandria, said in a news conference call on Tuesday morning. "Bob Marshall is the Republican Party."
Democrats also defeated three other incumbent Republicans in Northern Virginia: Del. Thomas A. "Tag" Greason, R-Loudoun, a fast-rising budget negotiator who lost to Democrat David Reid; Del. James M. LeMunyon, R-Fairfax, who lost to Democrat Karrie Delaney; and Del. J. Randall Minchew, R-Loudoun, defeated by Democrat Wendy Gooditis.
The potentially stunning reversal of power in the House could break a political logjam over expansion of Medicaid in Virginia under the Affordable Care Act, if the federal law survives further attacks by Trump and Republicans in Congress.
"It means that we will move forward with Medicaid expansion and have health care for everyone who needs it," declared Rodman, who made the issue a centerpiece of her campaign.
The political shift also will make it much tougher for Republicans to pass legislation to expand "school choice" through voucherlike programs to shift public per-pupil funds to private schools or to establish more charter schools.
"I will fight every day to protect our public schools, expand access to affordable health care, and create an economy that works for everybody," VanValkenburg said in his victory statement.
The enlarged Democratic bloc in the House also will have the advantage of working with a Democratic governor after Lt. Gov. Ralph Northam's resounding gubernatorial victory over Republican Ed Gillespie.
Trump blamed Gillespie's loss on failing to "embrace me and what I stand for," but Toscano credited the president for enabling Democrats to challenge 54 of the 66 Republican-held House seats and possibly flip control of the chamber.
"The day after the Trump election, it began raining candidates for us in Virginia," Toscano said Tuesday morning.