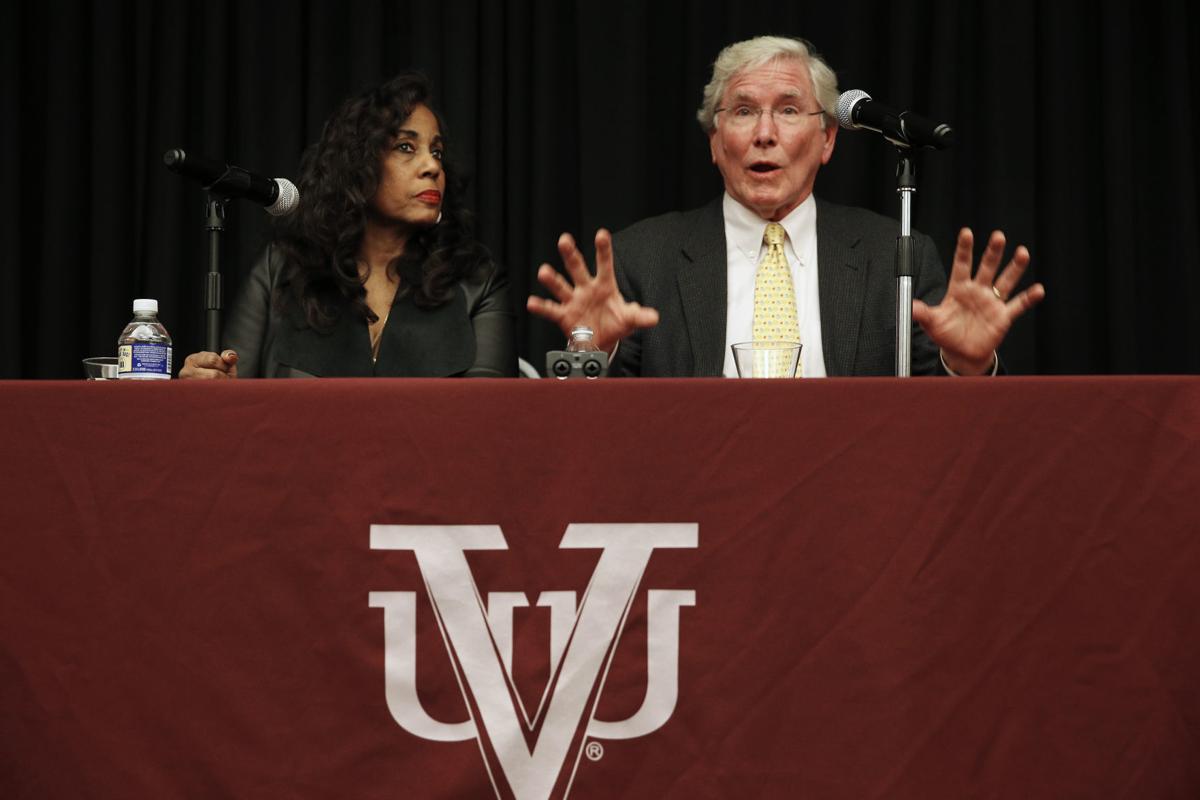 In her quest to commemorate her great-great grandfather Dred Scott — the plaintiff in the infamous Supreme Court case that denied freedom to black slaves — Lynne Jackson set out to find the family of the man that issued the ruling.
States away, Kate T. Billingsley, a descendant of Chief Justice Roger Brooke Taney, was working on a one-act play that would feature a fictitious conversation between a descendant of Taney and a descendant of Scott.
Jackson's search ended with a phone call from Billingsley. What followed, the families say, is the meeting of painful family legacies and reconciliation.
Jackson and Billingsley's father, Charlie Taney, told their stories Wednesday during an event at Virginia Union University hosted by Virginians for Reconciliation. The newly formed group, led by former Gov. Bob McDonnell, aims to bring racial reconciliation to Virginia through conversation and changes to public policy and private-sector practices.
The event comes as Virginia grapples with its history — as it marks 400 years since the first enslaved Africans arrived in Virginia — and the recent controversy surrounding Gov. Ralph Northam's page in his 1984 medical school yearbook, which features a man in blackface and a second person in Ku Klux Klan robes. Northam has said he is not in the photo.
Scott was born in Virginia's Southampton County. In his case for freedom, the Supreme Court ruled that African slaves and their descendants could not be U.S. citizens. That 1857 ruling was later invalidated by the 13th, 14th and 15th amendments to the U.S. Constitution.
"That was in her heart, that was in her mind," Jackson said of Billingsley's play, which featured an apology from Taney's descendant to Scott's descendant. "She was able to process that, and that's who the Taneys are today.
"That play was an ice breaker and it was absolutely ordained."
Taney said that what followed were many encounters between the families to pry at a history that was difficult for both families.
"When history class came up in the third grade, and the decision came up, you'd slink down in your desk and hoped no one would connect you to that guy," Taney said.
At the same time, many in his family felt proud of the other aspects of Taney's legacy. "Growing up as a Taney was a mixed bag," he said.
The regret over the decision, however, brought members of his family to meet the Scotts, and eventually, issue a formal apology.
That was the beginning of reconciliation between the families, work that they say has allowed them to engage with the public on racial reconciliation. The pair have for years traveled the country speaking about their families legacy and of how tough conversation and empathy allowed a relationship to blossom.
"Reconciliation as I see it happens in three steps. The party that has committed the injury has to recognize the harm … express regret and ask for forgiveness," Taney said.
Jackson said that the key for their families was building relationships that later begat trust.
"We both have our sides of the story that blend very well," Jackson said.
(804) 649-6254
Twitter: @MelLeonor_