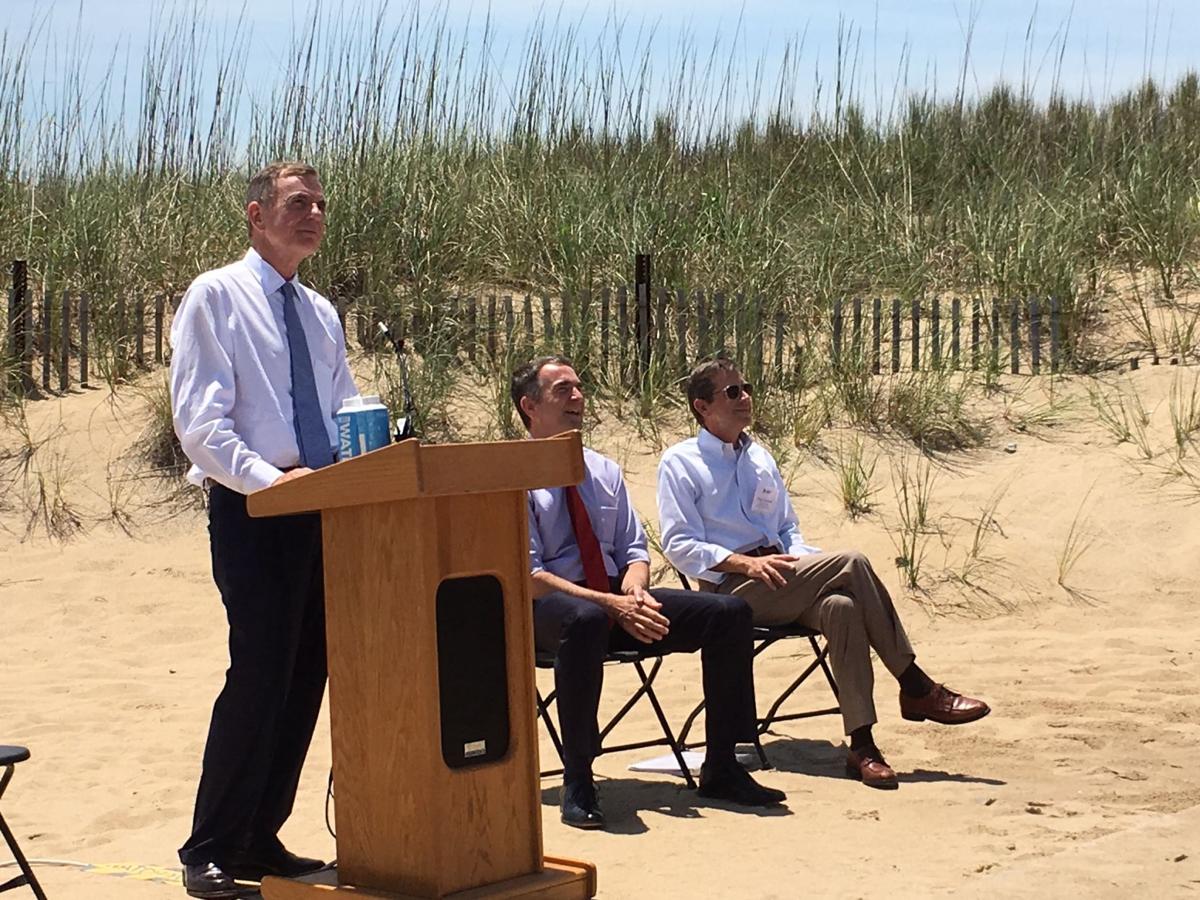 Dominion Energy claimed excess profits of $277.3 million in 2018, a return of 13.47%, topping the 9.2% approved by regulators for most of Dominion's spending, according to an update on the state of electric regulation published Thursday.
The report compiled by the State Corporation Commission also shows that typical residential bills of Dominion Energy customers in Virginia have increased 26% since 2007 — from $90.59 to $113.76 — but are down $2.76 from last year.
The figures, part of an annual review by the commission of Dominion's earnings to state lawmakers, come as the state monitors the rollout of a contentious law passed in 2018 that reconfigured how Dominion handles overearnings.
As part of the new law, the Richmond-based electric monopoly will be allowed to divert excess earnings into new capital investments that modernize the state's electric grid and boost renewables, instead of refunding the money to ratepayers or reducing electricity rates.
At the same time, the utility is seeking to up its rate of return to 10.75% in a case pending before the commission.
According to Thursday's report, the combined overearnings from 2017 and 2018 that would qualify for customer refunds amount to $379.7 million — though that's not what Dominion is planning to do.
In explaining Thursday's excess earning figures, Dominion Energy spokeswoman Audrey Cannon said the company has "already identified more than $750 million to spend on our offshore wind pilot and smart meters," that will improve energy generation and delivery.
Environmental and consumer advocacy groups criticized the regulatory system and business model that they say overcharges ratepayers without hope for a refund.
"Dominion Energy is cheating Virginia customers out of hundreds of millions of dollars in refunds," said Clean Virginia Executive Director Brennan Gilmore. "It's time to empower regulators to return Dominion's excess profits to its customers."
The office of Attorney General Mark Herring also chided the policy and Dominion's overearnings.
"These numbers confirm AG Herring was correct when he warned that rates have been locked in at levels that are too high and that significant portions of power companies operations have been removed from adequate oversight," Herring spokeswoman Charlotte Gomer said.
Last month, Dominion kicked off construction on a 12-megawatt offshore wind pilot project 27 miles off the coast of Virginia Beach. The project, which Gov. Ralph Northam hailed and was reluctantly approved by the SCC, will cost $300 million. Dominion plans to pay for the cost of the project through excess earnings, company officials said.
Dominion has also begun to invest in installing smart meters for 1.4 million customers, which it says will improve the customer experience. Further plans for how it will spend excess earnings on work to modernize Virginia's electric grid are ongoing, and a proposal on the topic is expected to be filed with the SCC in the fall.
"The SCC has approved our investments in an offshore wind pilot project, and cyber and physical security enhancements to the energy grid," said Cannon, the Dominion spokeswoman. "Reinvesting the revenue identified by the SCC today will enable us to give our customers what they want while also keeping rates low."
The report also offers a snapshot into the future that warns of higher bills for customers.
The commission reiterates to lawmakers that plans by Dominion to invest roughly $16 billion in capital projects it plans to recover from ratepayers could lead to typical residential bill increases of $29.37 per month by 2023.
That does not include a $3.23 monthly increase to the typical bill that will pay for the cleanup of the state's legacy coal ash, nor any costs to be borne by the utility under new carbon regulations approved in the spring.
As it touts regionally low electricity rates, Dominion has argued that factors such as lesser reliance on fuel will lower costs and mitigate bill increases, projections the SCC said Thursday "may be likely to happen, but some are speculative."
Dominion announces school bus project
Also Thursday, Dominion announced plans to deploy electric school buses across Virginia aimed at reducing emissions. Dominion said the buses will also save school districts on fuel and maintenance expenses.
Dominion is accepting bids from bus manufacturers to deliver 50 buses to school districts by the end of 2020. Dominion will then seek state approval to expand the program to 1,000 buses by 2025. By 2030, Dominion is hoping to replace all operating diesel-powered buses with its electric fleet.
"We're committed to lowering our carbon emissions, but we can't do it alone. Transportation is the number one source of carbon emissions in the U.S., and by partnering with this industry, we can expedite the development of innovative, cleaner, more sustainable solutions," said Dominion Energy CEO Thomas F. Farrell II.
Gov. Ralph Northam praised the program Thursday, saying that his administration is looking forward to "working with Dominion as they bring electric school buses to communities in all corners of our commonwealth."
The League of Conservation Voters, while supportive of the initiative, took a more skeptical approach.
"Virginia's children deserve to ride to school without breathing in toxic exhaust fumes, and we support Dominion's efforts to address that problem," said Michael Town, executive director of the Virginia organization. "But we shouldn't lose sight of the fact that this is the same electric monopoly that burns coal and other harmful fossil fuels ."
Town added that the announcement was "suspiciously timed" with the release of Thursday's SCC report.
"We can only hope that Dominion's efforts to clean up school buses are earnest and not the latest in a series of ploys to profit more at Virginians' expense," he said.
Leaders from school districts can hear more about the program during a tele-town hall on Wednesday.
(804) 649-6254
Twitter: @MelLeonor_