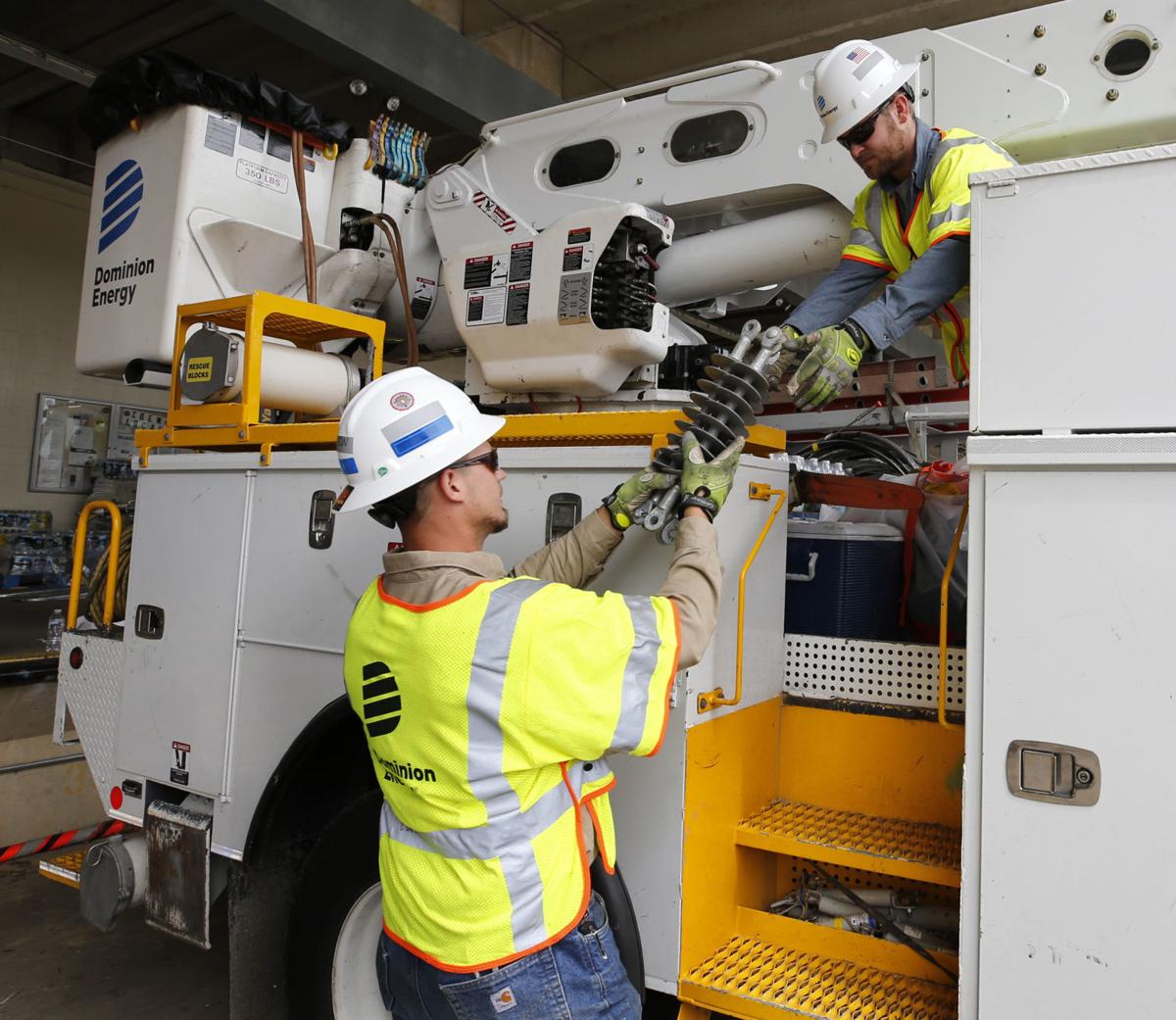 First come the refunds, then come higher monthly bills for customers of Dominion Energy Virginia.
The Richmond-based utility is preparing to give back $133 million to its 2.5 million customers in a one-time refund that will mean a $24.66 midsummer windfall for the typical home that uses 1,000 kilowatt-hours of electricity a month.
But a series of rising and falling rates — a $125 million gain from federal tax cuts, offset by increases in the cost of regional electric transmission, fuel for power plants and burying power lines — will increase the same customer's bill $4.59 a month by Sept. 1, chewing up that $25 refund in six months.
Then it really gets complicated as Virginia's vast new utility regulation law shaped by Dominion and Appalachian Power Co. takes effect on Sunday, along with a new two-year budget and hundreds of other bills at the beginning of the state's fiscal year.
The law restores State Corporation Commission oversight of their base rates three years after lawmakers barred regulators from ordering customer refunds or lowering rates if they found the utilities' profits were excessive.
Future refunds less likely
The law also makes it less likely that utilities will have to return excess profits to ratepayers in the future, after a second, smaller refund next summer.
The Grid Modernization and Security Act, which the General Assembly adopted and Gov. Ralph Northam signed this year, will ensure that most potential customer refunds in the future will pay instead for the costs of modernizing the electric power grid and investing in renewable energy and conservation over the next decade.
Dominion will file an application with the SCC early next week to begin implementing the fiercely debated law, which it negotiated with Northam, environmental groups and consumer interests this year.
"This new landmark policy provides a road map for Virginia's energy future," Dominion spokesman David Botkins said in a statement. "It keeps electricity prices low while transforming our power grid in a way to better serve customers."
"At the end of the day it's all about a secure, smart, clean energy future balanced by solar, wind, natural gas and emissions-free nuclear energy," Botkins said.
But that sunny outlook looks far cloudier for consumer interests.
"The big losers were the customers," Assistant Attorney General Matt Gooch said at a recent energy forum on the law, noting that he was speaking for himself and not for his office.
"The big winners were shareholders for this greatly expanded [electric utility] rate base."
The final law does not include what critics called "the double dip," which they say would have cost consumers twice by diverting excessive utility earnings from refunds into investments that boost shareholder return on the larger rate base. Instead, money diverted from customer credits can't be used to increase rates.
However, the act would allow utilities to charge one-time costs against earnings in future rate periods, reducing potential refunds and the possibility of lowering base rates in three-year reviews that won't begin for Dominion until 2021.
The law also requires the SCC to find as "reasonable and prudent" utility proposals to bury electric distribution lines underground at a cost the Southern Environmental Law Center estimates at $2 billion over 10 years. The SCC has rejected previous Dominion proposals to bury distribution lines, although it approved a scaled-down program two years ago.
"We don't know what the costs are," said Will Cleveland, a staff attorney at the law center. "It's a blank check."
In testimony filed last week, the commission staff said the company's current line burial proposal, often called undergrounding, would cost almost $300,000 for just one customer and more $500,000 for two others — more than the median sales price for a home in Richmond.
Botkins called the staff examples "extreme cases" and said, "The mission of the undergrounding initiative is to reduce outage times for all our customers and we can do that by reducing the most outage prone locations."
Veteran lobbyist Steve Haner, who has represented both Dominion's big customers and its small ones, thinks consumers fare worst in the law.
"The environmentalists got something, the power companies got something — consumers, I don't think got very much," Haner said.
Botkins countered by saying:
"It feels disingenuous to hear Steve say that when his client [the Virginia Poverty Law Center] stayed neutral on the bill, largely because of the $13 million a year in extended Energy Share funding to 2028 for weatherization and bill assistance for the most vulnerable of our customers, and his clients. Sounds like a consumer benefit to me."
Environmental organizations are elated by the law's finding of a public interest in the generation of more than 5,000 megawatts of electricity from new renewable energy projects and investment of $870 million in energy conservation over the next decade.
"I've always had the philosophy that every megawatt of solar on the grid is a win," said Francis Hodsoll, CEO and co-founder of SolUnesco, a private solar power development company based in Reston.
The law declares the renewable projects in the public interest, but doesn't require Dominion to build or buy them or the SCC to approve them, according to GreeneHurlocker, the Richmond-based law firm that organized the energy forum on June 20 at the Virginia Bar Association.
"If no renewables get built, this would be a great disappointment," said Eric Hurlocker, the firm's co-managing partner.
For Dominion, Botkins said, "We consider the commitment to be very binding."
Dominion announced in December that it was "time to transition away" from a law the General Assembly adopted in 2015 that froze regulatory review of base electric rates, ostensibly to hedge against the future costs of proposed federal restrictions on utility emissions of carbon dioxide and other greenhouse gases.
The so-called "rate freeze" resulted in excessive utility earnings, estimated by the State Corporation Commission at $221 million to $252 million in 2015 and 2016, a range that would have been more than 40 percent higher if Dominion had not written off the cost of coal ash cleanup at power plants during the period.
Based on the 2007 law that reregulated electric utilities after an unsuccessful experiment with deregulation, the SCC estimated that the company owed ratepayers $133 million to $176 million.
But, as it did a decade earlier, Dominion succeeded in restoring rate regulation on its own terms, with potential refunds from excessive earnings being invested instead in grid modernization and renewable energy.
The new law provides $200 million in refunds for ratepayers — $133 million in July and $67 million next year.
The law also shares a federal tax cut windfall that will lower customer bills in July and again next spring when a truer estimate of the benefits will be determined.
On the other hand, customer bills will go up to cover the increased cost of fuel and regional transmission, charges that would have been allowed under the old law. In the end, the typical residential bill will rise to $118.79 a month.
"This is the most confusing time to talk about rate changes we've ever seen — so many things are moving in different directions," said Greg Morgan, Dominion director of customer rates and regulation.
However, Morgan said, "When you add all this up, it's going to be amazingly constant."
At least until February, when Dominion expects to charge customers $73 million — $1.39 a month for the typical residential customer — to pay for the next phase of its plan to bury distribution lines.