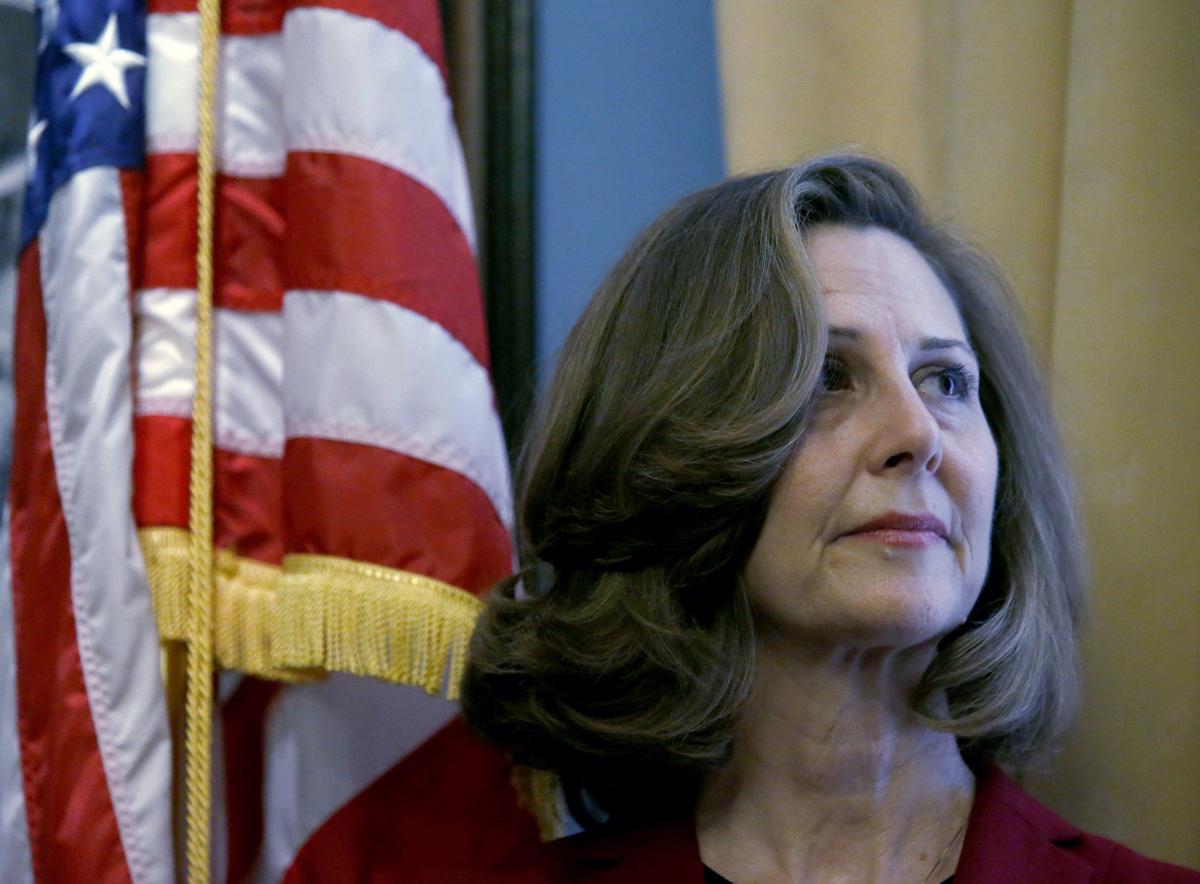 Virginia first lady Pam Northam is facing criticism from the daughter of a state employee, who says Northam tried to hand her and a fellow African-American page a piece of cotton and asked them to "imagine being an enslaved person."
The eighth-grade student detailed the incident in a letter Monday to lawmakers, describing it as "beyond inappropriate, especially considering recent events" involving Gov. Ralph Northam.
"It was very testing to know I had to go somewhere, and I had no choice as to if I went, I had to be respectful, and be on my best behavior, even when the people in positions of power I was around were not doing the same," the student wrote.
The girl was among state Virginia Senate pages who toured the mansion Feb. 21.
Pam Northam said in a written statement: "I regret that I upset anyone."
The student's mother, Leah Dozier Walker, who oversees the Office of Equity and Community Engagement at the state Department of Education, also wrote to lawmakers, saying that the incident runs against the governor and first lady's requests for forgiveness over "racially insensitive past actions."
"But the actions of Mrs. Northam, just last week, do not lead me to believe that this Governor's office has taken seriously the harm and hurt they have caused African-Americans in Virginia or that they are deserving of our forgiveness," Walker wrote. The letter was first reported by The Washington Post.
The controversy involving the first lady comes as the governor faces widespread calls to resign over a racist photo that appeared on his 1984 medical school yearbook page and was first reported Feb 1. Northam has resisted the calls to resign, but has limited his public appearances.
An administration spokeswoman, Ofirah Yheskel, said the first lady has reached out to the Walker family to set up an in-person meeting, but those efforts have not yet been successful. Yheskel also pushed back on the claim that Pam Northam singled out African-American students when handing out the cotton.
"The First Lady did not single anyone out; she invited all of the pages to touch agricultural products and artifacts displayed in the Historic Kitchen as part of an educational tour," she said.
The incident in question occurred in the Historic Kitchen of the Executive Mansion, a cottage that formerly housed the African-American slaves who served Virginia governors.
In her statement, Pam Northam said that breaking with tradition, she has added the cottage to her tour of the mansion along with "a variety of artifacts and agricultural crops."
"I believe it does a disservice to Virginians to omit the stories of the enslaved people who lived and worked there — that's why I have been engaged in an effort to thoughtfully and honestly share this important story since I arrived in Richmond," the first lady said.
The governor's office confirmed that the cottage, along with artifacts like cotton and tobacco, have been part of the first lady's efforts to incorporate the story of African-Americans into the mansion tour.
Sen. Bill Stanley, R-Franklin County, said his 13-year-old daughter, also a Senate page, and his wife took the tour during the same week. Stanley's daughter took the page tour with Walker's daughter, who attends St. Catherine's School.
In his daughter's account, Stanley said, Mrs. Northam passed out the cotton boll to a page to pass around as a "hands-on experience," a technique she uses regularly as a teacher.
"Every page looked at it, every page held it and touched it, how painful it must have been in the context of slavery," he said.
Stanley said his daughter acknowledged some pages did not like it.
His wife, Laura, took a similar tour two days later after a luncheon for legislative spouses at the Executive Mansion.
The speaker for the luncheon was Gayle Jessup White, community engagement officer at Monticello, President Thomas Jefferson's home in Albemarle County. She is an African-American descendant of Jefferson and Sally Hemings, a slave with whom he fathered several children.
"My wife said it was very poignant, powerful and compelling presentation," Stanley said.
Afterward, Mrs. Northam led a tour of the kitchen she is having restored for historical accuracy and context. Once again, she handed out cotton bolls, this time to the spouses of legislators, including Stanley's wife.
"It was to try to make us understand a little bit better, in some small measure, the horrors of slavery," he said.
Here is Pam Northam's full statement:
"As First Lady, I have worked over the course of the last year to begin telling the full story of the Executive Mansion, which has mainly centered on Virginia's governors. The Historic Kitchen should be a feature of Executive Mansion tours, and I believe it does a disservice to Virginians to omit the stories of the enslaved people who lived and worked there — that's why I have been engaged in an effort to thoughtfully and honestly share this important story since I arrived in Richmond," the first lady said.
"I have provided the same educational tour to Executive Mansion visitors over the last few months and used a variety of artifacts and agricultural crops with the intention of illustrating a painful period of Virginia history. I regret that I have upset anyone.
"I am still committed to chronicling the important history of the Historic Kitchen, and will continue to engage historians and experts on the best way to do so in the future."
mleonor@timesdispatch.com (804) 649-6254
Twitter: @MelLeonor_
Staff writers Michael Martz and Gregory J. Gilligan contributed to this report.