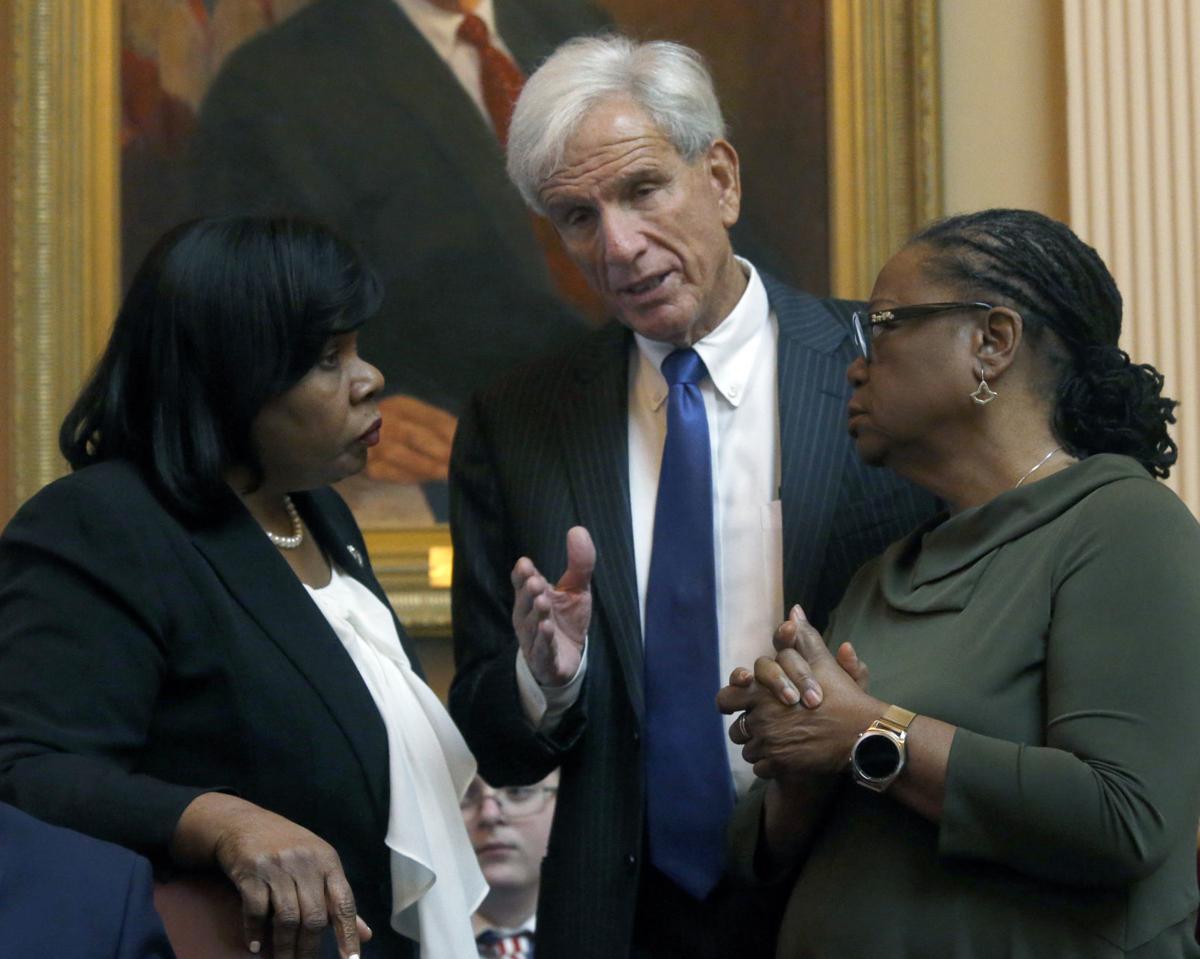 The Senate, on a 21-19 party-line vote by which Republicans sought to send a message to the Northern Virginia Chamber of Commerce, defeated a bill Monday to raise the minimum wage to $15 per hour by 2021.
Republicans in the majority killed a similar bill last year in committee. They allowed the bill to get to the Senate floor this year to send a message to the chamber about what could happen if Democrats take control of the Senate this fall, said Jeff Ryer, an aide to Senate Majority Leader Tommy Norment, R-James City.
"What does a Democratic majority mean?" Ryer said after Monday's vote. All 40 seats in the Senate and all 100 seats in the House are up for election this fall.
The Northern Virginia chamber, while opposing Senate Bill 1200 from Sen. Rosalyn Dance, D-Petersburg, backed Democrat Jennifer Boysko in a Jan. 8 special election to replace former Sen. Jennifer Wexton, now a member of Congress, in a Loudoun-based seat. Boysko beat Republican Joe May by 40 points.
Virginia's minimum wage of $7.25, set in 2009, is the same as the federal minimum wage. States can go above but not below the federal minimum.
Democrats argued Monday that Virginia is overdue in raising the minimum wage, while Republicans argued that doing so would hurt the workers Democrats said they're trying to help.
Dance introduced her bill saying said she has a constituent from Hopewell who has been a home care provider for 20 years who has cared for people with disabilities and Alzheimer's disease.
Dance said the constituent's wages have made it difficult to pay her own rent and meet the needs of her family.
"I will tell you, Mr. President, it's been 10 years since Virginia workers received an increase in wages," said Dance, addressing her comments to Lt. Gov. Justin Fairfax, president of the Senate.
Meanwhile, prices have gone up, she said.
Her bill would have raised the minimum wage to $10 this year, $13 next year and $15 by 2021. Later in the day, Republicans on the Senate Commerce and Labor Committee killed Senate Bill 1017 by Sen. David Marsden, D-Fairfax, which would have raised the minimum wage to $11.25 over three years.
Sen. Mark Obenshain, R-Rockingham, said in the Senate that all lawmakers want higher wages and work toward improving business conditions in Virginia.
But he said Dance's bill "more than doubles the minimum wage in Virginia. That's a big problem. It's a big step."
Economics dictates that when the salary paid to an employee goes up, businesses will employ fewer people, he said.
"In a lot of ways it hurts the very people that this type of legislation is intended to benefit," Obenshain said. "There are a lot of people who are entering the workforce who need the experience and the skills that come with a first-time job — kids who are in high school, kids who just finished high school. People who don't have experience getting up and going to work and understanding the demands of the workplace."
Norment told senators there is "empirical, and not emotional, data that supports why this is a bad idea."
"And I'm sure that all of you are aware of the number of organizations that have come out in very fervent opposition to this," Norment said. "My favorite group — my favorite group that has come out in opposition to this is the Northern Virginia Chamber of Commerce. My buddies."
People trying to live on a minimum wage are likely to apply for public assistance, said Sen. Scott Surovell, D-Fairfax.
"If somebody's getting paid $15,000 a year, there's a pretty good chance they're getting benefits from the state," he said. "By keeping our minimum wage down, what we're doing is basically subsidizing large corporations, because taxpayers are making up the ability for these folks to be able to live."
In a later debate on state incentives for Amazon's new headquarters in Arlington County, Dance noted that the company has already instituted a minimum wage for its U.S. employees of $15 per hour.
"They think it should be $15 and they've put their money where their mouth is," she said.
(804) 649-6061
Twitter: @patrickmwilson