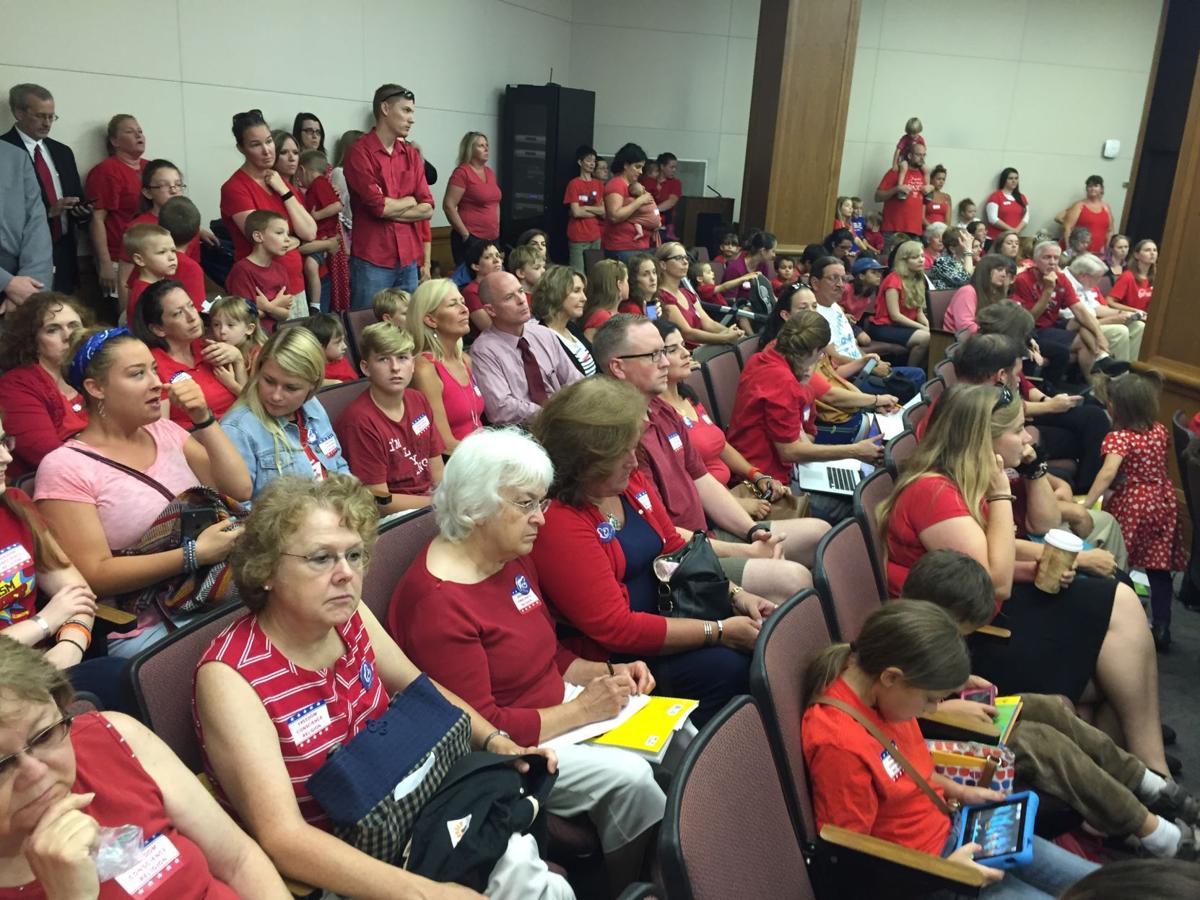 A sea of red overwhelmed a meeting of the General Assembly's Joint Commission on Health Care on Wednesday after protesters came out in droves to oppose possible plans to restrict exemptions to otherwise mandatory immunizations for school-age children.
The commission was not voting or making any immediate decisions on the exemptions, nor was it accepting public comments.
It did, however, hear from interested parties and its staff regarding a proposal killed during the most recent General Assembly session that would have removed religious and medical exemptions as legitimate reasons for children not to receive immunizations before attending school.
The commission is studying the state's vaccine requirements and is expected to make recommendations that may be considered during next year's assembly session.
The opponents of the failed bill — mostly wearing red in solidarity at Wednesday's meeting — consisted largely of mothers with infants, toddlers or adolescents. They were there not only to show their opposition but also to support Barbara Loe Fisher, president of the National Vaccine Information Center, a Sterling-based organization opposed to mandatory vaccinations.
Fisher urged the commission to recommend against restricting exemptions to mandatory immunizations. Most of the crowd gave her a standing ovation after she spoke.
"Who has the moral authority to deny anyone the right to pray to God for guidance and obey our conscience when making a decision about a pharmaceutical product that could brain injure or end our lives or our children's lives?" Fisher told the commission.
"Utilitarian health policies that force everyone to be treated the same are cruel and immoral," she said. "Without flexible medical and religious exceptions, enforcement of one-size-fits-all vaccine laws create fear and distrust of government and doctors."
However, Karrie Delaney, parent advisory board member for Voices for Vaccine, which favors mandatory vaccinations, told the commission that science is not at the heart of the vaccine discussion.
"Some claim that the choice to not vaccinate is their personal liberty — a parent's right to decide what is best for their child," Delaney said. "But what about the rights of every other child? When schools' immunization rates fall below 95 percent, that community is at risk for vaccine-preventable disease."
Delaney depended on the theory of herd immunity, which holds that the public is protected from some diseases when a certain percentage of people gets an immunization to prevent that disease.
Stephen Weiss, the commission's senior health policy analyst, said the issue before the commission is a balancing act between the safety of the population as a whole and that of personal freedom.
"No publication or website says vaccines are 100 percent safe or effective," Weiss concluded in his written presentation. "But ... the preponderance of evidence is that vaccines are safer than the diseases they are intended to protect children from and the link between vaccines and the host of other illnesses they have been associated with are not supported by science."
He pointed out that international data show that herd immunity can "effectively stop the spread of disease."
Weiss prefaced his presentation by assuring the commission that he was very thorough in putting together his report — gathering information in Fairfax, Blacksburg and Washington — and that he took into consideration everything he was told during the course of his fact finding.
"I thought that I treated it fairly. I came in with an open mind, and nobody called me and told me how to do this report," he said.
Despite that introduction, opponents of mandatory vaccinations at one point called for him to sit down, claimed his facts were incorrect, and asked if another presenter would tell the other side of the story.
Issues in the audience seemed to lie in a distrust of the Food and Drug Administration and the Centers for Disease Control and Prevention, from which Weiss pulled some of his facts and referenced as the agencies through which vaccinations are proven safe.
His presentation outlined the history of vaccinations, how they are approved and proved safe, and included some case studies of breakouts of vaccine-preventable diseases, such as the late 2014 measles outbreak that started at the Disneyworld theme park in California.
A bill was proposed — and later pulled — by Del. Eileen Filler-Corn, D-Fairfax, and Del. Christopher P. Stolle, R-Virginia Beach. The two lawmakers requested the legislature's joint commission look into the issue.
The commission is accepting written public comments until Sept. 3, which can be submitted by emailing adymora@jchc.virginia.gov.
(804) 649-6813
Twitter: @katiedemeria