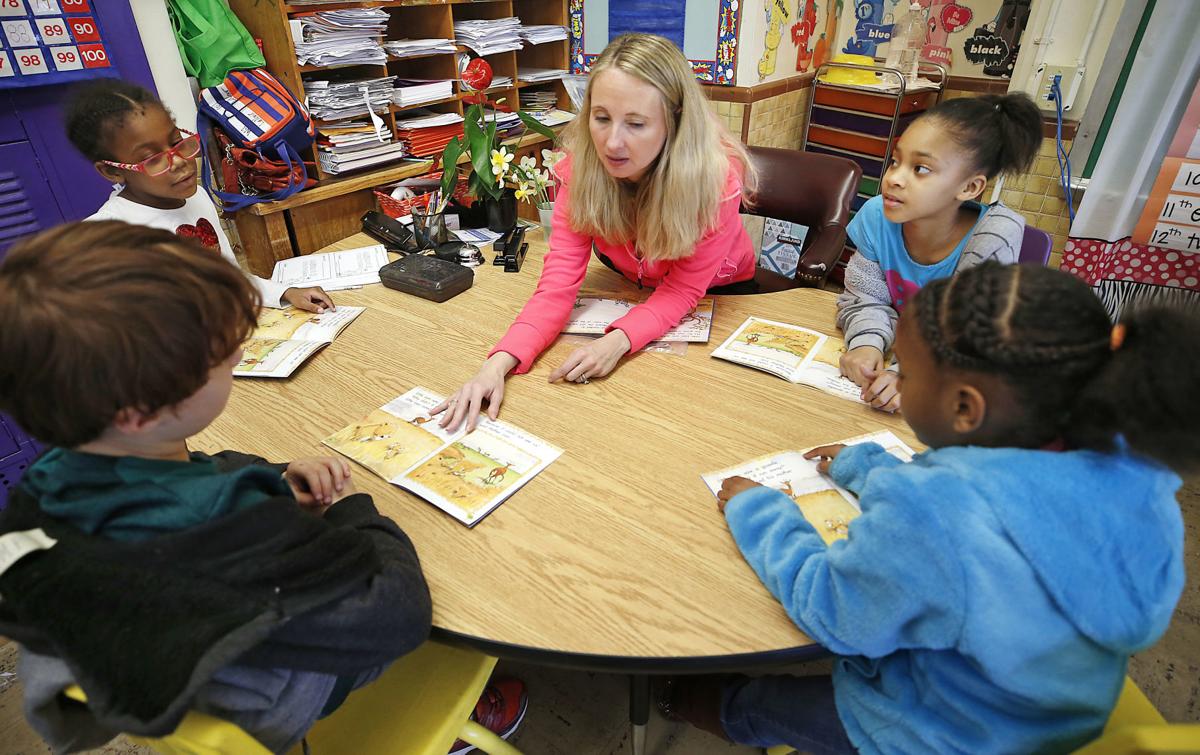 Virginia lawmakers made it easier this year for in-state teachers to renew their licenses and out-of-state teachers to get licenses in the state, but some teachers and education advocates want more to be done to address what they say is the real reason teachers leave the profession.
The length of a teacher's license was extended from five years to 10 years, and educators who are not from Virginia can teach in the state through an agreement among states to let licensed educators teach while meeting a state's specific requirements, among other changes.
While it's agreed that the reforms were necessary and simplify the licensure process, Virginia still trails the U.S. average in teacher pay by about $8,000 — an issue that's hindered the state's ability to combat its teacher shortage.
Statewide data on teacher shortages are scarce, but the most recent data show state schools entered the 2016-17 school year with more than 1,000 vacancies. There were slightly more than 96,000 teachers in Virginia that year, according to state data.
Looking at this year, Richmond Public Schools, for example, still has more than 180 vacancies left with less than two months before the start of the new school year.
The shortage is most prevalent in special education, elementary schools and middle schools, according to an annual state report.
In December, former Gov. Terry McAuliffe signed an executive order directing the state education board to adopt emergency rules to allow colleges to offer a four-year undergraduate degree in teaching, rather than a five-year master's program.
A month later, Del. Steve Landes, R-Augusta, the chairman of the House of Delegates Education Committee, introduced House Bill 1125, which served as the main vehicle to reform the licensure process. It was eventually signed into law by Gov. Ralph Northam.
The law allows teachers with current out-of-state licenses to get teaching license reciprocity, the agreement between states, without having to pass additional licensing assessments.
"We wanted to streamline the process," Landes said. "We needed to do something comprehensive and do it during this session."
Virginia is a signatory on the NASDTEC Interstate Agreement, an agreement of all but four U.S. states to help teacher license reciprocity. The agreement doesn't guarantee full teacher license reciprocity, something Virginia doesn't have, but the new law addresses it.
The state still has additional coursework requirements for out-of-state teachers, with training required in child abuse and neglect, dyslexia and emergency first aid, according to a teacher license analysis by Education Commission of the States, a Denver-based think tank.
The new law also allows local school boards and superintendents to waive certain requirements for a person who has a provisional license and is employed by the school division, making it easier for those teachers to get their license.
"Those provisional licenses allow us to get people from the community we're in and better teach these students," said Bradley Mock, a civics teacher at Richmond's Martin Luther King Jr. Middle School.
The final version of the bill came to be after extensive lobbying from the Virginia Education Association, which said it had "very serious issues," especially with "very concerning language that would have allowed anyone to teach by making it very easy to get a teaching license or to allow waivers from even holding a license."
In the end, it "takes some of the load off of teachers having to go through the renewal process," said Jim Livingston, the president of the Virginia Education Association.
Mock, a teacher in one of Richmond's hardest-to-staff schools, said the bill helps, but doesn't do enough.
"The bill does a good job of making it easier," Mock said, "but it doesn't address the root causes."
Virginia teachers make, on average, $51,049 per year, which ranks 32nd in the country and is about $8,000 below the national average, according to the VEA. Since 1969-70, the state has ranked in the top 20 in teacher pay just once.
The average teacher salary in the Richmond region is $49,989, according to state data.
"Pay is still an issue," Landes said.
The budget approved by the General Assembly and signed by Northam earlier this year provides the state share of a 3 percent raise for teachers.
"While that's nice, it's not nearly enough," Livingston said.
The state and local governments combined fund the majority of education in Virginia, with federal money covering about 7 percent of the total cost.
Virginia covers 41 percent of funding for school operations, but its contributions have fallen 11 percent per student since before the Great Recession. Localities pick up about 52 percent of the tab and set teacher pay.
Legislators and advocates expect the teacher shortage to again be addressed next session.
Said Livingston: "There are a variety of factors that go into the teacher shortage and we're going to have to address those, but it takes time."
(804) 649-6012
Twitter: @jmattingly306