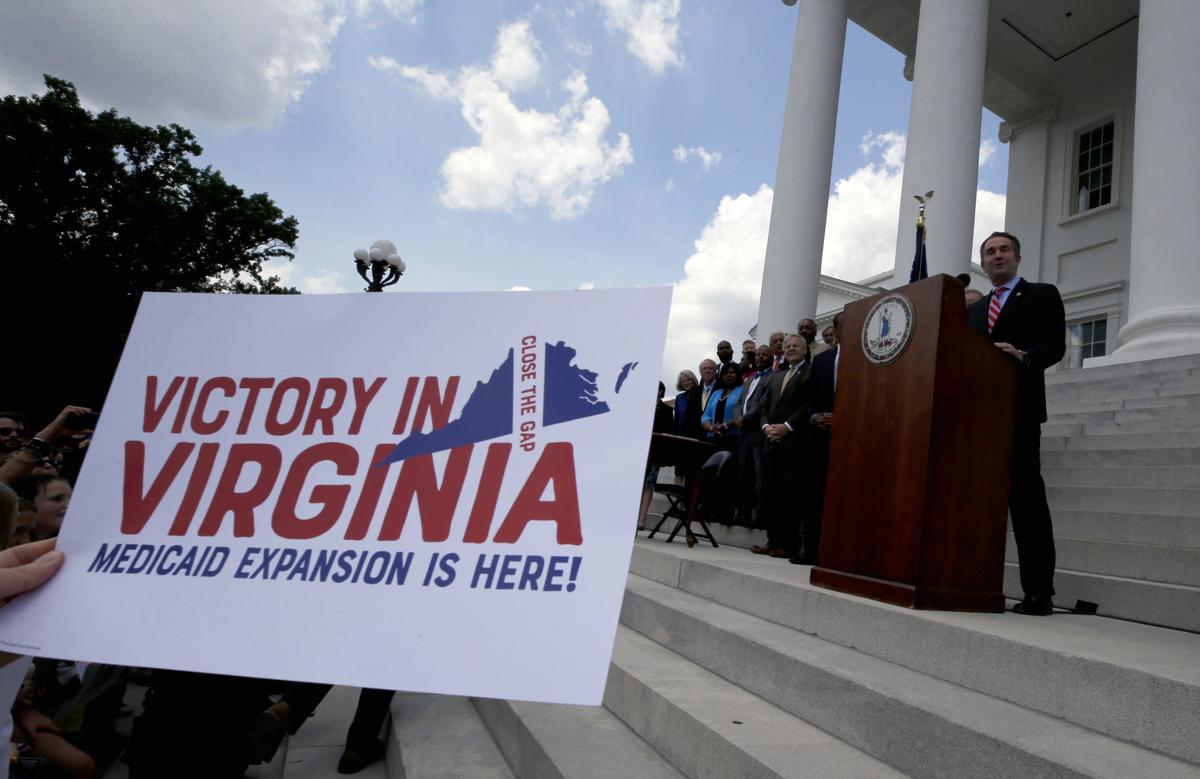 A national bond rating agency predicts Virginia's hospitals and health systems will receive a boost to their bottom lines when the state expands its Medicaid program on Jan. 1.
S&P Global Ratings said Monday the impending expansion of health coverage for up to 400,000 uninsured Virginians will be "credit positive" for state hospitals by generally reducing the level of uncompensated and charity care they provide to people with no means to pay.
The report does not change the current credit ratings of any Virginia health system, but S&P credit analyst Anne E. Cosgrove said the positive outlook "should help their bottom lines."
"If you don't have as much uncompensated care, this should help your underlying profitability," Cosgrove said in an interview on Wednesday.
Virginia hospital officials played down the S&P announcement because they said enrollment under expanded Medicaid eligibility hasn't begun and the benefits will vary among health systems depending on the mix of patients they serve.
"While we do not yet have enough information for specific projections, we anticipate Medicaid expansion having a positive impact on the financial health of Sentara Healthcare," said Howard Kern, president and CEO of the health system, based in Hampton Roads but owner of 12 hospitals across the state.
"Not every indigent patient will qualify for Medicaid, so we will continue to provide significant charity care," Kern added in a written statement on Tuesday.
Hospitals will pay a pair of new taxes on their revenues under the two-year state budget that took effect July 1 - one to cover the state's share of the cost, currently limited to no more than 10 percent, and the other to boost their reimbursement for treatment of Medicaid patients from 71 to 88 percent of their costs.
The assessments will raise about $593 million over two years, but the estimated net benefit for hospitals is about $880 million, according to an analysis by the Senate Finance Committee on May 29, the day before the General Assembly approved expansion in a pair of budget bills.
The administration of Gov. Ralph Northam greeted the S&P report as further proof that Medicaid expansion will pay off for Virginia hospitals and health systems.
"We want healthy hospitals in Virginia," said Secretary of Health and Human Resources Daniel Carey, a former cardiologist who has briefed national bond rating agencies as senior vice president and chief medical officer at Centra Health, based in Lynchburg. "This should help."
S&P is the second bond rating agency to call Virginia's plan to expand "credit positive." Moody's issued a similar report on June 7, the day Northam signed the budget bills to begin the two-pronged process of expanding the program with billions of dollars in federal aid under the Affordable Care Act.
"I know what they're looking for - they're looking at the risk," Carey said in an interview on Wednesday. "It does decrease the risk to health systems and hospitals."
The plan to expand eligibility for Medicaid to adults earning up to 138 percent of the poverty level - less than $17,000 a year - already has boosted the Virginia's budget outlook by freeing up to $371 million in state taxpayer funds in this biennium to be spent on other core services, such as education.
The day after Northam signed the budget bills, S&P restored Virginia's financial outlook to stable, a year after lowering it to negative because of concerns about inadequate financial reserves and dependence on fickle federal military spending.
Neither S&P nor Moody's, which affirmed Virginia's AAA bond bonding the day before the budget signing, took positions on Medicaid expansion itself. They based their actions on the financial ramifications that allowed the state to bolster its cash reserves and invest in core services in the budget.
Secretary of Finance Aubrey Layne said the latest S&P report would help hospital budgets, too, by potentially lowering the cost of capital for investment in their operations.
"An outside observer says the deal is good for the hospitals - not for the state, but for the hospitals," Layne said. "It's good they see it the same way we do."
S&P said its view of Virginia's planned expansion is similar to that of other states that chose to expand their Medicaid programs after the U.S. Supreme Court made it optional under the law in a 2012 decision.
"As we have seen with other state expansion programs, the increased revenue and incremental benefits from expansion are a clear credit positive, which contributed to upgrades in expansion states a few years ago, although expansion itself will not generate ratings changes," the report states.
"However, we continue to view it as an additional contributing factor in our overall assessment of the financial profile of rated hospitals or health systems," it adds.
S&P made clear the report "does not constitute a rating action" or change its assessment of the creditworthiness of individual health systems, include six that it listed, including the Virginia Commonwealth University Health Authority.
The six systems have credit ratings ranging from AA+ for Inova Health System in Northern Virginia to A for Centra. VCU, as a public health authority, has a AA- rating from S&P, as does Carilion Clinic in Roanoke. Sentara is rated AA and Valley Health, based in Winchester, is rated A+.
Julian Walker, spokesman for the Virginia Hospital & Healthcare Association, called the potential reduction in uncompensated care "a positive thing for these hospitals, the commonwealth, and patients."
However, Walker cautioned that the benefits will "vary by community" and remain uncertain until enrollment begins on Jan. 1. Hospitals will still carry the burden of serving all people in medical need, he said. "Uncompensated care does not disappear."
Carey acknowledged that some hospital and health systems will benefit more than others from expansion itself, but said the increase in the Medicaid reimbursement rate will help all of them.
"It's hard to argue it's not a good thing for Virginia health systems," he said.