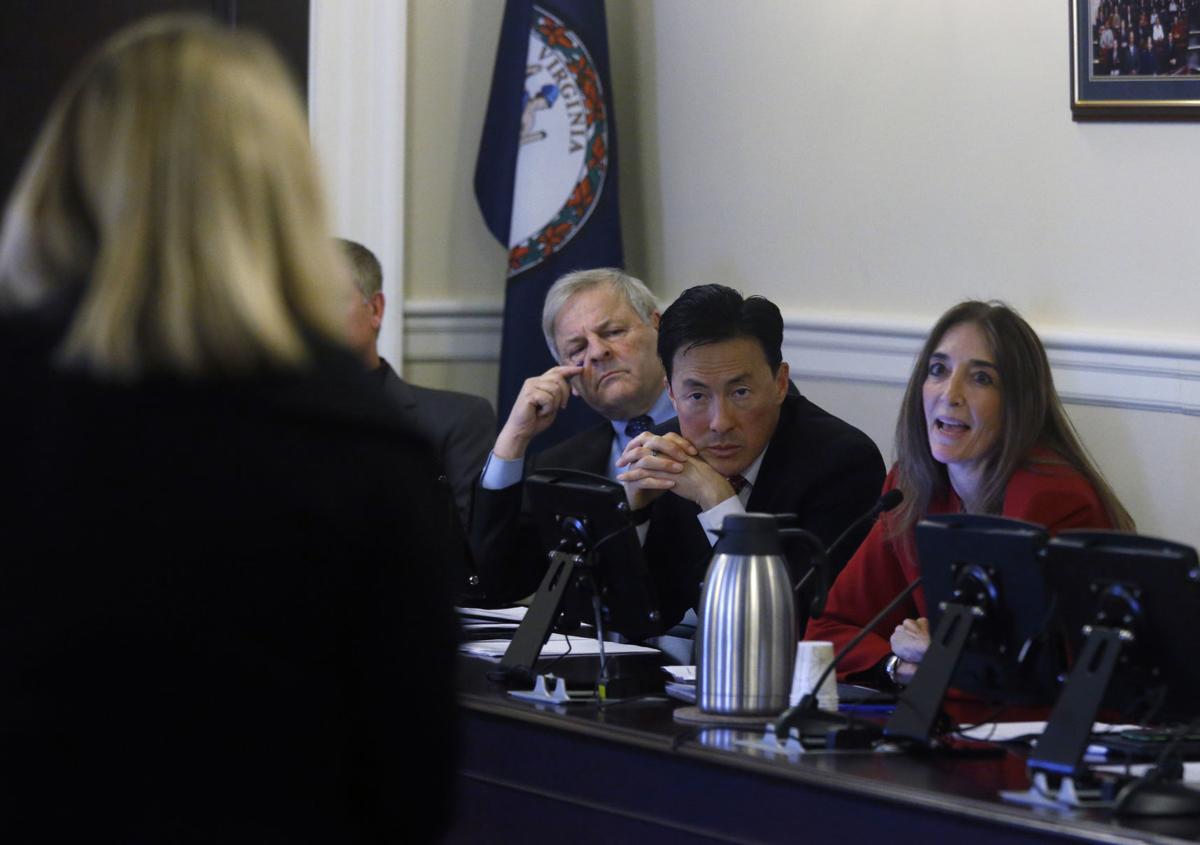 The long search for a new judge on the State Corporation Commission ended with the surprise election on Wednesday of a Republican former judge whose candidacy started a partisan battle over public transparency and gender in a critical election year.
Republican majorities in both chambers of the General Assembly elected former Judge Patricia West — a conservative Regent University official and former key aide to Gov. George Allen and Attorney General Ken Cuccinelli — to fill the SCC post vacated by the retirement of Judge Jimmy Dimitri at the end of February.
West, 57, will become the third judge on an independent commission established in the Virginia Constitution to oversee public utilities, banks and insurance companies. The SCC is now under increasing pressure from the General Assembly to carry out its priorities for regulating electric utilities and expanding use of renewable energy.
"It's a very noble body," West said of the SCC during a hastily convened joint meeting of the Senate and House Commerce and Labor committees early Wednesday.
The debate over her election was anything but lofty in the House of Delegates. It had favored Richmond lawyer and lobbyist David Clarke to succeed Dimitri but quickly fell behind West after Senate Republican leaders advanced her candidacy with their House counterparts on Tuesday afternoon.
"What happened is, we're basically caving in to the Senate," said Del. David Toscano, D-Charlottesville, the House's former minority leader who called the vote "the exercise of raw political power in its glorious majesty."
"You've got the votes, so you're going to force it down people's throats," Toscano said shortly before a series of party-line votes that elected West to the SCC.
The House had been waiting for nearly a year for the Senate to recommend an SCC candidate it could accept, Majority Leader Todd Gilbert, R-Shenandoah, said in an interview before the floor debate.
"We've both unanimously decided to proceed forward with a well-known, highly qualified, female judge," Gilbert said.
Gender figured prominently in the aftermath of the debate, as Del. Kathy Byron, R-Bedford, accused Democrats of supporting only women who share their political views.
"The other side is always touting equality. Well, here's your chance to practice what you preach," Byron said.
Del. Vivian Watts, D-Fairfax, the longest-serving woman in the House and a former Cabinet secretary, responded heatedly that the issue was not West's abilities or gender, but the lack of vetting for a candidacy that wasn't mentioned publicly until late Tuesday afternoon and unknown to most legislators until Wednesday morning.
"We have totally cut out the public. We haven't informed them," said Watts, who suggested that the process gave "special privilege" to a candidate preferred by the Republican majority.
House Minority Leader Eileen Filler-Corn, D-Fairfax, the first woman to lead a party caucus in the assembly, called the process "shocking and disturbing" in comments to reporters after the vote, but she added, "We're not doubting that this woman has credentials and experience as a judge."
Filler-Corn said Democrats, who hope to take control of the House after elections in November, are likely to reconsider West in a year, if the judge seeks re-election to a full term after her current term expires on Jan. 31, 2020.
"Will it come up again? I think that's likely," she said.
West was one of five candidates to be certified as qualified by the Commerce and Labor committees, and seven to publicly seek the job.
The front-runner had been Clarke, general managing partner of Eckert Seamans' Richmond law office, which lost three members of its lobbying team while the House and Senate deadlocked during a special session that began in April and continued until the assembly convened this month with no resolution of the SCC vacancy.
Clarke had no comment about the outcome on Wednesday.
After 25 years of public service, West was "not a mystery candidate," Gilbert told House Democrats who wanted to know more about her and her political views.
She served as director of juvenile justice and secretary of public safety under Allen, a conservative Republican governor whose agenda featured a crackdown on crime and parole. She also served as chief deputy attorney general under Cuccinelli, a conservative Republican who lost his race for governor to Democrat Terry McAuliffe in 2013.
Cuccinelli, who has been a forceful critic of the political influence wielded by Dominion Energy and other public utilities over the legislature, predicted that West will be a strong, independent member of the SCC.
"She is a by-the-books judge," Cuccinelli said Wednesday. "She's not going to do what people want her to be doing. She's going to do what she believes the law dictates be done."
"What Frank Wagner says the law says and what David Suetterlein says the law says may be somewhat different," he added, referring to Republican state senators from Virginia Beach and Roanoke County.
Wagner is chairman of the Senate Commerce and Labor Committee and a reliable ally of Dominion Energy, the state's largest utility. Suetterlein has been a critic of laws passed by the General Assembly to help Dominion and Appalachian Power, the state's second-largest electric utility.
Last year, Wagner sponsored the Grid Transformation Security Act proposed by Dominion, signed by Gov. Ralph Northam and supported by several environmental organizations.
The law requires the SCC to support as prudent legislative priorities for utilities to modernize the electric grid, expand use of renewable energy, bury outage-prone distribution lines and promote energy conservation, even if regulators think they would cost monopoly customers more than they benefit.
"You follow the law as we pass it and the governor signs it," House Republican Caucus Chairman Tim Hugo, R-Fairfax, told West during another House Commerce and Labor Committee meeting on Wednesday afternoon.
Del. Mark Keam, D-Fairfax, defended the independent authority of the SCC over institutions at the heart of Virginia's economy.
"This is created by the Constitution," Keam said, "which does not allow for this agency to be subservient to the General Assembly nor to the Executive Branch."
West acknowledged that she is not an expert in areas of the law overseen by the SCC, but her duties in the attorney general's office included the Division of Consumer Counsel, which represents utility ratepayers before the commission.
She also emphasized her 14 years of experience as a circuit and juvenile and domestic relations judge in Virginia Beach.
"I am very good at being a judge," she told lawmakers.
West also spoke of her commitment to following statutes.
"What the General Assembly decides what the State Corporation Commission must do, that's what they do," she said.
(804) 649-6964
Staff writers Graham Moomaw
and Patrick Wilson contributed
to this report.