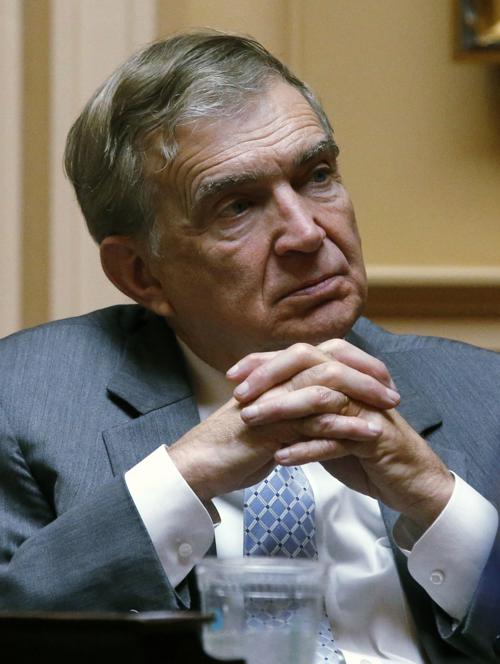 Sometimes, it pays for elected officials to reach across the aisle to members of other political parties to get things done in state legislatures.
That's the lesson from a new ranking by a Washington, D.C., data analytics company that rates state Sen. Emmett Hanger, R-Augusta, as the nation's 10th-most productive state senator.
The ranking released Monday by FiscalNote doesn't even take into account Hanger's triumph at the end of May in persuading the Virginia Senate to expand the state's Medicaid program.
"I might have to brag about that at some point," he responded with a chuckle while attending the annual summit of the National Conference of State Legislatures in Los Angeles on Tuesday.
Hanger, 69, won the distinction in the FiscalNote ranking with his cumulative legislative record since his election to the Senate in 1995 — not including eight years in the House of Delegates before taking a four-year hiatus from the General Assembly.
FiscalNote — a 4-year-old tech startup company that announced last week it is acquiring CQ Roll Call, the venerable Capitol Hill chronicle, from The Economist Group — based the ranking on the amount of legislation introduced, how it advanced through the legislature and what it achieved for public policy.
The company also selected Hanger as Virginia's most productive legislator last year, although the ranking system differed.
"I'm not surprised — he's very committed to what he does," said former state Sen. John Watkins, R-Powhatan, who joined the House the same year as Hanger — 1983 — and also became a Republican leader in the Virginia Senate.
Like Hanger, Watkins was a political moderate who bucked his party by supporting the expansion of health insurance coverage by expanding Medicaid eligibility under the Affordable Care Act.
"It's a clear indication that to get things done, you have to work with other people," Watkins said, "and it's not just people in your party."
Hanger overcame opposition by local Republican leaders to re-election in 2015 after winning the party nomination with 64 percent of the vote in a GOP primary contest against two challengers.
Since his election to the Senate in 1995, Hanger has introduced 444 pieces of legislation and won passage of 57 percent, according to FiscalNote. The ranking describes him as ideologically moderate in a Republican-controlled chamber and rates his closest bipartisan colleague as state Sen. Louise Lucas, D-Portsmouth.
The rating lists his "top policy issues" as agriculture, technology and government administration.
It does not mention his pivotal role as chairman of the Senate Finance subcommittee on health and human resources, which he has used as a platform to address issues such as Medicaid coverage, behavioral health care and children's health.
This year, Hanger worked closely with House Republican leaders, as well as Democrats in both chambers of the General Assembly, to win approval of Medicaid expansion after five years of pitched political battles. He was one of three Republicans to witness Gov. Ralph Northam, a Democrat, sign the budget bills on June 7 on the steps of the Capitol.
FiscalNote's state senate ranking includes five Republicans and five Democrats from across the country, as well as six Democrats and four Republicans in house chambers.
"Despite the partisan politics that play out in Washington, the most productive state legislators are markedly balanced between party lines, demonstrating the importance of bipartisanship when addressing the most pressing issues facing our communities today," FiscalNote CEO Tim Hwang said Monday.