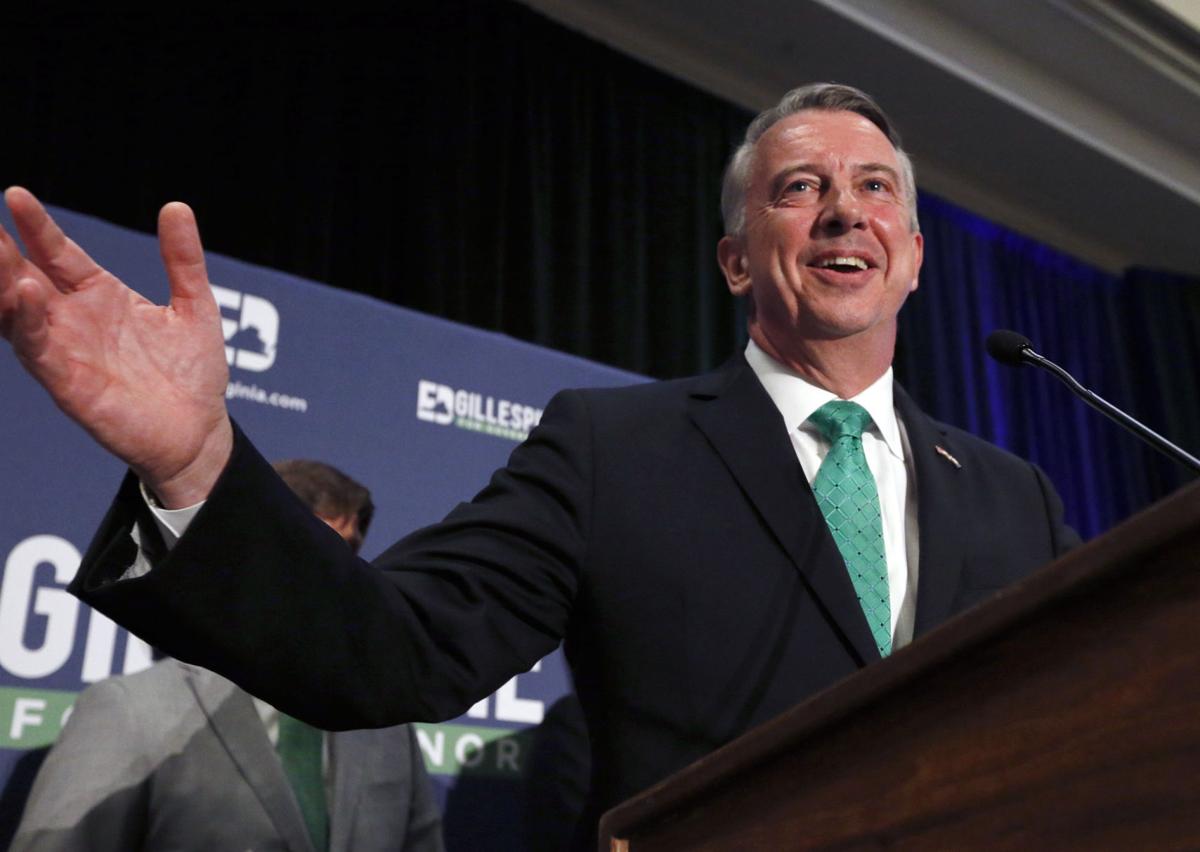 Republican gubernatorial candidate Ed Gillespie wants Virginia to allow more than "rinky-dink" fireworks by the next Fourth of July, but he remains wary of the political pyrotechnics of health care legislation stalled in the U.S. Senate.
Speaking on the back deck of a home in South Richmond, Gillespie called Friday for the state to loosen restrictions on "consumer grade fireworks," now prohibited in the state because of public safety concerns.
"There would be more freedom, be more fun, be more revenue and it would be more jobs, and all these things would be good for Virginians," he said at the home of supporter Elizabeth Gill near Huguenot Road.
However, Gillespie declined to take a definitive position on the Better Care Reconciliation Act, introduced by U.S. Senate Republican leaders a week ago but delayed until after the holiday in part because of concerns about its effect on state Medicaid programs.
Virginia Medicaid officials estimate the Senate bill would cost the state $1.4 billion over seven years by imposing per-capita limits on federal spending on services to people in the state's existing program. The state and federal governments have shared the costs of those services on a 50:50 basis since the program began more than 50 years ago.
The House of Representatives included per-capita limits on Medicaid spending in legislation it adopted in early May, but Virginia estimated the cost of the proposal at about $708 million over seven years because it would use a more generous inflation factor than the Senate bill.
"The fact is the Senate is still working on their bill; they pulled it," Gillespie said Friday in response to questions about his position on the legislation. "I'm eager to see what they come forward with. I'm concerned about some things in the House bill; I'm concerned about some things in the Senate bill."
Gillespie repeated his support for a block-grant approach to Medicaid funding to give Virginia lawmakers more say over how the program works. He stopped short of addressing the concerns raised by Gov. Terry McAuliffe, a Democrat, and Republican budget leaders of a legislative subcommittee monitoring health care legislation in Congress.
"I think giving the states greater control over Medicaid spending would be a good thing," he said. "I support the concept of giving the states a block grant so we can make decisions on how we spend our Medicaid dollars."
Gillespie spoke more forcefully in favor of repealing the Affordable Care Act, which he said had been "a disaster" for the state, resulting in limited access to insurers on the federal exchange in many localities, higher premiums and out-of-pocket costs, fewer choices of doctors, and more part-time rather than full-time jobs.
He said he supports protection of people with pre-existing health conditions and fair treatment of states, including Virginia, that did not expand their Medicaid programs under the Affordable Care Act to cover low-income, childless adults who are not eligible now. State officials say the Senate bill, especially, would give more money and time to states that expanded their programs at the expense of states that did not.
His campaign stop in South Richmond was timed on the eve of the July Fourth holiday weekend to promote legislation that has passed the state Senate, but not the House of Delegates, to loosen restrictions on fireworks sales and use.
Currently, he said Virginians are limited to sparklers and relatively tame explosives such as "party poppers," which he displayed on a patio table.
"They're pretty rinky-dink in nature," Gillespie said, "as opposed to the kind that fly up in the air and make displays and colors that make people say 'ooh and aah.' We need to have a lot more of that here."
He said the expanded sale and use of fireworks in Virginia would result in "millions of dollars" of additional sales tax revenues and "thousands of jobs" in the state.
However, that's not the policy of Richmond, or neighboring Chesterfield and Henrico counties.
Anything that explodes, sparks, arcs or leaves the ground — "you can't manufacture it, you can't sell it, you can't use it," said Lt. Chris Armstrong, spokesman for Richmond Fire and Emergency Services.
Gillespie said his proposal would allow localities to opt out of a new state policy allowing more explosive fireworks, which he suggested pose no more of a holiday risk than "deep-frying a turkey on Thanksgiving" or having Christmas trees.
"I have faith in the people of Virginia to act responsibly with these fireworks," he said.