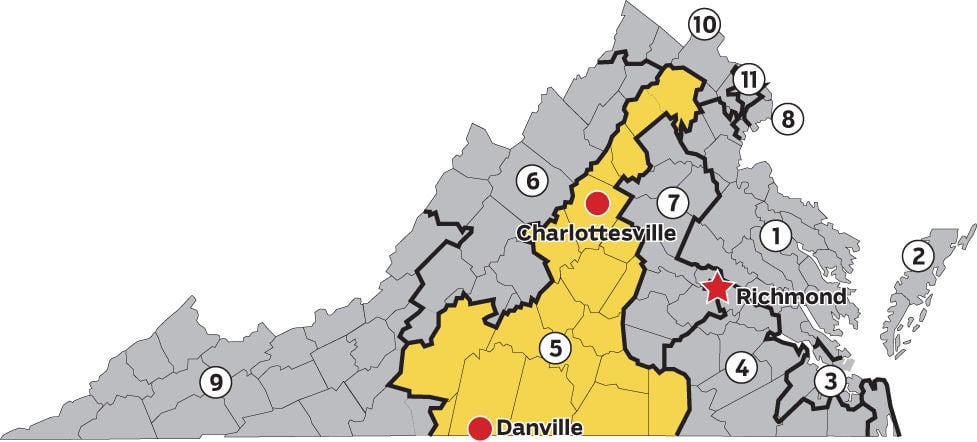 A rural Democratic Party county chairwoman resigned Saturday in protest of what she called "harassment and intimidation" by the campaign of Leslie Cockburn, the likely Democratic nominee against U.S. Rep. Tom Garrett, R-5th.
The resignation email came from Elizabeth Alcorn in Greene County, north of Charlottesville, and followed Democrats voting at caucuses in 23 localities in the 5th Congressional District in a weeklong process. Cockburn won more than 50 percent of the delegates and is expected to be nominated at a convention May 5 in Farmville.
Alcorn, a retired dentist, was elected party chairwoman in Greene in December and said she got active in Democratic politics after the election of Donald Trump as president in 2016.
Alcorn wrote in an email to Greene County Democrats that she had suffered harassment by the Cockburn campaign for months and wrote that she thought other party chairs had as well. During the caucuses, Cockburn sent an email to Suzanne Long, Democratic chairwoman of the 5th Congressional District, alleging "a racist incident" by local party volunteers.
"I am deeply offended by this false, coercive, intimidating attack by a democratic candidate that most likely will become our nominee," Alcorn wrote in her email. "I can not support such a person let alone encourage others in my community to support someone who exhibits behavior no different than politicians we wish to replace."
Louise Bruce, the deputy campaign manager for Cockburn, said Cockburn and the campaign were grateful to the party volunteers who coordinated the process, including Alcorn, and to the many voters who supported Cockburn. Bruce declined to answer questions about Alcorn's allegations.
"Right now, we're very focused on bringing everyone together," Bruce said. "Elizabeth has now made allegations and we're happy to address any of them individually with her, privately."
The 5th District went solidly to Republican Ed Gillespie in last year's race for governor, but Democrats, emboldened by Trump, think they have a chance at beating Garrett.
Cockburn is a former journalist at "60 Minutes" and PBS "Frontline"; one of her daughters is the actress Olivia Wilde. She won 140 delegates in the caucuses, beating Roger Dean Huffstetler, who got 55, and Andrew Sneathern, who won 54. Another candidate, Ben Cullop, dropped out.
Alcorn elaborated on her concerns in an interview.
She said that out of fairness she told her county's co-chairs and precinct captains not to endorse any of the candidates. She said Cockburn staffers were upset that she would not allow them to endorse.
"They were very combative, they were very accusatory, they were demanding that I allow them to do things that were not appropriate," Alcorn said. "It felt harassing and it felt intimidating. I wasn't getting this from other campaigns."
Alcorn and other volunteers assisted at the Madison County caucus on April 14. She said two Cockburn staffers broke caucus rules by leaving a holding pen for observers and entering the caucus floor to talk to voters. Once they were reprimanded and told to return to the observer pen, they did so, Bruce said. One woman had to be reprimanded twice.
The next day, Alcorn said, party chairs in the 5th District held a conference call and she learned that Cockburn staff had been disruptive at other localities.
That evening, Cockburn sent an email to Long, the chairwoman of the congressional district:
"We were distressed that one of our Staff was treated rudely by officials at the Madison caucus in what appears may be a racist incident."
Alcorn said that the Cockburn staffer who had to be reprimanded twice was African-American.
"This email lit me up," she said of Cockburn's email to Long. "There was no racist incident. That's pulling the race card. This was just an aggressive, nasty accusation to try to what? Intimidate people? That's all I can think of."
What especially upset her about the "racist incident" email, she said, was that her father, Roy Alcorn, was a school superintendent in Chesterfield County and Roanoke when those school systems were desegregated.
In Alcorn's email to fellow Democrats, she wrote, "Unlike this privileged candidate, as a child, my family was under constant threat of attack by the KKK and other white supremacists. For a candidate of my party to attack volunteers, calling them racist, including myself, when we are working our tails off to encourage voter participation by people of all color and ethnicities is something I can not tolerate."
Long, the district chairwoman, said it was upsetting to lose a good local chairwoman like Alcorn.
"When I saw the email, the original email about the racist incident, I was quite confused about it because I didn't observe anything that I would have identified as that," Long said. "And that's pretty concerning to be accused of that."
While other Democratic congressional committees in Virginia opted for a state-run primary election to choose candidates, the 5th chose to stick with its tradition of a caucus and convention process, which generated controversy in the committee earlier this year.
(804) 649-6061
Twitter: @patrickmwilson