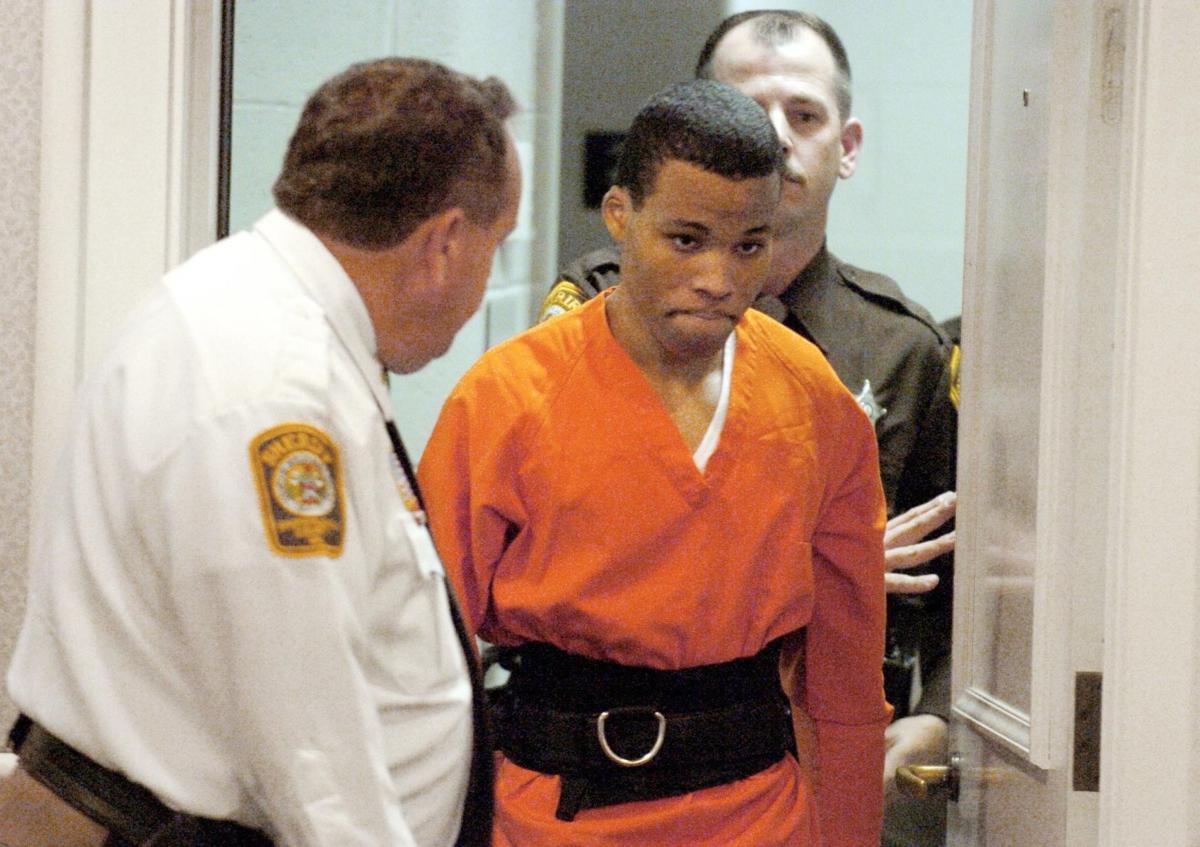 Lee Boyd Malvo, the junior member of the infamous "Beltway Sniper" team that killed 10 people in 2002, is not entitled to a new sentencing, lawyers for Virginia will argue before the Richmond-based 4th U.S. Circuit Court of Appeals on Tuesday.
Malvo was 17 years old in 2002 when he and John Allen Muhammad went on their killing rampage in Virginia, Maryland and Washington. As the government wrote to the appeals court, "Malvo and Muhammad perpetrated one of the most heinous strings of terrorist acts in modern American history."
Both were convicted of capital murder in Virginia, where there are only two possible sentences: death or life without parole.
Muhammad, an adult and father figure to Malvo during the killings, was sentenced to death. He was executed in 2009. Malvo, though eligible for a death sentence at the time of his crimes and trials, was given four life terms and is an inmate at Red Onion State Prison in Wise County.
Last year, U.S. District Judge Raymond Jackson ordered a new sentencing for Malvo, now 32, in light of U.S. Supreme Court decisions issued since Malvo was sentenced.
The Supreme Court justices ruled that mandatory life sentences for juvenile offenders in murder cases are unconstitutional — juveniles must be given a chance to present mitigating evidence and seek a lesser sentence.
The Virginia Attorney General's office has appealed Jackson's ruling to the 4th Circuit.
Among other things, the state contends that Jackson erred when he decided the U.S. Supreme Court ruling applied to juveniles in all states — not just ones with mandatory penalties and, in any case, Virginia does not have mandatory sentences for murder.
Matthew R. McGuire, deputy solicitor general for Virginia, began his 55-page argument by stating, "Lee Boyd Malvo is a serial murderer. He, along with John Allen Muhammad, arbitrarily killed 10 people and wounded numerous others in Virginia, Maryland and Washington, D.C., between September 5, 2002 and October 22, 2002."
Malvo admitted he was the "triggerman" in 10 shootings, often firing from the modified trunk of a blue Chevrolet Caprice.
Juvenile offenders are no longer eligible for a death sentence in the U.S.; however, they were eligible for a death sentence when Malvo was tried for capital murders in Fairfax and Spotsylvania counties.
In 2003, a jury in Chesapeake spared Malvo from a death sentence after a month-long capital murder trial. (He was tried in Chesapeake instead of Fairfax where the killing occurred in an effort to obtain an impartial jury.)
Malvo's lawyers mounted an insanity defense, introducing evidence about his youth and how the juvenile brain differed from an adult's. They also argued to the jury that he would never be released if sentenced to life in prison.
Then in 2004, Malvo dodged a death sentence in Spotsylvania when he agreed to a plea bargain that called for two life-without-parole sentences in exchange for pleading guilty to capital murder and attempted capital murder.
The attempted capital murder conviction carried a punishment of 20 years to life. But Malvo did not seek a prison term of less than life without parole, the government wrote.
In 2012, the U.S. Supreme Court decided a challenge to mandatory life-without-parole sentences for juveniles convicted of murder in Alabama and Arkansas. The justices held that juveniles should be given a chance to seek a lesser sentence by presenting mitigating evidence.
And then, in 2016, the justices decided the 2012 ruling could apply to earlier cases such as Malvo's — not just new or pending ones.
Last year, in another similar case, the Virginia Supreme Court held that the U.S. Supreme Court rulings about mandatory life-without-parole homicide sentences for juveniles did not concern Virginia, because Virginia does not have such a mandatory sentence.
Even though Virginia law makes only two sentences available for people convicted of capital murder — death and life without parole — judges in Virginia have the power to suspend some or all of a life sentence. Also, juvenile defendants are given the chance to present mitigating evidence before sentencing, the Virginia Supreme Court ruled.
"The Virginia Supreme Court has conclusively held that Virginia does not impose mandatory sentences for any homicide offense," so Malvo is not entitled to a new sentencing, the state says.
Also, Malvo's voluntary decision to enter into the Spotsylvania plea agreement waives any claim to a new sentencing in those cases, the attorney general's office argues.
During his Chesapeake trial, Malvo presented roughly 40 mitigating witnesses and made his youth central to his defense in an effort to avoid a death sentence. And at sentencing, he did not ask the judge for a sentence that was less than life without parole.
In Spotsylvania, he pleaded guilty.
"Guilty pleas, like contracts, are a bet on the future and cannot be voided because the defendant failed to anticipate future developments in the law," McGuire wrote.
Malvo's lawyers, Craig S. Cooley of Richmond and Michael Arif of Fairfax, wrote in their brief to the appeals court that Jackson's ruling was correct.
"First, the possibility that a trial court would suspend a portion of a life sentence for capital murder was not realistic. It has never happened," they wrote. "The Supreme Court of Virginia's recent opinion that such a sentence could be suspended contradicted years of criminal practice."
They also contend that while the Chesapeake jury rejected the insanity defense, "The jurors obviously found the evidence of Mr. Malvo's redeemability to be so compelling that at the subsequent sentencing hearing they unanimously rejected a death penalty and selected the only alternative sentence they were allowed — life without parole."
The transcript of one of Malvo's sentencing hearings is 17 pages long.
"It reflects the absolute belief by the trial judge and all counsel that the Court had no discretion to impose anything but sentences of life without parole," they wrote. "No one believed the judge could consider other factors in mitigation and impose a lesser sentence."
Malvo's lawyers contend the evidence was overwhelming that Muhammad controlled Malvo.
"Yet in 2004 at his sentencing hearing, Judge Jane Marum Roush was prohibited from considering it in any capacity to alter his sentences. She was constrained by statute and required to impose the only sentence allowed, life without parole," they contend.
As for the Spotsylvania sentences, Malvo argues that guilty plea or not, the U.S. Supreme Court decision requires that a sentencing judge must make an individualized and focused evaluation before imposing a life term with no possibility of release.
While Malvo's sentence for attempted capital murder was not mandatory, Malvo did not receive that individualized focus from the judge, his lawyers argue.
They contend the U.S. Supreme Court ruling bans any sentence that prohibits the release of a juvenile unless he or she is "the rare juvenile offender whose crime reflects irreparable corruption."
The arguments are set for 9:30 a.m. Tuesday. It will not be announced which three judges will constitute the panel hearing the case until Tuesday morning.