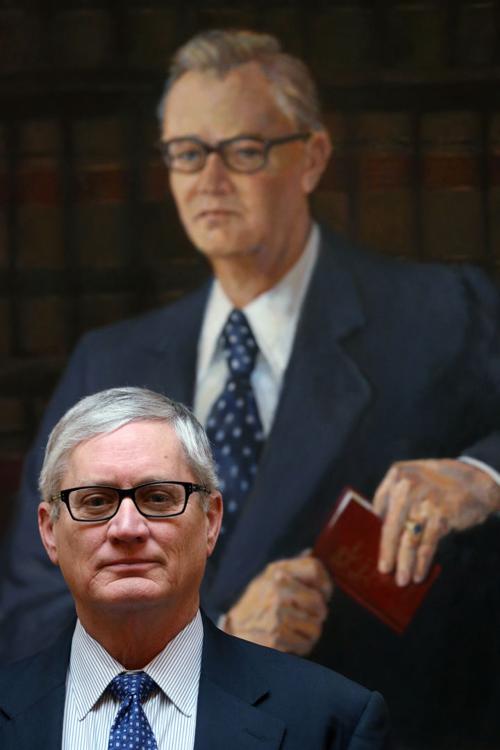 In the battle over the Atlantic Coast Pipeline, there are more combatants going around in the dark than Santa Claus. And one of them is named Henry Howell III.
Howell — Hank, to family and friends — is the lawyer-son of the populist Democratic crusader who unsuccessfully ran for governor in 1969, 1973 and 1977, vowing to bring to heel corporate powers, that he said treated Virginia government as a wholly owned subsidiary.
The elder Henry Howell, who died in 1997, famously warned voters of the seemingly insidious ways of the "big boys" — the big businesses that crushed the little man by spending big money on big law firms to do their bidding: "There's more going around in the dark in Richmond than Santa Claus. And hanky-panky is its name."
Howell had a favorite target: Virginia Electric and Power Co. Today, it's known as Dominion. It's a target of the younger Howell.
While Hank Howell's nocturnal comings and goings might be largely restricted to bedtime, he's taking aim at a Dominion affiliate that wants to build a 554-mile pipeline to transport natural gas to generating plants in Virginia, West Virginia and North Carolina. Dominion Transmission and its three partners propose spending $5 billion on the line.
Garrett Epps is a Richmond-born journalist and lawyer whose roman a clef, "The Shad Treatment," chronicled the rise and fall of Henry Howell through his fictional embodiment, Tom Jeff Shadwell. Epps welcomed the "wonderful ... symbolism" of the son jousting with the corpocracy as the father did.
Hank Howell, a dead ringer for his dad, is representing for free three property owners — two in Nelson County, one in Buckingham County — whose land could be bisected by the 42-inch pipeline. They and others want the state and federal courts to stop Dominion from coming on their land to survey the proposed route.
A 2004 law guarantees gas transmission companies such access — even without a landowner's permission. The owners say the law is unconstitutional; that it wrongly allows an invasion of private property by a private corporation invoking the authority of the state.
Dominion is pushing back. It is filing lawsuits against resistant property owners in Nelson and Augusta County, forcing them to open their land to surveyors.
The company has powerful allies: a Democratic governor (Terry McAuliffe) and a Republican speaker of the House (Bill Howell), both of whom favor the pipeline as a jobs generator, and a Democratic attorney general (Mark Herring) who is defending the 10-year-old law in court, though he won't say where he stands personally on the project.
All are recipients of Dominion's largesse. In the past year, political-action committees controlled by McAuliffe, Howell and Herring have received $112,000 from the Richmond energy giant, which is consistently the biggest donor to state legislators.
Landowners contend the 2004 law betrays a 2012 amendment to the Virginia Constitution that strengthens property rights. However, that amendment retains a century-old carve-out for utilities, railroads and other regulated industries, freeing them to seize private property for public use following payment to the landowner.
It's called eminent domain — and it's been the focus of Howell's law practice for about a decade. It's a power not limited to the government agency that wants land for a new highway or new high school. Telephone companies invoke it to string long-distance lines. Railroads invoke it to lay track. Energy companies invoke it to erect power lines — and perhaps, a pipeline.
"The owners are powerless normally to fight the taker," said Howell, referring to the property-condemning entity. "If it's only VDOT or a locality — let's say it's for water, sewer or better roads — that's a good thing. People embrace it. But these people never thought that, in their country, this much corporate power and government power would be coming at them, which forever makes them cynical about government."
To some, that may echo Howell pere's motto (borrowed from the late Warren Magnuson, Washington State's U.S. senator), "Keep the big boys honest." Epps recalled Howell's skill in what — 40 years later, in the Occupy Wall Street-era — might be called the politics of resentment: "It was reverse-Robin Hood. The state was ganging up with the private interests against you. They let them steal."
The initial round of suits and countersuits — combined with an election-year legislative fight over a proposal to scrap the 2004 law — is a scene-setter for larger issues: That should the federal government approve the pipeline, Dominion Transmission and co-investors Duke Energy, Piedmont Natural Gas and AGL Resources could start condemning thousands of acres of land to build the project.
And there would likely be court fights over cash compensation for property for which owners say they're getting stiffed and the energy firms say they're getting fleeced.
To Dominion, this is one reason it needs access to the disputed property. Dan Weekley, vice president for corporate affairs, said the company can't begin to answer landowners' questions about the impact of the pipeline on their holdings "if you don't have the authority to get on."
That's where Dominion's cadre of well-connected lobbyists and lawyers come in. And its deep pockets. The company has steered more than $800,000 to delegates and senators in the last fundraising cycle and $18 million to charities in the 12 states in which it does business. This allows Dominion to win — even when it loses.
In the early 1980s, it tried — and failed — to persuade the General Assembly to approve a pipeline through which the company would pump ground coal suspended in water from Southwest Virginia to its eastern power plants. Undecided was whether Dominion could invoke eminent domain for the so-called coal-slurry pipeline. That the utility was looking for new, cheaper ways to transport coal got the immediate attention of the railroads. In succeeding years, they started cutting their prices.
The debate was a reminder that then — as now — Dominion isn't just a large part of Virginia's political fabric. The company's weaved it — and continues to.
Dominion is run by Tom Farrell. His brother-in-law, Richard Cullen, leads the company's law firm, McGuireWoods. It's where McAuliffe's chief of staff, Paul Reagan, worked. And don't forget: Farrell's son, Peter, is a Republican delegate from Henrico County. The 2004 property-access bill was written by Sen. Frank Wagner, R-Virginia Beach. He's toying with running for governor in 2017. The bill was signed into law by Gov. Mark Warner. His former consigliere, Bob Blue, is head of Dominion's Virginia Power subsidiary. It would burn the natural gas, extracted by fracking, that would be shipped via the proposed pipeline.
It's enough to make some people believe in conspiracies.
And if that doesn't, maybe Dominion's money will.
Contact Jeff E. Schapiro at (804) 649-6814. His column appears Wednesday and Sunday. Watch his video column Thursday on Richmond.com. Follow him on Twitter.com/ @RTDSchapiro. Listen to his analysis 8:45 a.m. Friday on WCVE (88.9 FM).