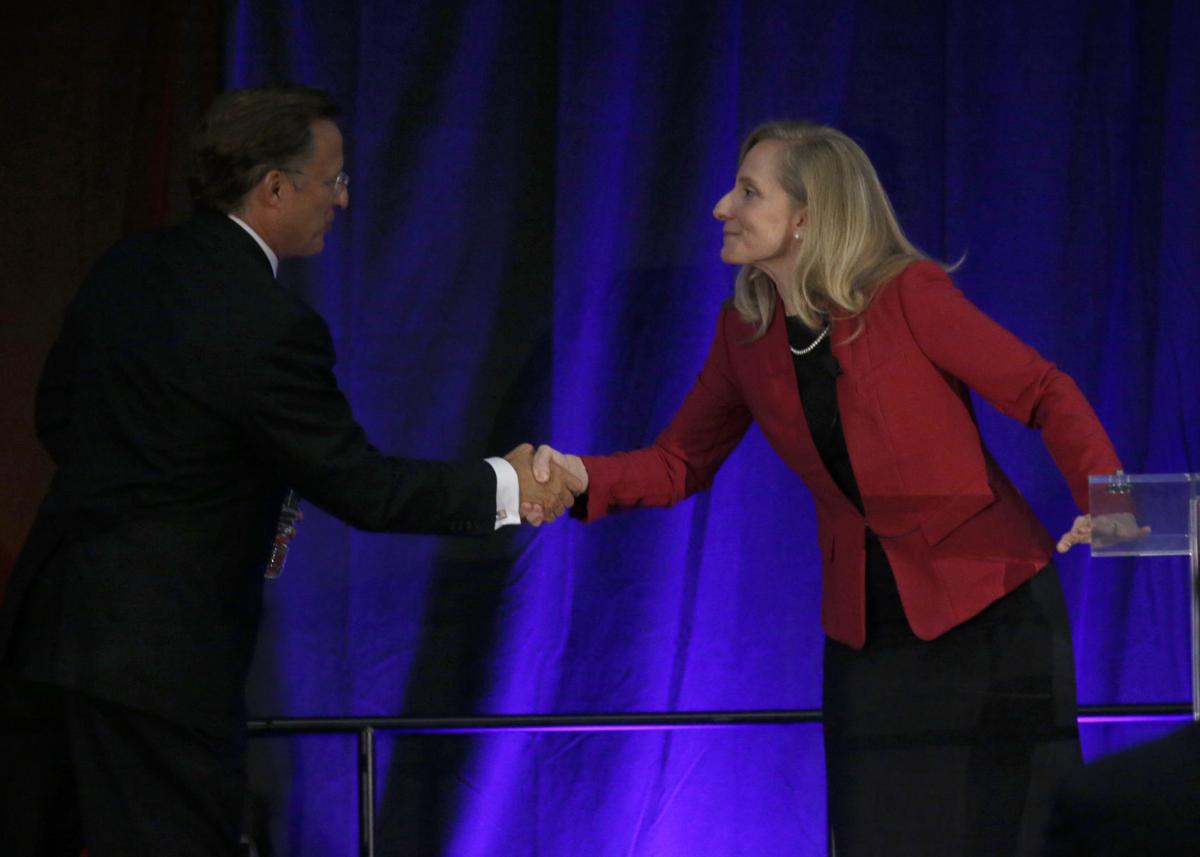 Rep. Dave Brat, R-7th, and Democratic challenger Abigail Spanberger are in a statistical tie among likely voters, according to a poll released Monday by the Wason Center for Public Policy at Christopher Newport University.
The poll showed 46 percent of likely voters favored Spanberger and 45 percent favored Brat, according to a news release. Libertarian candidate Joe Walton had 4 percent.
The poll surveyed 871 registered voters on landlines and cellphones Oct. 18-27. The margin of error was plus or minus 4.2 percentage points.
The poll found a 16-point "enthusiasm gap" benefiting Spanberger, with 78 percent of Democrats "very enthusiastic" about voting, versus 62 percent of Republicans, according to the news release.
Brat, a member of the conservative House Freedom Caucus, maintained an edge among voters who identified as independents; 46 percent of likely voters identifying as independent said they support Brat compared with 38 percent for Spanberger, whose strategy is to court votes from Republicans and independents as well as her own base in the Democratic Party.
When the Wason Center restricted the voting model to only voters who said they were definitely going to vote and were very enthusiastic about the election, Spanberger received 48 percent to Brat's 45 percent, with a margin of error of plus or minus 4.4 points.
The 10-county district includes parts of Chesterfield and Henrico counties in the Richmond suburbs and is among races being watched closely nationally in the Nov. 6 congressional midterm elections.
The close race is a significant shift from two years ago, when Brat received 57.5 percent of the vote and beat Democrat Eileen Bedell by 15 points.
That Brat could be in jeopardy "is totally conditioned on the fact that Hillary Clinton lost the presidency in 2016 and Donald Trump is now the president," said Rachel Bitecofer, assistant director of the Wason Center.
If Clinton was the president, Republicans would be fired up and the 7th District would not be competitive, she said.
On a question about Trump, 47 percent of likely voters in the 7th said they approve of his job performance, compared to 51 percent disapproval.
The poll found a gender gap in the 7th, comparable to other districts across the country. Men favored Brat by 52 percent to 37 percent, and women favored Spanberger by 53 percent to 39 percent.
(804) 649-6061
Twitter: @patrickmwilson