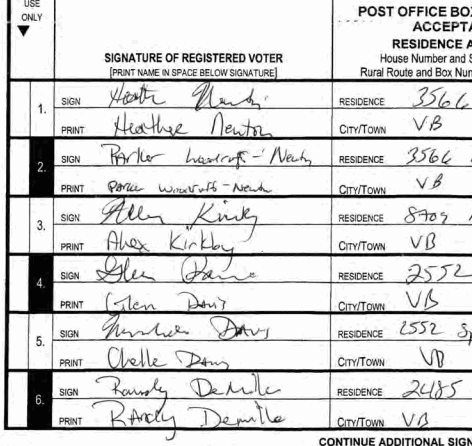 Rep. Scott Taylor said Tuesday that he had severed ties with his campaign consultant after learning about allegations of forged signatures in petitions gathered by his campaign staff. Also Tuesday, a special prosecutor was assigned to investigate petitions gathered by Taylor's staff to help get an independent candidate on the November ballot.
"My campaign has a zero-tolerance policy for inappropriate activities," Taylor, R-2nd, said in a statement. "Recently we became aware of the inconsistencies in a voter petition process along with everyone else. Previously, our team terminated the relationship with our campaign manager for separate issues, however, current knowledge underscores that decision and prompted me to sever ties with my campaign consultant."
Taylor's statement did not identify the campaign manager or the consultant.
The statement and the announcement of a special prosecutor came as more people said their names appeared on petitions they never signed, and just a day after Taylor said that he was confident no one on his staff had done anything improper.
At least four people who had been paid by Taylor's campaign for work also helped gather signatures for former Democratic candidate Shaun Brown to get on the November ballot for the congressional seat, the radio station WHRO reported last week. Elaine Luria is the Democratic nominee, but the Taylor campaign's apparent strategy was to help Brown get on the ballot so that she could draw votes from Luria.
Brown has complained that Democratic leaders in Washington unfairly favored Luria as their party's nominee before voters could decide in a primary. Brown is also facing federal fraud charges in a matter unrelated to her campaign.
There is nothing illegal about Taylor's staff helping gather signatures to get Brown on the ballot. However, allegations surfaced over the weekend that the petitions include a signature of a dead voter and a signature of a voter who had moved out of state in 2013. Taylor on Monday said his staff did nothing inappropriate.
Virginia Beach Commonwealth's Attorney Colin Stolle asked a judge on Tuesday to appoint a special prosecutor to investigate, saying, "This office is so situated with respect to potential witnesses in this matter as to render it improper for this office to make any potential charging decisions or to prosecute such potential charges."
Circuit Judge Glenn Croshaw appointed Roanoke Commonwealth's Attorney Donald Caldwell as a special prosecutor.
Numerous Republicans signed the petitions for Brown's ballot access, including Del. Glenn Davis, a state lawmaker from Virginia Beach.
However, once the petitions were posted online, people began coming forward to question why their names were on a petition they never signed.
Davis said that in addition to his valid signature on one of the forms, another form contained a signature purportedly from him and his wife, Chelle Davis — but they never signed. He said he learned of it from a reporter at the Daily Press newspaper in Newport News.
The forged signature misspelled his name as "Glen" and used an address that was close to his real address but was one number off. The same address — with one number off — was used for his wife.
"I'm not happy that my name was forged … what's more concerning is the issue it raises with the integrity of our system," Davis said.
Ann B. Kolantis, an 81-year-old Virginia Beach resident, said her name appeared on one of the pages. The address listed was correct, but the spelling of her first name was a little off.
"I don't spell my name with an 'e' on the end," said Kolantis. "I think they're taking advantage some way. I don't know how they figured out whose names to put on there."
Kolantis said she usually supports Democrats, but will occasionally vote for Republicans depending on the matchup. She said she does not support Taylor.
Taylor, in his statement, said his staff would cooperate with the investigation.
"This will not, at all, [affect] my ability to run our office in the efficient, effective, and impactful way we have been," he said.
(804) 649-6061
Twitter: @patrickmwilson
Staff writer Graham Moomaw contributed to this report.