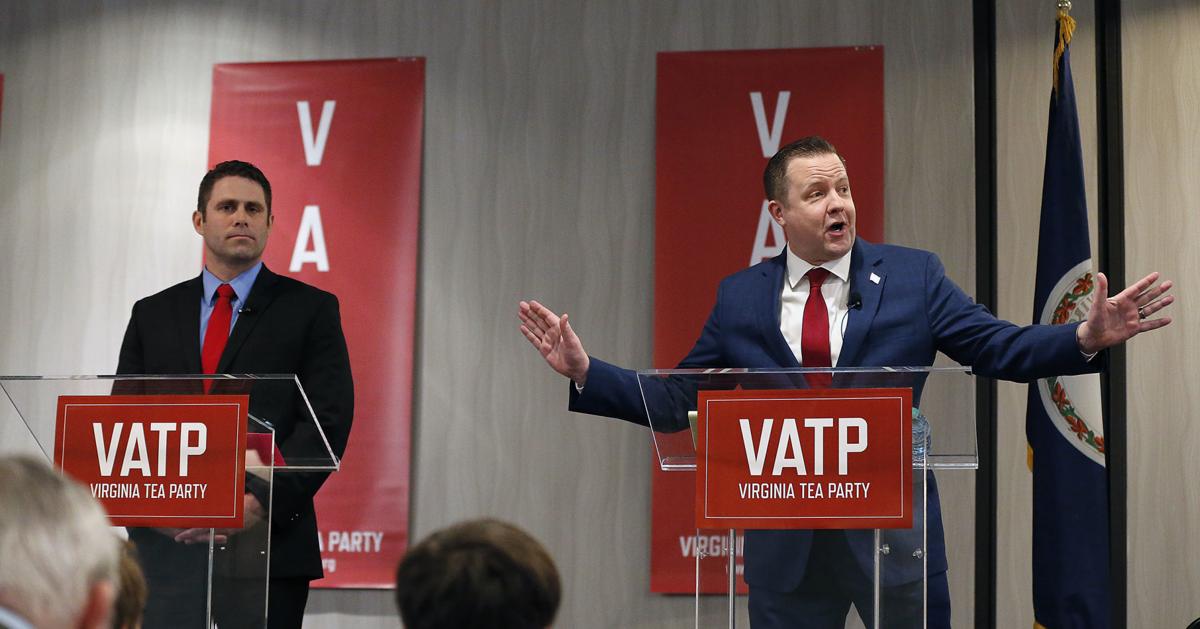 Two of the main contenders for the GOP U.S. Senate nomination met Saturday for the first debate of the June 12 primary, drawing contrasts between each other before the Virginia Tea Party in Richmond.
Corey Stewart, chairman of the Prince William Board of County Supervisors and a Republican candidate for governor last year, tried to portray state Del. Nick Freitas of Culpeper as inexperienced in politics and more talk than action. "Tim Kaine would chew him up and spit him out."
Freitas tried to portray Stewart as someone who has trouble with the truth and has divided the GOP.
"He has done so much to divide the Republican Party," Freitas said. "Can we stop engaging in a circular firing squad in Virginia with the Republican Party?"
Kaine, a former governor and Richmond mayor, is seeking a second term in the Senate after his 2016 loss in the presidential election as Hillary Clinton's running mate. Stewart and Freitas are the only two candidates who thus far have submitted enough signatures to qualify for the GOP primary ballot. Candidates have until March 29.
Freitas defeated Stewart in a straw poll of 217 people at the Tea Party's spring conference. Freitas drew 65 percent to 35 percent for Stewart, according to Tea Party chairman Rick Buchanan.
Two other candidates, minister E.W. Jackson of Chesapeake and Ivan Raiklin of Northern Virginia, notified the Tea Party that they were withdrawing from the debate because of other commitments. Candidate Bert Mizusawa of Fairfax County, who had not committed to the debate, opted to attend the Fairfax GOP's meeting on Saturday morning, according to a spokesman. Another candidate, Minerva Diaz, told the Tea Party she was on the road collecting signatures.
The debate stage illustrated the changed face of the state GOP from one year ago, when many Virginia Republicans were hopeful that gubernatorial candidate Ed Gillespie, a former Republican National Committee chairman, had a shot at winning the Executive Mansion. Stewart was relentless in attacks on Gillespie during the gubernatorial primary and nearly beat him. Gillespie went on to lose by 9 points to Democrat Ralph Northam in November.
Freitas' plea for Stewart to cease fire within the GOP went unheard.
The Stewart campaign has unveiled a website attacking Freitas as "Never Trump Nick" for his previous criticisms of President Donald Trump when Trump was still a GOP primary candidate.
On stage, the two agreed in their support of the big tax cut signed by Trump last year and called for cuts in federal spending. Freitas singled out foreign aid and Stewart singled out Medicaid spending and said he would like to eliminate the U.S. Department of Education.
Both called for stronger enforcement of illegal immigration. Stewart said the census should ask people their citizenship status and report the information to Immigration and Customs Enforcement. Both agreed with Trump's concept of building a wall on the U.S. border with Mexico.
"The only way we're going to control the problems in this country is to stop this massive inflow of illegal aliens into this country who are suppressing wages, who are committing crimes, and that is why we must build the wall," said Stewart, touting efforts in Prince William County to combat illegal immigration.
"There's nothing to stop an illegal alien who's being deported from taking their family with them. ... People talk about the 'Dreamers.' Well, what about your dreams?"
Freitas said he was frustrated by the left misrepresenting the desire of Republicans to make sure immigration is done legally.
"We have two things, and the president is absolutely correct about this," Freitas said. "One is border security, which includes building a wall. The other part is comprehensive immigration reform. A merit-based immigration system. ... When you come to this country, you have to obey the rules. As the federal government, we have an obligation to enforce them."
Stewart accused of Freitas of previously not supporting Trump's wall. Freitas responded: "Corey has some problems with the truth from time to time, and this is one of them. ... We absolutely do need to build the wall."
Trump, during his campaign, pledged that Mexico would pay for the wall, but the Mexican government has said it will not.
Some people in attendance at times chanted "Build the wall! Build the wall!" as the candidates debated immigration. A contingent of Stewart fans began booing when Freitas said Stewart had "difficulty with the truth."
Freitas pinned Gillespie's problems at the polls in November on Stewart.
"Maybe if we could have gotten a little help in the general election instead of constantly running down our own party, we'd have a Republican governor," Freitas said. Stewart later said Gillespie lost because he did not engage voters properly on "controversial conservative issues" and the GOP base wasn't enthused.
After Freitas reminded the crowd of a speech he made on the state House floor opposing gun control, Stewart said, "We don't fix problems with speeches, folks. We fix problems with action." He cited funding of school resource officers in Prince William.
Stewart slammed the GOP-controlled state House for voting for a budget earlier this year that expands Medicaid under the federal Affordable Care Act. But many in the audience helped make sure that didn't get pinned on Freitas. "Not Nick!" they yelled after Stewart said the Republicans in the House "betrayed each and every one of you."
The state Senate would not go along with the House, so lawmakers will return for a special session in April to try to complete work on a new two-year budget.
On a question about federal judges, Freitas said he backed jurists in the mold of U.S. Supreme Court Justice Clarence Thomas and the late Antonin Scalia. Stewart said, as a senator, he would only vote to confirm a Supreme Court justice who wants to overturn Roe v. Wade, the landmark decision legalizing abortion.
In a GOP primary like this one with candidates working to appeal to the party's base, rhetoric and style matter. Stewart and Freitas showed off their differences.
Stewart said he's not afraid of getting into the gutter to battle Democrats and can stand up when needed to Republican leadership.
"We have to get mean and we have to get aggressive and we have to take our country back," he said, later adding, "We're not going to win this election with cheap speeches," and saying he had experience winning in Northern Virginia.
Freitas talked about his 11 years on active duty in the military, including two overseas combat tours, and said he wanted to put emphasis on the power of the individual, not the government.
He said he wanted to remind the audience that Kaine joined Hillary Clinton, "the one that said that all of you and all of us are horrible, evil, bigoted, narrow-minded racist people because we didn't vote for her. ... You know what? I'm going to make Tim Kaine own that.
"Not only that, but Tim Kaine worked in collusion with Hillary Clinton to disenfranchise millions of Democrat voters. There's a fight going on within the Democratic Party right now that quite frankly we need to bring up."
The last Republican to win statewide in Virginia was Bob McDonnell in 2009, who was elected governor.
McDonnell has endorsed Freitas this year. Stewart, calling McDonnell "the quintessential establishment Republican," said he wasn't impressed.
"You can have him," Stewart said.
(804) 649-6061
Twitter: @patrickmwilson