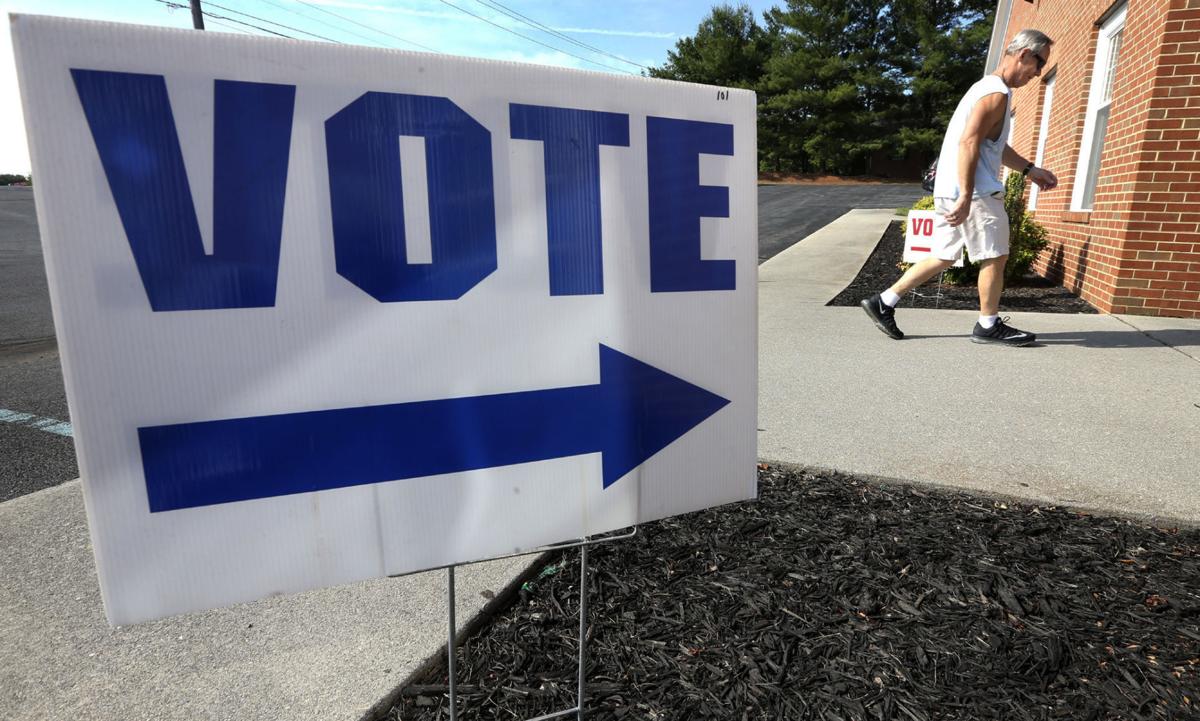 Donald Trump's surprise election to the presidency generated a wave of first-time Democratic candidates for office in Virginia.
Democrats hope that translates into making gains against the 66-34 Republican majority in the state House of Delegates on Nov. 7, when all 100 seats are up for election. Democrats believe they can flip some seats, mainly in Northern Virginia. Here are 10 races to watch (plus a few extras) — in no particular order:
District 50 (Manassas and part of Prince William)
Republican Del. Jackson H. Miller, a delegate since 2006, faces a challenge from Democrat Lee Carter. Carter is an IT specialist and former Marine; Miller, a former Manassas police officer, is the House majority whip.
Miller was considered a favorite to win a special election in April for clerk of circuit court in Prince William, Manassas and Manassas Park. But he lost to Democrat Jacqueline C. Smith, who received nearly 54 percent of the vote. That special election was considered an early test of voter turnout in the Trump era. Miller's defeat did not go unnoticed by both parties.
Carter, who backed Bernie Sanders for president, is avoiding corporate money and opposes the two controversial natural gas pipelines in Virginia that most Republicans and Democrats support. His support for a single-payer health care system is outside the beliefs of the Democratic establishment and has brought him under GOP attack.
District 42 (Part of Fairfax County)
Republican Del. David B. Albo, who has held the seat since 1994, would have been tough to beat but he opted not to seek re-election. Now, both parties anticipate a possible Democratic flip in the race between Democrat Kathy Tran and Republican Lolita Mancheno-Smoak.
Tran and her parents fled Vietnam as refugees when she was a baby. Mancheno-Smoak emigrated from Ecuador with her parents when she was a child.
In a district that leans Democratic in statewide elections, the party has been stinging Mancheno-Smoak for a 2015 tweet in which she called Trump "My ideal Presidential candidate!" Tran has a significant money edge.
District 13 (Manassas Park, part of Prince William)
Republican Del. Robert G. Marshall, one of the most socially conservative members of the legislature, faces Democrat Danica Roem, a former newspaper reporter.
Roem's status as a transgender candidate and her ability to raise large sums of money have made this race a national story. Each party considers the race to be close.
Roem talked about her transgender identity in a YouTube ad: "There are millions of transgender people in the country, and we all deserve representation in government."
Marshall, an opponent of abortion and gay rights and a member of the legislature for 25 years, has refused to debate Roem.
District 31 (Parts of Prince William and Fauquier)
Democrat Elizabeth Guzman is outraising GOP Del. L. Scott Lingamfelter and wants the seat he's held since 2002. Lingamfelter's a pro-gun conservative in a district growing more racially diverse and less friendly to Republicans — a segment of the electorate Guzman is trying to activate.
To get there, the Bernie Sanders supporter upset Sara Townsend, who had the backing of the Democratic establishment, in a primary.
Guzman, a public administrator and social worker from Dale City, came to the U.S. from Peru as a single mother. If she's able to upend Lingamfelter, she would become the first Latina member of the Virginia House.
Lingamfelter, an Army veteran from Woodbridge, went negative early in a campaign mailer, signaling to Democrats that he's feeling pressure. Independent candidate Nathan Larson also is on the ballot.
District 2 (Parts of Prince William and Stafford)
Democrat Jennifer Carroll Foy gained an edge after GOP candidate Laquan Austion dropped out over revelations that he falsified his academic credentials, and was replaced by Michael Makee. The seat is open because Republican Del. L. Mark Dudenhefer did not seek re-election to instead run for a county supervisor seat in Stafford.
The district was previously held by Democratic Del. Michael Futrell.
Foy, an African-American woman who lives in Prince William, was in the third class of women to graduate from historically male Virginia Military Institute. Makee is a Naval Academy graduate and Navy veteran who lives in Stafford.
District 32 (Part of Loudoun County)
Republican Del. Thomas A. "Tag" Greason is facing Democratic challenger David Reid.
This is among House districts Democrat Hillary Clinton carried easily last year in a 71 percent turnout statewide — but one that won't see nearly that level of voter turnout in a nonpresidential election year.
The race features white male vs. white male, so it's received less national media attention than other races. Democrats believe they have a chance, while Republicans, realizing the district is close, think Greason fits the district profile of an educated, higher-income tech-sector population. Reid owns a small consulting business.
Greason, who has held the seat since 2010, was re-elected in 2015 with 53 percent of the vote.
District 72 (Part of Henrico County)
Outside of Northern Virginia, the race to succeed retiring Republican Del. Jimmie Massie could be the most competitive. Massie has held the seat since 2008.
Democrat Schuyler VanValkenburg, a teacher, faces Republican Eddie Whitlock, a lawyer and former chairman of the Henrico County Republican Committee. Democrats consider this their best opportunity in the Richmond area to flip a GOP-held seat.
This is not an easy district for a Democrat. While Clinton won it in the presidential race, Republican Ed Gillespie easily topped U.S. Sen. Mark Warner, D-Va., in the 72nd in 2014.
District 67 (Parts of Fairfax and Loudoun counties)
Republican Del. James M. LeMunyon is feeling the squeeze — so much so that he cozied up to Democratic Gov. Terry McAuliffe in campaign mailers to highlight his bipartisanship. He's facing a challenge from Democrat Karrie Delaney — who was a Republican when she lived in Florida — in a district where Clinton beat Trump 58 percent to 36 percent.
"Since the last election, Republican Delegate Jim LeMunyon authored more bills signed into law by Democratic Governor Terry McAuliffe than any other member of the Virginia legislature," reads a mailer by LeMunyon, who has held the seat since 2010.
District 87 (Parts of Loudoun and Prince William counties)
Republicans are putting Democrats on defense in this district, which Democratic Del. John J. Bell has held since 2016. Republican Subba Kolla, a businessman who announced Virginia's roll call vote for Trump at the 2016 Republican National Convention, has raised big money.
Kolla has the backing of U.S. Rep. Barbara Comstock, R-10th, and former Del. David Ramadan, who held the seat before Bell's election in 2015. Kolla immigrated to the United States from India, earned an MBA and started his own real estate business. He has not agreed to appear at any candidate forum with Bell.
District 12 (Giles County, parts of Montgomery and Pulaski counties, city of Radford)
Republican Del. Joseph R. Yost is facing a challenge from former broadcast news anchor Chris Hurst. Democrats see an opportunity, and Republicans are confident.
The race is getting national attention because Hurst was engaged to Alison Parker, the WDBJ TV reporter who was fatally shot while doing an interview in 2015.
"I don't want your pity or your sympathy. I'm not running for office for me or Alison. I'm running for you, the people of the 12th District," Hurst tweeted Sept. 28.
Voters recognize Hurst when he knocks on their doors. But Yost is a popular incumbent with a 100 percent score on the Virginia Education Association scorecard, and has the VEA's endorsement and that of LGBT rights group Equality Virginia.
Freshman Del. N.D. "Rocky" Holcomb III, R-Virginia Beach, a captain in the office of Virginia Beach Sheriff (and former state senator) Ken Stolle, is challenged by Democrat Cheryl Turpin in the 85th District. Holcomb beat Turpin by 362 votes in a special election in January.
Democrat Kelly Fowler is challenging Del. Ronald A. Villanueva, R-Virginia Beach, in District 21.
Del. Richard L. Anderson, R-Prince William, faces a serious challenge from Democrat Hala Ayala in District 51.
Del. J. Randall Minchew, R-Loudoun, faces a challenge from Democrat Wendy Gooditis in District 10.
Republican candidate Heather Cordasco is challenging Del. Michael P. Mullin, D-Newport News, who beat her in a special election last year in District 93.
Democrat Shelly Simonds is challenging Del. David E. Yancey, R-Newport News, in the 94th District
(804) 649-6061
Twitter: @patrickmwilson