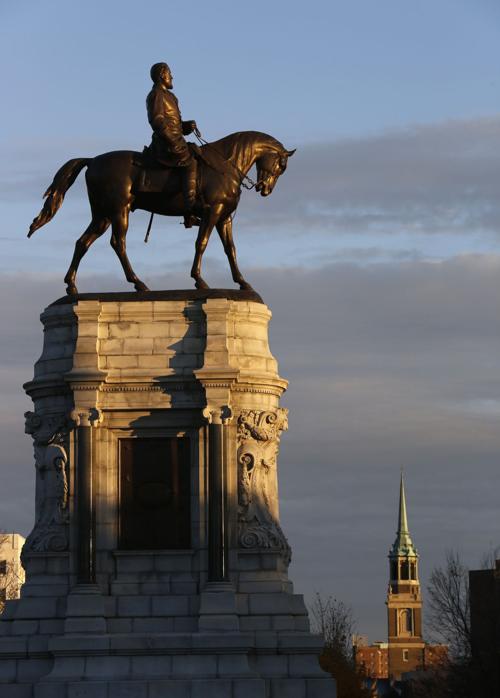 A Confederate heritage organization has asked the state for permission to gather Sept. 16 at Richmond's Robert E. Lee monument.
The rally would come roughly a month after Saturday's white nationalist protest descended into violence in Charlottesville.
Video footage posted online shows protesters — some white, some black — kicking the crumpled bronze statue as dozens of people in the crowd cheered and chanted.
The Department of General Services has received a request from Americans for Richmond Monument Preservation for a permit to hold an event at the Lee Monument on Monument Avenue, according to Dena Potter, an agency spokeswoman, who said the application is under review and has not been approved.
Potter said the request was submitted by Bragdon Bowling — a former commander of the Virginia Division, Sons of Confederate Veterans. Bowling could not immediately be reached for comment Sunday evening.
Gov. Terry McAuliffe's office said it could not provide information on Sunday, and Mayor Levar Stoney also declined to comment, referring questions to Capitol Police. Stoney spokesman Jim Nolan said city police and Capitol police will be meeting to discuss the request, but he could not provide further information.
Capitol Police, as a legislative agency, would not be involved unless and until the request is approved by General Services as an executive branch agency.
Richmond Police Chief Alfred Durham said more information about the status of the permit is expected this week.
According to an online post dated Aug. 7 on a blog listed as being for The Virginia Flaggers, a group called Save Southern Heritage has obtained a permit from Capitol Police to rally at the Lee Monument on Sept. 16. However, that information does not match what the state received, and the Richmond Times-Dispatch was unable to reach anyone associated with that group.
The Virginia Flaggers says in the post that it plans to support the efforts of Save Southern Heritage and that a large showing is needed to make a statement to Stoney and the Monument Avenue Commission, a 10-member group studying ways to add context to Richmond's public memorials to the Confederacy on Monument Avenue.
The first public hearing hosted by the Monument Avenue Commission was a contentious affair that attracted more than 500 people on Wednesday at the Virginia Historical Society. Stoney has said he wants to add context to monuments to Confederate generals and Confederate President Jefferson Davis that stand on Monument Avenue, but does not support relocating them.
Staff writer Michael Martz contributed to this report.
(804) 649-6061
Twitter: @patrickmwilson
(804) 649-6254