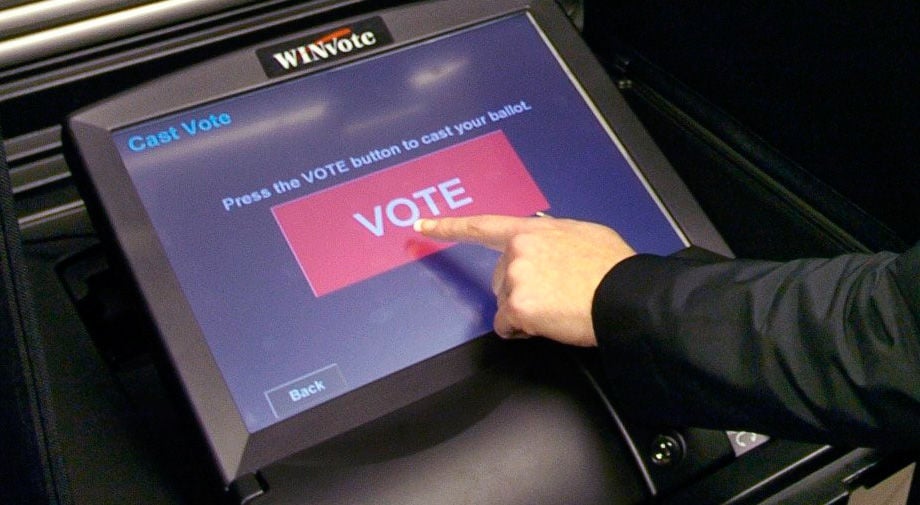 The decision by the State Board of Elections to scrap thousands of touchscreen voting machines used in 20 percent of the state's precincts sent shock waves through Virginia's community of voter registrars, forcing them to scramble and replace the faulty equipment less than two months ahead of the June 9 primaries.
The board on Tuesday imposed a ban on all touchscreen Direct Recording Electronic voting machines of the WinVote model, because the continuing use of the aging devices "creates an unacceptable risk to the integrity of the election process in the commonwealth," said Edgardo Cortés, commissioner of the state Department of Elections.
A review by the Virginia Information Technologies Agency after the Nov. 4 elections had confirmed what computer experts had feared for years — that the WinVote DREs may be vulnerable to cyberattacks. Virginia is the only state where WinVote devices are still in use.
The city of Richmond, one of the localities hit hardest by the ban, must now replace 423 of its 426 voting machines, said General Registrar J. Kirk Showalter.
There is little time until voters are set to choose their party nominees in several races, including the Democratic primary in which Del. Joseph E. Preston, D-Petersburg, is challenging Sen. Rosalyn R. Dance of Petersburg.
Showalter said Richmond's WinVote machines — all purchased before 2007 when the General Assembly prohibited localities from acquiring new touchscreen machines — had mostly been reliable.
"We have had exactly two mechanical issues during the past 10 years," Showalter said. "One when someone wrote the word 'Mickey Mouse' on the screen. The second was in November, when one of the network cards went bad. Then the machine simply stops working."
The state elections board had charged VITA with the review of voting equipment around the state following several reports of errors during the Nov. 4 election that in several cases flipped votes from one candidate to another.
Among the voters dealing with faulty machines was Gov. Terry McAuliffe, who cast his vote in Richmond.
"I kept, in full disclosure, voting for Senator (Mark) Warner, and (Libertarian candidate Robert) Sarvis kept coming up," McAuliffe said in an interview Wednesday.
"Now we are in a situation where we have machines that people don't have faith in. I don't have faith in them, and if I vote for someone and the opponent's name comes up," McAuliffe said.
"This is Virginia, the birthplace of our nation, and it is an absolute disgrace that we have these machines here. I am very concerned about it."
During VITA's review, investigators using their smartphones were able to connect to the voting machines' wireless network, which is used to tally votes. The machines, the report says, use "insecure security protocols, weak passwords and unpatched software," they "operate with a high level of risk" and "can allow a malicious party to compromise confidentiality and integrity of voting data."
"I am a little bit upset that the second the department learned of this, they did not inform us," Showalter said.
State elections officials presented their findings to their Richmond colleagues on Monday — just one day before the elections board met to decertify the machines. Showalter responded promptly and called for an emergency meeting with the city's electoral board later that evening.
"We determined that we were not going to use that equipment going forward," Showalter said. "Had we known, our board would have immediately recommended that we take our machines out of service."
With only three optical scan machines normally used for absentee voting available for the June primaries, that will be held in 50 of the city's 65 precincts, Showalter and her staff are scrambling to find enough equipment to have at least two machines for each precinct.
On Thursday, Showalter met with election officials in Fairfax to discuss whether Richmond could borrow 57 optical scan machines. The county's electoral board agreed, pending their vendor's approval to license the software.
But borrowing machines for the general election in November will hardly be possible, when all 140 seats in the Senate and House of Delegates are up for election. The timing is troublesome for many localities that had not budgeted money to replace their machines this soon.
Showalter said she will ask Richmond's City Council to foot the bill she estimates to be higher than $1.5 million to ready the city for the 2015 and 2016 elections.
"Touchscreen localities don't print a lot of paper ballots," Showalter said. "Switching over to optical scan (machines), we have to print over 100,000 ballots for the next presidential." Additional expenses include new dividers for voting booths.
In Henrico County, the decision makes about 800 of the machines ineligible for use.
Henrico had already built $1 million for new voting machines into next year's capital budget, but the decision, combined with the looming primary, will force county officials to move the expenditure forward. Officials are hoping that will be enough to get all the machines they need.
Following his experience with a faulty WinVote machine in November, McAuliffe asked the state legislature for $28 million in additional funding to pay for digital scan voting machines for precincts across the state in time for the November 2015 general election.
"I offered what I thought was a very common sense plan to pay for all the new machines, and if a county had already purchased new state of the art machines, we would reimburse them." McAuliffe said in the interview.
But McAuliffe's proposal failed in the House, where Republicans blocked many efforts to take on new debt.
"The House felt pretty strongly that the governor's request was the wrong approach," said Matt Moran, spokesman for House of Delegates Speaker William J. Howell, R-Stafford. "His plan called for $28 million in debt to pay for the new machines, which we thought was unnecessary. Eliminating unnecessary debt was important to our budget plan this year."
Many registrars statewide also found problematic a provision in McAuliffe's proposal that would have required them to replace the WinVote DREs with equipment "provided by the Department of Elections no later than August 1, 2015, and certify the equipment for use in the November 2015 election."
Showalter said the governor would have allowed the state to choose new vendors for localities, "regardless of our relationships with other vendors and existing contracts. All of that would have been ignored. I would have preferred it to be a more open process."
Del. G. Manoli Loupassi, R-Richmond, said the push-back from localities wasn't surprising.
"The localities want to be in control. And when you give money, you want to be in control," Loupassi said. "What happened is that the administration wanted to provide money for the machines but wanted to say what kind of machines. The local registrars didn't want to be told what type of machine. That's where kind of the disagreement was."
Also, funding voting equipment has always been a local responsibility, Loupassi added.
Some lawmakers didn't consider purchasing new voting equipment a priority.
"A budget is a very large document, it includes a lot of decisions, and would I vote again to give raises to teachers, deputies and state troopers who haven't had any in seven years," said Del. R. Lee Ware, R-Powhatan.
McAuliffe said he was shocked that his proposal to pay for new voting machines fell on deaf ears in the legislature and among localities.
"They should be regretting it," he said. "I don't know what the registrars were thinking, and I believe that a lot of the registrars put pressure on (the legislature) to not accept it. We were willing to pay for everything. Now they got to deal with it, they got to get some paper ballots."
However, McAuliffe said he "would be looking at any emergency measure that I can do" to assist these localities.
Del. Peter F. Farrell, R-Henrico, said it will be "a big haul" for Henrico to be ready in time for the primary.
Farrell said he is open to finding a way for the legislature when it convenes next year to help the localities burdened with the unexpected expense.
"I think we should try to find some money to reimburse them," he said.
(804) 649-6537
Twitter: @MSchmidtRTD