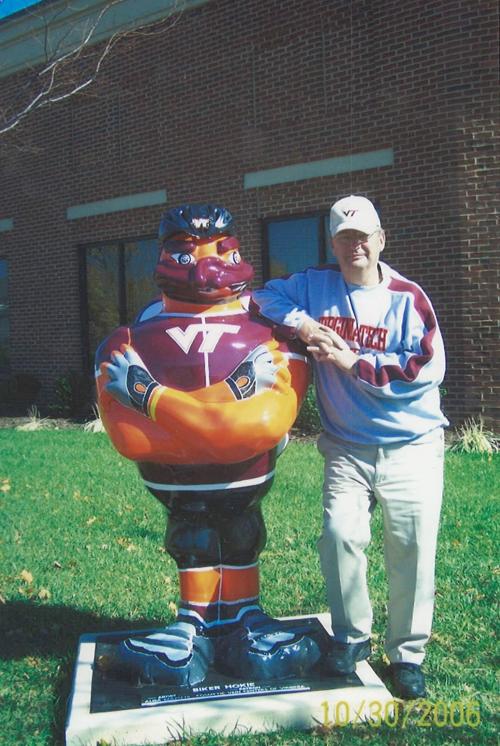 The obituary section of The Roanoke Times on Sunday had one entry that really caught the eye.
Below a photo of Timothy Todd, a 1960 Virginia Tech mining engineering graduate, was a statement about the Tech-University of Virginia sports rivalry: "Todd ... decided that he could no longer take UVA Wahoo fans incessant crowing about how the streak has ended, the NCAA basketball championship and how Virginia Tech has never won a team NCAA championship."
The obituary went on to say that Todd "went to heaven, where we are quite sure it is Chicago Maroon and Burnt Orange."
Todd died of natural causes on Dec. 28 at age 81 with some knowledge of the humorous obituary, but he didn't write it.
"I wrote it with his blessing," said his son, David Todd. "We talked about it. I will be speaking at his [memorial service] this weekend and he said, 'I don't want people crying. I want people laughing.'
"He told me, 'Write something to make them laugh.' The last football game we watched together was the UVA game that Tech lost and he said, 'I don't think I can stick around for this any longer.' "
The Hokies had won the previous 15 games in the series.
"Of course, we knew he was dying at that point," David Todd said. "My dad only missed two [Tech] home games in 20 years. He started giving us season tickets in '96."
There were six of them who went to every game — Timothy Todd and his wife, as well as their son and daughter and their spouses.
For the first time in decades, Tim Todd could not go to any games this year.
"I had to get him YouTube TV because he couldn't get the games down there otherwise," David Todd said.
The early stages of the obituary were in place when David Todd went to see his father on Dec. 23.
"He was all-in on Hokie stuff. It didn't matter if it was football, basketball, women's volleyball ... he really got into wrestling, too. He tried to figure out lacrosse. He really couldn't figure that one out."
Tim Todd was born in Charlottesville. ("Ironic, we know," David Todd wrote in the obituary.) He was a student at Tech when he met his wife of 58 years, Beverley.
"After a long career, they retired to Blacksburg, where Tim immersed himself in all things Hokie," the obit read.
Not too many years ago, David and Stace Todd had adopted two sons, and the whole family, including grandfather and grandmother, took part in a therapeutic program in Charlottesville.
"We had to do interviews with these clinicians at UVA and one thing they asked us to do was, 'Describe your parents in one word,' " David Todd said. "My dad was 'fun' and my mom was 'love.'
"It was hard for me to come up with a specific example and when I told my dad about it, he said, 'Well, that's how those [expletive] people are in Charlottesville.' They're no fun at all."
Tim Todd wasn't hateful by nature.
"Oh, no, no, no," David Todd said. "My dad had a lot of UVA friends and he's not one of those people that would say, 'I hate those UVA guys.' It was all in good fun."
As his days were growing short, Tim Todd went to a Blacksburg barbershop and crossed paths with Virginia Tech wide receiver Jaden Payoute.
"My dad said, 'Who are you?' David Todd said, "and I said, 'You shouldn't be so rude like that. He doesn't know that you're dying and you're just going to say whatever you want to say.'
"He said, 'I think that's a pretty good reason to say whatever I want to say.' He was just fun."