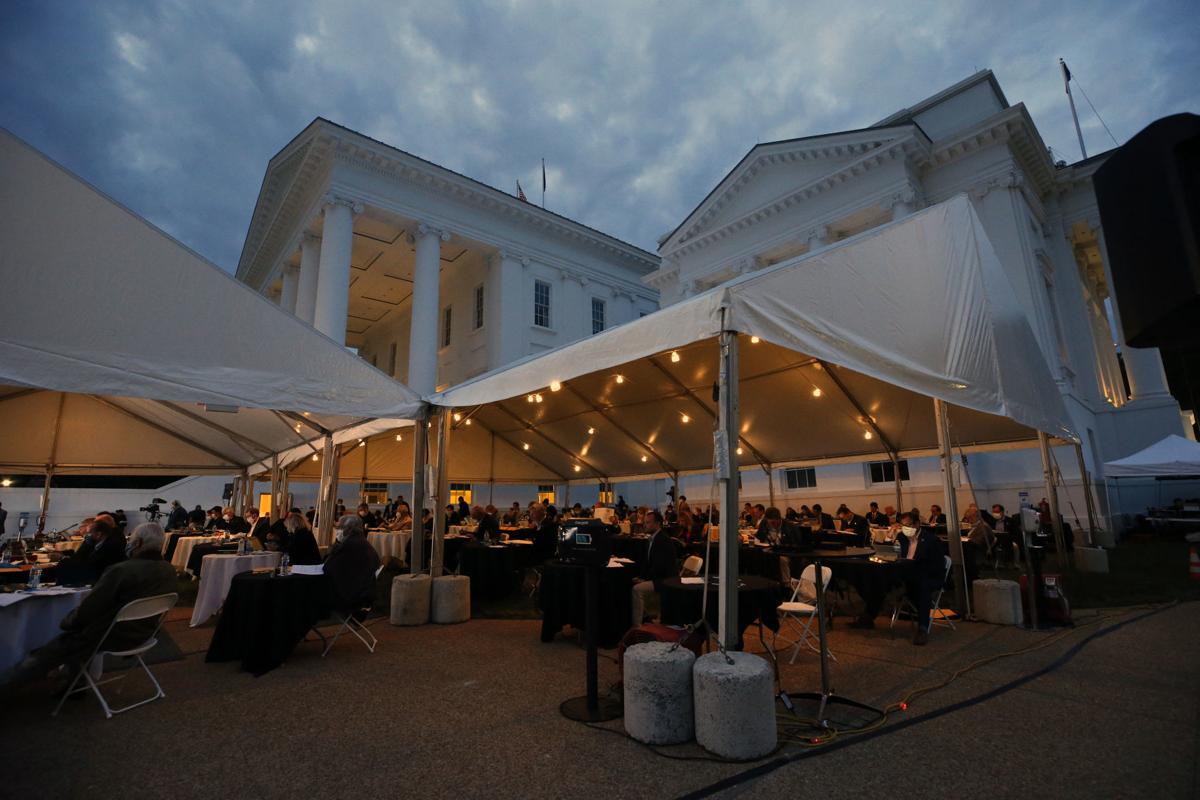 It was supposed to be a historic year for education funding in Virginia. Then the coronavirus pandemic happened.
The budget amendments approved last week by the General Assembly wiped away funding for issues long sought in education in favor of a more conservative plan that paused new spending to help address the fallout of the public health crisis.
The financial plan lawmakers backed in March included a 2% raise for teachers in each year of the two-year budget that begins July 1, more money for a fund that helps students from low-income families, and funding to hire more school counselors, pushing the state closer to the industry-recommended ratio of one counselor for every 250 students.
The budget was not all that advocates wanted — Standards of Quality prescribed by the Virginia Board of Education did not receive full funding — but educators generally saw it as a victory in the first year of Democrats having control of the legislature and Executive Mansion.
In higher education, the budget included a second straight year of a freeze on tuition — a landmark step lawmakers had not taken in roughly 20 years.
"New circumstances now require us to revisit those decisions," Northam said in proposing his amendments that wiped away those proposals.
The revised budget has left the K-12 and higher education communities wondering what comes next.
"We were very pleased with the state of education funding in March. There were some historic investments made. We wish there had been more," said Rachael Deane, legal director of the JustChildren program at the Legal Aid Justice Center, part of a coalition of advocacy groups that led the push for an increase to education funding.
The Northam administration asserted — and the General Assembly concurred — that the budget should put a "timeout" on all new spending until the economic fallout of the pandemic is clearer. Lawmakers are expected to reconvene in the late summer or early fall for a special session on the budget when there is a clearer picture of state revenues.
That leaves teachers, school administrators and community members, who operate an education system in which funding levels have not been restored since the last economic downturn, wondering: Will the funding for schools be there on the other side of the pandemic?
"To be in this place where we're looking at a budget that was really putting equity forward and to have it all unallotted, it is just devastating," Deane said. "We are in a pandemic. These are unprecedented times. We understand that, but with the extended school closures, when schools do resume, those at-risk students who are going to be even further behind ... need that support."
Brian Teucke, a civics and economics teacher in Gloucester County, said it's not a surprise that education funding was cut in the revised budget.
The virus, he said, has "only exasperated Virginia's abysmal labor and funding crises."
Lawmakers say they won't let what happened after the financial crisis of 2007-09 play out again, with funding levels per student down 8% statewide this year compared with before the downturn after adjusting for inflation, according to the Commonwealth Institute for Fiscal Analysis.
"We set public education back a decade and still haven't recovered," said Del. Schuyler VanValkenburg, D-Henrico, who said the main reason he ran for office in 2017 was because of post-Great Recession education funding. "I'm going to fight like hell to ensure it doesn't happen again and education isn't set back another 10 years."
At the turn of the 21st century, Virginia lawmakers rolled back tuition rates by 20% and kept them flat for two years. That hasn't been done since.
The General Assembly's budget, approved in March, included money for the second year of a tuition freeze. The revised spending plan axes the idea.
The national economic crisis of 2002-04 also caused the state to lift its freeze on tuition then, allowing colleges to raise rates and negate the freezes of 2000-01 and 2001-02. Since the 2008-09 school year, tuition at every four-year public college in Virginia has increased at least 50%.
James Toscano, the president of Partners for College Affordability and Public Trust, called it "unconscionable" that students will pay more next year now that a statewide tuition freeze is off the table.
"I understand that the General Assembly is putting a pause on new spending during this crisis. What it shouldn't do is put a pause on the momentum to freeze tuition across Virginia," Toscano said. "We're in the midst of change. Instead of repeating patterns of the past and expecting a different outcome, we should be committed to doing things differently."
Some colleges, however, still plan on moving forward with a tuition freeze.
The College of William & Mary announced Thursday that the school's governing board plans on reversing a planned increase in order to keep all tuition and mandatory fees flat next year. The board of visitors voted in November to raise tuition by 3% for new in-state undergraduate student starting in fall 2020, with no increase for rising in-state sophomores, juniors and seniors. The board must still sign off on the rollback at its May meeting.
"This pandemic presents so many new challenges for our students and families that we must rethink our planning," said President Katherine Rowe. "William & Mary is focused now and for next year on ways to help flatten the curve of financial impact on our university and our communities."
Christopher Newport University President Paul Trible said Wednesday that there won't be any increases to tuition and fees or room and board next year.
"We want to stand with our students and families in these difficult days," Tribble said. "It would be wrong for us in this time of economic chaos to increase the cost of a Christopher Newport education and we will not do so."
Colleges across the state are facing strains on their budgets, with the pandemic-forced transition to online classes cutting into revenues normally associated with having students on campus.
At the University of Richmond, for example, Provost Jeffrey Legro and Chief Operating Officer David Hale said in a letter to the university community that the school is projecting a budget shortfall of $10 million to $12 million in next year's budget. Hale and Legro said the university is estimating that it can avoid a budget deficit this fiscal year, which ends June 30.
"The effects in our country have been sudden, staggering, and for many families and businesses, devastating," they wrote. "The University of Richmond has been a careful steward of its resources — and especially tuition dollars — over many decades, but we are most certainly not immune to this sudden and steep economic downturn."
UR has implemented freezes on hiring and salaries. President Ronald Crutcher, Hale and Legro are taking 10% pay cuts next year, with vice presidents and academic deans taking a 5% cut.
Virginia Commonwealth University has also frozen hiring and salaries. The university's governing board is set to adopt a budget next month, during which it will consider tuition increases up to 6%. In a presentation on the proposed budget, VCU said it would recommend a second year of a tuition freeze to the board if the state's budget did that same.
The board will decide the school's rates during a May 8 electronic meeting.
(804) 649-6012
Twitter: @jmattingly306