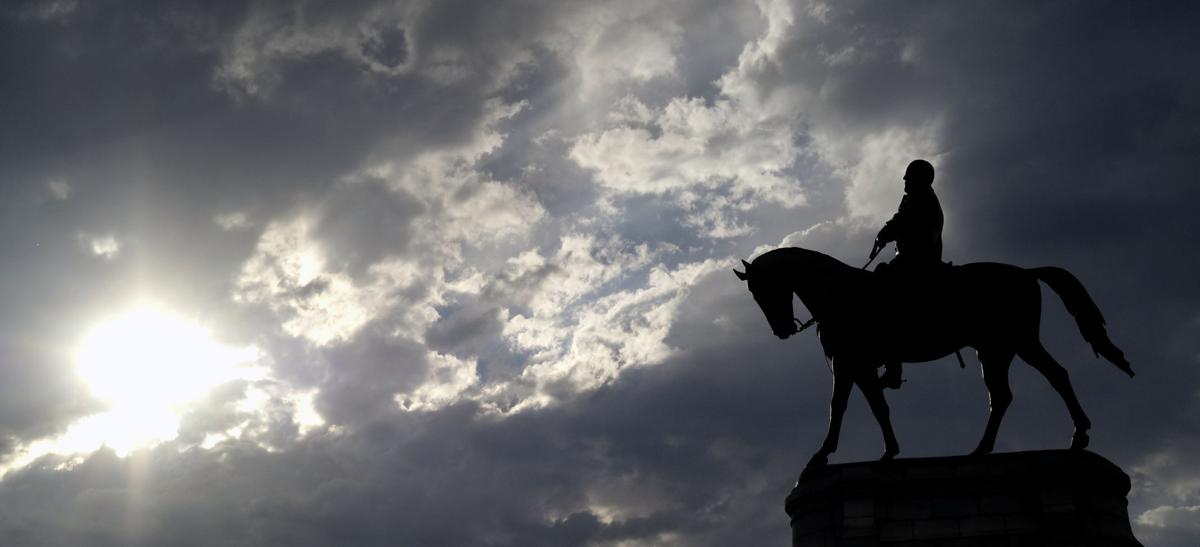 Gov. Ralph Northam made the official announcement Thursday that the Robert E. Lee statue on Richmond's Monument Avenue, the most recognizable Confederate iconography in the former capital of the Confederacy, will be taken down "as soon as possible."
The order comes alongside an announcement Wednesday from Richmond Mayor Levar Stoney that he'll pursue taking down the other Confederate statues on Monument Avenue.
Here's what elected officials and others are saying about the decision to take down the Lee monument.
"Yes, that statue has been there for a long time. But it was wrong then, and it is wrong now. So, we're taking it down."
"The Monument Avenue Preservation Group assures its members — and all Richmonders who care about preserving our city's history and public art — that every avenue to oppose Governor Ralph Northam's illegal action is being actively researched. We assure you, this will be vigorously opposed in every available forum. Richmonders — not a violent mob and a pathetic governor — should have the final say on preserving Monument Avenue."
— Monument Avenue Preservation Group
"It is time to show our community how much love we have. It is time that we embrace our diversity. It is time that we remove barriers that hinder the dreams of Black children. It is time for healing — through changes to our symbols and our systems."
— Richmond Mayor Levar Stoney
"This monument represented a lost cause. An inhumane cause. And I stand with the Governor for taking down a symbol that has been so offensive and so hurtful. The next generation will now be free from having to see it, no longer having to wonder why Virginia would allow it to continue to stand tall when it does not represent the New Virginia or Virginians who have worked diligently to make progress in our Commonwealth and work toward making sure that we are one Virginia."
— Del. Delores McQuinn, D-Richmond
"These monuments continue to cause pain and trigger trauma for my family and millions of Black families across America. Today's announcement is an important step to begin the process of healing those wounds. If Virginia is ever going to heal from the trauma that began 400 years ago, we have to talk about and address it – and how it continues to fester today."
— Sen. Jennifer McClellan, D-Richmond
"This is just the start of what is needed. I'm pleased to see it removed. It's disappointing it took so long. The Lee statue was a constant reminder to Black Virginians of racism, dehumanization, and hate that exists and was prevalent throughout our history. As we continue to tear down symbols of hate, let us now build up institutions and systems of justice and equity."
— Del. Lamont Bagby, D-Henrico
"The Governor's decision to remove the Lee statue from Monument Avenue is not in the best interests of Virginia. Attempts to eradicate instead of contextualizing history invariably fail. ... We remain committed to a Virginia that offers opportunity for all, one where racism and bigotry are not tolerated. We stand ready to work on behalf of all Virginians in achieving that ideal."
— Senate Republican Caucus leaders
"Today in Virginia, I believe we are making a down payment on the promise to the people of Virginia and all over America."
— Lt. Gov. Justin Fairfax
"There are more important things to address than a statue, but this is a symbol of oppression. It's a symbol that has become an idol, and, as a Christian, I say, this must be torn down."
— the Rev. Robert W. Lee IV, distant nephew of Lee
"It's time. These statues are not just reminders of a painful past, but symbols of a painful present and even harbingers of a difficult future. The Governor's action answers a question: Why glorify those who fought to keep people in bondage because of the color of their skin?"
"These grandiose monuments to a racist insurrection don't belong in our public spaces. They were raised as part of a deliberate effort to intimidate and demean black Virginians and they should come down as part of a deliberate attempt to heal and reconcile."
— Attorney General Mark Herring
"A positive step forward. But it can't end there. We must reform our criminal justice system. We must end three strike laws and mandatory minimums. We must legalize marijuana. We must ensure all police receive de-escalation training. We must invest in minority businesses."
— Del. Jennifer Carroll Foy, D-Prince William
"Lee fought to continue the enslavement of black people. He was a U.S. Army officer. A West Point graduate. He turned his back on his country. There was nothing honorable in that."
— Del. Kathleen Murphy, D-Fairfax
"We are in the era of change, and this is just the beginning. We must continue to drive towards reform. This is the first of many steps we are taking and will continue to take to ensure we are united Commonwealth."
— Del. Hala Ayala, D-Prince William
"It's not surprising that the Governor and Mayor Stoney would take this route. The Mayor's police force used tear gas on peaceful protesters, and the Governor can't even bring himself to publicly denounce arsonists and looters — despite calling out the National Guard to restore order. The leadership failure from City Hall to the Executive Mansion has been complete, so naturally, they're thrilled to change the subject."
— House Minority Leader Todd Gilbert, R-Shenandoah. (The House GOP caucus declined to issue a statement on the monument removal.)
"It's about time. It belongs in a museum, a museum describing how the 'Lost Cause Mythology' represented by this statue led inexorably to Jim Crow laws, lynching, denial of basic civil rights, and the post-slavery systemic racist oppression that still torments us today."
— Del. Mark Levine, D-Alexandria
"Historic. An important step forward for our Commonwealth."
— Speaker of the House Eileen Filler-Corn, D-Fairfax
"You can't heal pain [with] a constant infliction of pain, which is what this statue is a constant symbol of. This is just the minimum of what we demand to begin healing and rebuilding these broken systems."
— Del. Lashrecse Aird, D-Petersburg
"Removing the Robert E. Lee statue is a cowardly capitulation to the looters and domestic terrorists. If the state is unable to defend a monument weighing several tons in a well-lit area, what hope do citizens have of the government protecting their houses and businesses? Instead of appeasing the left-wing mob Northam's surrender will only lead to future calls to erase Founding Fathers from the public and our history books. Ralph needs to reverse course!"
— Sen. Amanda Chase, R-Chesterfield
"Governor Northam's decision to remove the Robert E. Lee statue on Richmond's Monument Avenue, which stands on state land, is the result of decades of work from the community and our Black leaders. I'm overcome with pride and emotion to see this symbol of hatred and enslavement removed from its place of undeserved glory."
— Democratic Party of Virginia Chairwoman Susan Swecker
"Northam and Stoney have stumbled and bumbled through the first half of 2020. And we're far from over. From botching the COVID-19 response to glaring inaction over the last few nights, they have proven themselves incapable of competent leadership. Yet only the Republican Party of Virginia seems interested in holding them accountable. Tearing down statues may be a shiny new toy, but the RPV stands ready to remind Virginia just how badly the Democrats are hurting them."
— Republican Party of Virginia Chairman Jack Wilson
(804) 649-6012
Twitter: @jmattingly306