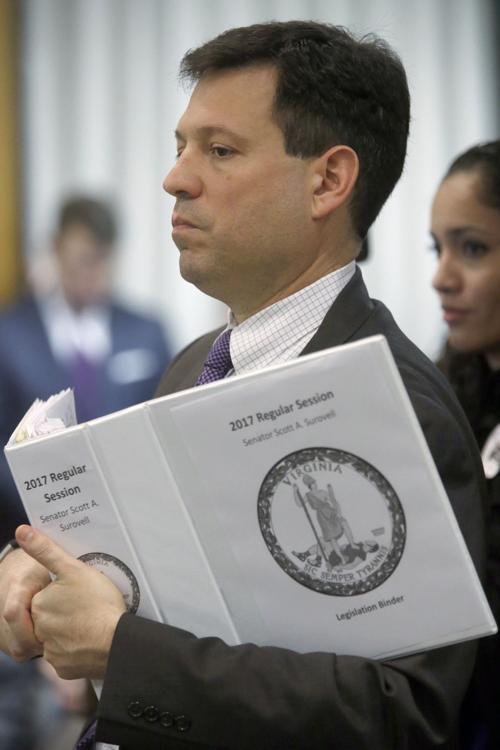 Legislation to raise Virginia's grand larceny threshold from $200 to $500 died Wednesday in a House of Delegates subcommittee, leaving Virginia's law among the most strict in the nation when it comes to treating arguably minor thefts as felonies.
Senate Bill 816 had passed the Republican-majority state Senate with unanimous support. The House subcommittee on criminal laws killed it on an unrecorded voice vote that appeared to be 5-4.
Legislation to raise the threshold, which hasn't been changed since 1980, has died in the same House panel in years past, despite advocates' pleas that the number should be raised to keep up with inflation and prevent offenders from being tainted by a felony charge for a low-level theft.
That $200 in 1980 now would be worth $583 in 2017 dollars.
The subcommittee chairman, Del. Robert B. Bell, R-Albemarle, showed no sign of softening his tough-on-crime stance.
"What about right and wrong?" Bell said as a representative from the Virginia Catholic Conference spoke in support of the bill. "You're the church. Last time I checked, it was still one of the Ten Commandments."
Kevin Mauer, an associate director with the Catholic group, said, "The position of the bishops is that the purpose of all law enforcement is to keep society safe and to restore the perpetrator of the crime."
Gov. Terry McAuliffe called for raising the grand larceny threshold in a speech ahead of the legislative session. Brian J. Moran, McAuliffe's secretary of public safety and homeland security, spoke in favor of the bill at Wednesday's hearing.
Under current law, grand larceny is punishable by a fine of up to $2,500 and up to a year in jail.
Though there's widespread acknowledgement that few people face felony prosecution for thefts worth just a few hundred dollars, the bill's patron, Sen. Scott A. Surovell, D-Fairfax, said the stigma of a felony charge still can scare off employers even if the charge ultimately is reduced.
Other Republicans on the panel said the bill, which the Virginia Retail Merchants Association opposes, puts the well-being of thieves ahead of victims.
Del. David B. Albo, R-Fairfax, said the bill's supporters should come up with a compromise measure and floated the idea of adding an automatic 10-day jail sentence for thefts between $200 and $500.
"In 40 years, is it still gonna be $200?" Albo said. "People keep trying to stick a square peg in a round hole around here, and it doesn't work."
Two Republicans and two Democrats voted in favor of the bill.
Among them was Del. Les R. Adams, R-Pittsylvania, who urged his colleagues to look at the issue as a matter of economics, not morality.
"It's a question for me about making a distinction between petty crime and felonious crime," Adams said.
"And if the petty crime is based on a variable, and the variable changes with time and economics, then at some point it needs to be addressed."