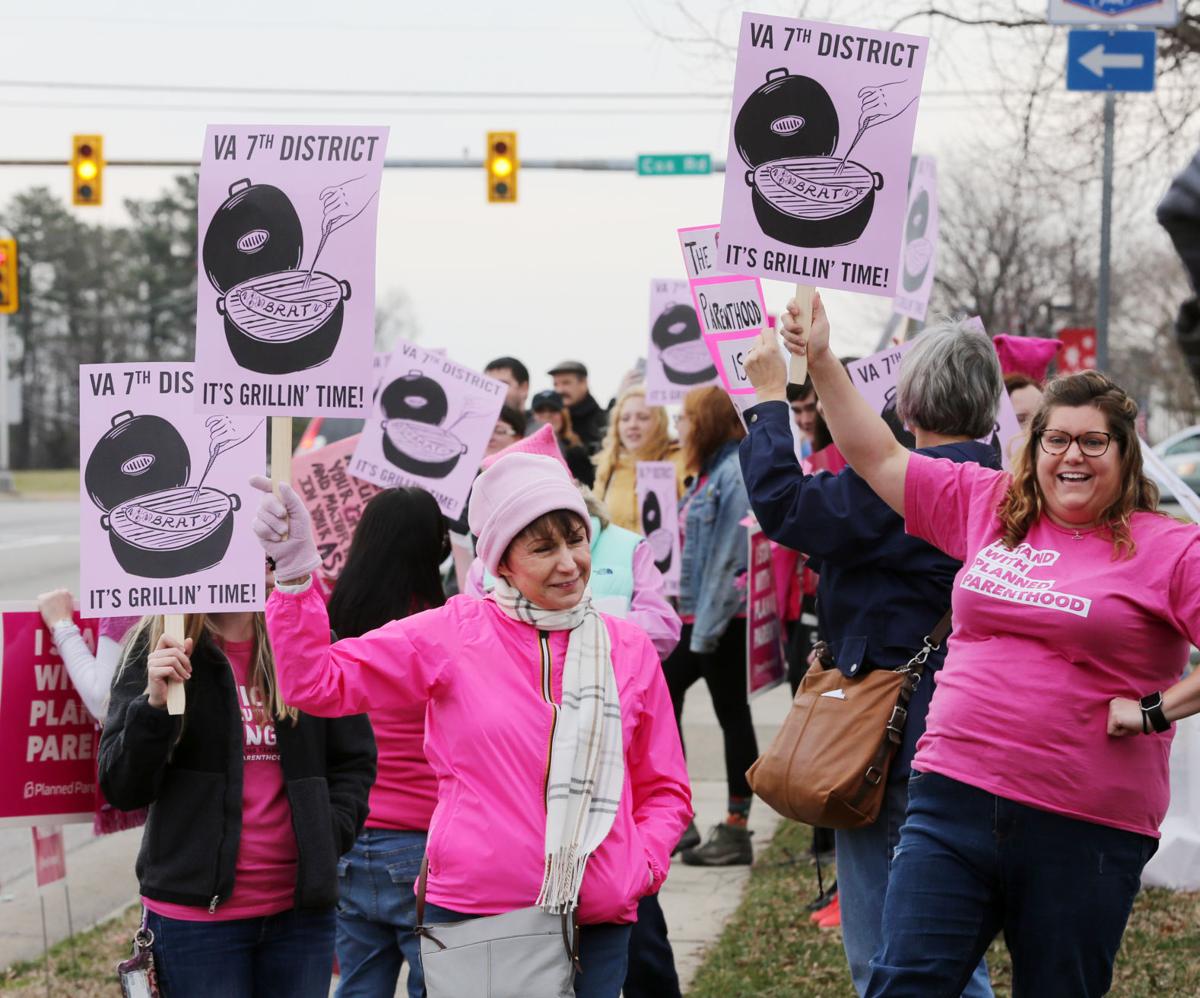 Since Donald Trump was elected president in November, Rep. Dave Brat has had a new challenge on his hands: outraged constituents who want to bend his ear.
Maureen Hains, a professional living in Chesterfield County, has replaced "Pride and Prejudice" binge-watching with nights maintaining a Facebook page with nearly 1,600 followers. Alsuin Preis, a stay-at-home mom in Richmond, now jokes that her car trunk of signs and markers is like a protest-to-go kit. Chrystal Doyle, a school nurse and mother, mines Brat's voting record in her free time.
They have cast votes for both Democratic and Republican candidates in state and federal elections, but that was generally the extent of their prior political participation. Hains said she even voted for Brat in the 2014 primary where he upset then-House Majority Leader Eric Cantor and in the general election where he claimed his seat in Congress.
But now, they all proudly say they are the women up in Brat's grill, a phrase they borrowed from the congressman himself.
"Since Obamacare and these issues have come up, the women are in my grill no matter where I go," Brat said Jan. 28 at a meeting of conservative groups at Hanover Tavern. "They come up — 'When is your next town hall?' And believe me, it's not to give positive input," Brat continued. He also urged the GOP-friendly audience to write newspaper articles because "we're getting hammered."
His remark was recorded and later posted on a Facebook page launched by Hains that blares one question across its top: When is the next town hall meeting?
After saying he would not have a town hall in his district until after Trump's first 100 days, Brat announced last week that he would hold one Tuesday in Nottoway County, the southernmost point of his district.
Hains and her male and female Facebook followers on the "7th District Town Hall Meeting" page are part of a wave of progressive grass-roots movements sweeping across the country in the wake of Trump's election, intent on demanding that politicians hear them out to the point where many GOP town halls have turned into masses of crowds and a litany of pointed questions.
The specific issues they want Brat to hear vary. Some do not appreciate his expressed support for new Education Secretary Betsy DeVos. Others want to talk to him about the Affordable Care Act, or protecting the national park system, or their opposition to Trump's Cabinet appointments.
Other members of Virginia's congressional delegation face the same pressure as Brat.
Constituents of Rep. Barbara Comstock, R-10th, announced that they would hold a town hall with or without her after requesting for weeks to hold one, The Washington Post reported.
Indivisible Richmond and Together We Will, two groups with which Hains and her Facebook followers work, did the same thing and organized a 7th District constituent town hall for Thursday, weeks before Brat made his announcement to hold a town hall.
Thursday, Brat said, is the same day he will be in Arizona to "pop in" on Rep. Paul Gosar's town hall and "to visit with some policy people out there."
Members of the progressive group Roanoke Indivisible invited Rep. Robert W. Goodlatte, R-6th, to a town hall meeting, but he declined, The Roanoke Times reported. Goodlatte holds conference calls with constituents that his office calls "telephone town hall meetings." His staff on Thursday posted a Twitter photo of him speaking toward his phone.
Freshman Rep. Tom Garrett, R-5th, recently held Facebook Live chats with constituents, as Brat has done. But Garrett also has faced criticism for not holding a town hall-style meeting in his district. Garrett said, however, that during a Facebook Live, he was able to answer more than half of the questions submitted by the group Indivisible Charlottesville, and he will hold in-person events in the future.
Freshman Rep. Scott Taylor, R-2nd, plans actual town hall meetings. On Jan. 31, his office announced three across his district, the first coming this evening in Virginia Beach.
Some have likened the demonstrations across the country to a liberal tea party movement. The core group of women weighing the next moves of Hains' Facebook page are using some resources from more broad-based movements like Indivisible.
After the election, a group of former Democratic staffers put together the Indivisible guide for how to approach lawmakers, which openly describes successful strategies used by the tea party movement.
In a recent interview with the Richmond Times-Dispatch, Brat decried liberal groups coordinating political protests, citing the demonstration that blocked DeVos from entering a middle school in Washington, D.C., and another in which U.S. Rep. Jason Chaffetz, a Utah Republican, was booed by the audience. He called that activity "orchestrated attacks that are taking place nationwide."
"What I'm worried about is that the mainstream press can't Google 'Indivisible' and the Soros-funded movement that is pushing all of this," Brat told the D.C. publication The Hill on Feb. 11.
That response from Brat and the chorus of Hill Republicans accusing protesters of being paid by progressive billionaires like George Soros only further fueled the discontent of Hains and her scores of followers. Hains said she had to Google Soros because she had no idea who he was.
Two weeks after Brat's grill remark, Hains and the core group of women handling the Facebook page stood by a grill to roast "Brat-worst" near Brat's Glen Allen office. From the sidewalk, they shouted "We are not paid" and demanded Brat produce proof for his accusation.
They were there as part of a protest hosted by Planned Parenthood Action Fund. Hains said she shared Planned Parenthood's event on her Facebook page after someone from the organization's advocate group reached out to the Facebook group.
"We thought it was clever. It was not organized by us; we wanted to take advantage of another group of people annoyed with Brat, and Brat has been vocal about wanting to defund Planned Parenthood," Hains said. "I believe as much as our country invests in protecting our nation through the military — we need to invest in the health and well-being of our citizens."
At the protest, many chanted "David Brat, where you at" and draped a pink cloth over a seat next to the grill that read, "Reserved for Dave Brat." Many children colored signs along with their mothers and fathers during the protest.
Several days later, Brat softened his tone in a Facebook Live event, acknowledging that the majority of people who are contacting him are "sincere folks with policy questions."
Brat, who prides himself on his accessibility to constituents, rebuts the notion that he's not. In an interview Feb. 10, he asked The Times-Dispatch to ask the people at the Planned Parenthood protest for names and contact information of constituents in his district and said he would try to meet with them.
"Since Trump's election, there are hundreds and hundreds of constituents who are trying to reach me on all sides of the aisle," he said.
Many of the women helping coordinate the Facebook page have never talked to Brat. They start their days by calling up his offices, mainly asking his staffers, with whom they are on a first-name basis, when he will hold his next town hall.
Hains said she started the Facebook page calling for a town hall after failing to reach Brat multiple times. She felt helpless and angry, so she started the page almost as a gag to see if she could reach anyone beyond her circle of close friends.
The independent voter from a family who mostly voted for Trump had previously swung toward conservative candidates, including Brat. But she said she could never cast a vote for Trump, who boasted of sexually assaulting women, then dismissed it as locker room talk.
"We showed up at the major elections. We thought we knew what was going to happen," Preis said. "But after Trump won, we felt like we couldn't trust that the good guys were going to win in the end."
After her Facebook page's post of Brat's video began spreading online, Hains gathered with other women in a living room to vent their anxiety over the publicity, then forge ahead. Each woman described their skills and how they could use them to contribute to the cause.
"I'm basically over people telling me to be quiet. I'm over sitting on the sidelines," Hains said.
Now they divide and conquer. Some with writing backgrounds type up talking points of the day for those who are more shy about talking over the phone. Others with marketing skills push the material out.
The time spent on their activism has swelled into a full-time job.
"The house is falling apart. I told my husband that I'm going to be eaten by my laundry pile," Preis said.
In some ways, the pressure seems to be working.
Brat's newly announced town hall will be held Tuesday at a restaurant in the Nottoway County town of Blackstone, the southernmost point of Brat's 7th District that stretches over 10 counties as far north as the Culpeper area.
Brat said it was a way to reach his constituents in Nottoway, one of three counties added to Brat's district last year after a court found that the General Assembly had packed too many African-Americans into the 3rd Congressional District and diluted their voting power. The citizen-organized town hall on Feb. 23 was already in the works before Brat made that announcement.
"Well, it's about time ... but to respond to the request by thousands of people to have a town hall by having it in a tiny venue an hour and a half outside the metropolitan capital of his district tells me that he's not tuned in to who's been demanding a town hall," Preis said.
But the women still plan to go.
"He can hold his town hall on the moon," Preis said, "but us girls all got minivans that hold seven people and we all love a good road trip."
(804) 649-6243
(804) 649-6061
Twitter: @patrickmwilson