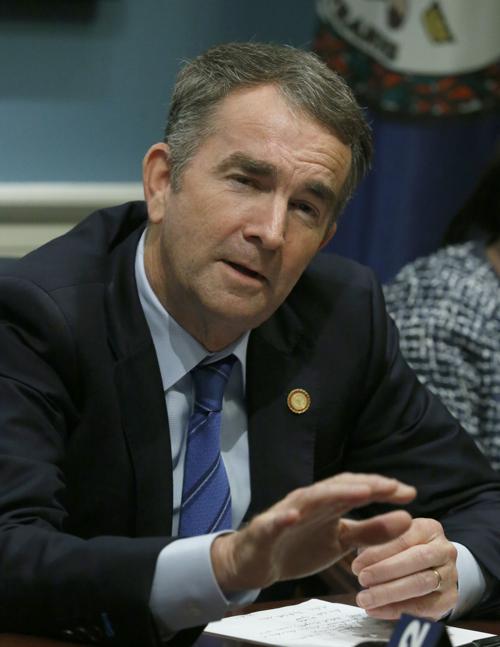 Gov. Ralph Northam has directed Virginia's Medicaid program to "pause" negotiations with the federal government on approval of a work requirement that was central to a political deal that allowed the state to expand eligibility for the program's health care benefits to hundreds of thousands of uninsured Virginians.
Northam cited the Democratic takeover of both chambers of the General Assembly in legislative elections last month. He also referred to litigation that has faced other states that have tried to link Medicaid health benefits to requirements that program participants seek work, training, education or other forms of civic engagement.
"Virginians made clear they want more access to health care, not less," he said in a statement on Wednesday. "Given the changed makeup of the General Assembly and based on conversations with new leadership, it is unlikely Virginia will move forward with funding a program that could cause tens of thousands of Virginians to lose health care coverage."
Northam's reversal drew a swift rebuke from House Speaker Kirk Cox, R-Colonial Heights, who had worked closely with the Democratic governor on a compromise that would allow Republicans to drop opposition to expanding Medicaid under the Affordable Care Act after a bitter, five-year political battle.
"I'm disappointed to say the least," Cox said in a statement. "The governor and I made personal commitments to each other on this long-term public policy agreement."
"There wasn't an asterisk that said 'unless my party wins the next election,'" he said. "It's a sad reflection on the value of integrity in modern politics."
Northam's retreat from the commitment also upset an important Republican alley, Sen. Emmett Hanger, R-Augusta, who played the lead role in getting the Medicaid budget agreement through a closely divided Senate.
Hanger, currently co-chairman of the Senate Finance Committee, learned of the governor's decision in a phone call from Secretary of Health and Human Resources Dan Carey on Tuesday night. "I told him it was totally unacceptable," the senator said on Wednesday
He faulted the governor's sole reliance on incoming Democratic legislative leaders to make the decision, despite the political sacrifice Hanger and other Republicans made in voting for Medicaid expansion. "It's just short-sighted," Hanger said.
Northam's statement accompanied a letter that Virginia's Medicaid director, Karen Kimsey, sent to the Centers for Medicare and Medicaid Services on Tuesday. It formally asks for a delay in ongoing negotiations between the state and federal government over a proposed waiver that would have included a work requirement and help for participants to comply.
Kimsey cited "dynamic policy conversations" about the demonstration waiver proposal after the legislative elections. "Virginia's request to pause finalizing these provisions at this time also stems from our concern regarding the substantial effort and cost of implementation in the face of ongoing uncertainty, as experienced in several states, which may delay or imperil these aspects of our demonstration," she wrote federal Medicaid officials.
Jill Hanken, health attorney at the Virginia Poverty Law Center, said the governor made the right decision about a work proposal that she said would undermine the Medicaid program's commitment to providing health care to people who otherwise could not afford it.
Hanken urged the new General Assembly to require the state to withdraw its proposals for a Medicaid work requirement and sharing of monthly premium payments by some program participants.
"Those changes would be very complex and threaten health coverage for thousands of low-income Virginians," Hanken said. "Implementing the restrictions would also cost tens of millions of state dollars, which could be put to much better use."
The Northam administration had begun backing away from the work requirement commitment before the elections, citing federal refusal to pay the substantial costs of carrying out the Training, Education, Employment Opportunity Program, especially supportive services such as housing, behavioral health treatment and job training.
Virginia has added more than 342,000 people to its Medicaid program under expanded eligibility guidelines in the Affordable Care Act, which commits the federal government to paying 90% of the cost.
The administration estimated this fall that the proposed work requirement would apply to more than 65,000 people in the program, and about 14,000 would lose their health coverage without adequate state support to comply with the proposal. Some allies, such as the liberal Commonwealth Institute for Fiscal Analysis, put the number at 74,000.
Carey estimated the cost of carrying out the work proposal at more than $50 million, but told legislators the administration would continue to negotiate for federal funding to pay for services necessary to keep people enrolled in health coverage.
"The governor committed to negotiate in good faith with the federal government — he kept that commitment," spokeswoman Alena Yarmosky said Wednesday in response to Republican criticism. "There was never a commitment to take the Trump administration's deal sight unseen."
"If legislators would like to continue pursuing a plan that will cost millions in taxpayer money, open the commonwealth up to lawsuits, and kick thousands of people off their health insurance, they are free to do so during the upcoming session," Yarmosky said.
But Hanger said the Virginia waiver proposal isn't designed like the work requirements adopted by other states — such Arkansas, Kentucky and New Hampshire — that have been blocked in federal court from enforcing those rules.
"What our program is designed to do is to give a hand up to people and invest in people and improve their lot in life," he said, "not to kick them off."
House Appropriations Chairman Chris Jones, R-Suffolk, the main architect of the Medicaid expansion deal, said this fall, "It was never predicated that we have federal funding for that to happen."
Jones was defeated for re-election in November, when Democrats won an apparent 55-45 majority in the House and a 21-19 edge in the Senate. A recount is pending in one House race.
Hanger will be back in the Senate next month and he's not backing off.
"We can pause a little bit," he said, "but I don't think this is the end of the story."