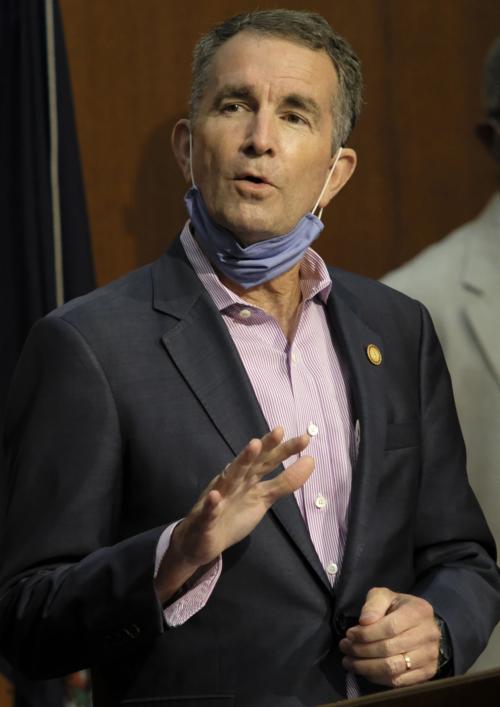 Virginia lawmakers are due back in Richmond on Aug. 18 for a special session that will focus on the state budget in the aftermath of COVID-19 as well as criminal and social justice reform, Gov. Ralph Northam's administration announced Friday.
"I look forward to bringing legislators back in session as we continue to navigate these unprecedented times," Northam said in a statement. "We have a unique opportunity to provide critical support to Virginians, invest strategically in our economic recovery, and make progress on policing and criminal justice reform."
As protests over systemic racism and police brutality continue , Northam said he backs the efforts by House and Senate Democrats to tackle these issues this summer.
The Northam administration said in a statement Friday it expects to champion legislation "aimed at police accountability and oversight, use of force, increased training and education, and officer recruitment, hiring, and decertification."
Lawmakers will also discuss the fate of $2.2 billion in frozen funding at the start of the pandemic and updated state revenues. Northam is expected to brief lawmakers the morning of Aug. 18 on his administration's proposed changes to the budget.
Some of that spending had been directed toward early childhood education, tuition-free community college, affordable housing and broadband.
House and Senate leaders have not released details of the session. Procedural rules around the passage of legislation may require lawmakers to convene for at least two weeks.
"We are committed to working together to support our economy, our schools and Virginians in every corner of the Commonwealth during these unprecedented times," House Speaker Eileen Filler-Corn, D-Fairfax, said in a statement.
She said Friday that her chamber is working through legislative proposals related to criminal justice reform in preparation for the special session.
A House panel is expected to take them up in a series of hearings later this month and in early August.
House Minority Leader Todd Gilbert, R-Shenandoah, responded to Northam's announcement on Twitter, saying: "[Northam] issued a statement on the special session today with no mention of addressing the looming crisis in public education and the thousands of children who will be negatively impacted. Hoping things will improve is not a plan of action, and kids need to be in school."
In the upper chamber, Sen. Mamie Locke, D-Hampton and chair of the Democratic caucus, said her colleagues are readying for the special session by seeking expert and public input on their proposals related to social justice and COVID-19.
"The ongoing COVID crisis is affecting every sector, and we need to be smart about how we rework our budget and support those who are most impacted. Meanwhile, our constituents are demanding action on justice reform and racial equity," Locke said. "We are pleased to hear that the governor is committed to addressing the issues our communities continue to experience." mleonor@timesdispatch.com
(804) 649-6254
Twitter: @MelLeonor_