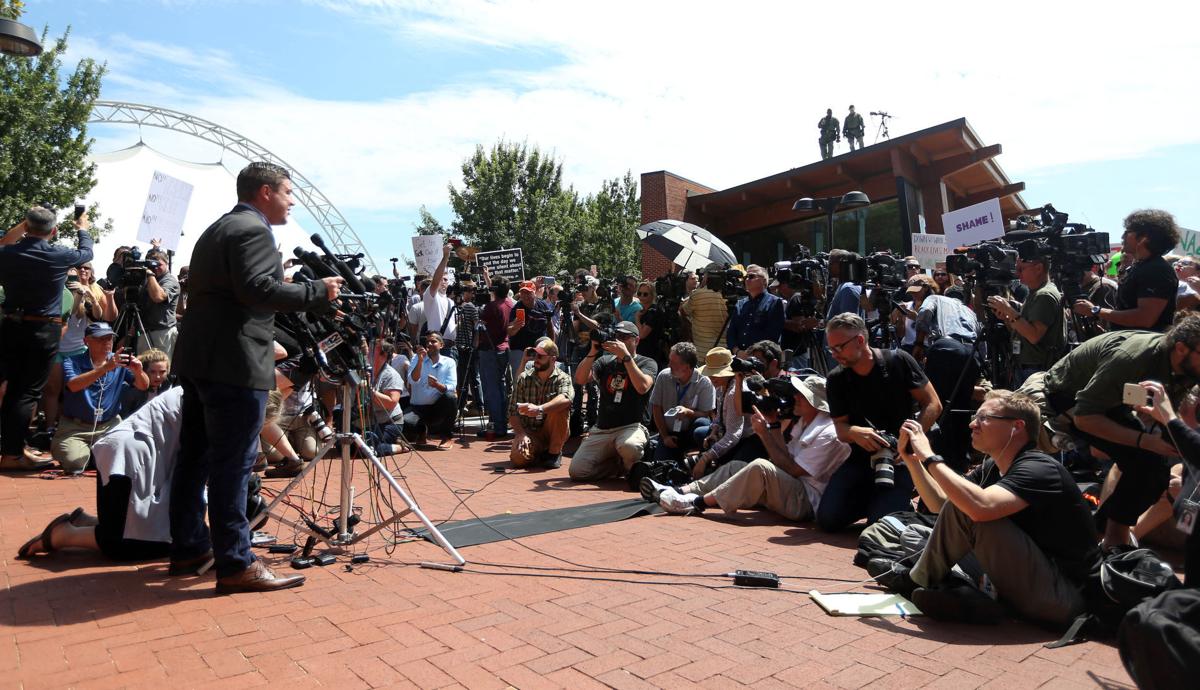 CHARLOTTESVILLE — After using his blog and Wes Bellamy's Twitter history to make a name for himself last fall, those platforms are now being used against Jason Kessler, the "pro-white" activist who organized the Unite the Right rally that turned deadly on Saturday.
Articles and conspiracy theories about Kessler's past as a supporter of President Barack Obama and wannabe liberal activist who participated in the Occupy movement abound now as President Donald Trump continues facing backlash for his response to the rally that resulted in one woman, as well as two state police officers in a separate incident, dying.
On Monday, Kessler uploaded a video hoping to dispel rumors that he intentionally organized a violent rally that would reflect poorly on the so-called alt-right movement of white nationalists. He accused the Southern Poverty Law Center, as well as less extreme nationalists, of spreading misinformation about him.
Earlier this summer, the SPLC labeled Kessler a white nationalist, and wrote a profile about him that included assertions that some people on white nationalist forums have been questioning his "ideological pedigree."
"I grew up in Charlottesville. Anybody who's seen the way Charlottesville was this weekend understands that it's an incredibly left-wing, commie town," Kessler, 33, said in a video he posted online Monday.
Kessler said that he used to align himself with the city's politically left-leaning residents, but went on to say he was "red-pilled" about three years ago.
The term is a reference to the film "The Matrix," and has been used by alt-right followers as a way to describe someone who has taken to "white identitarian" issues and now rejects ideas such as multiculturalism, feminism and political correctness. Critics argue that attachment to white identitarianism is nothing more than a veil for white supremacist beliefs.
But old tweets, a neighbor, a liberal activist and some of Kessler's old friends attest that he held strong liberal convictions just a few years ago.
In a series of tweets in November, Kessler said many alt-right followers are former liberals, and that he previously voted for Democrats. He said he voted for Trump in the primary and the general election.
"I like Trump more than I did Obama," he wrote on Nov. 6. "My Trump enthusiasm is through the roof. I like people who push the edge."
In an interview last month, one of Kessler's childhood friends, David Caron, said Kessler previously had identified as a Democrat, but became disillusioned when he started thinking that there was no place for him in a party that has focused its efforts on embracing diversity and minority issues. He said the two of them had started supporting Trump last summer and attended one of his rallies in Richmond.
"He was a Democrat until last year. The main thing is, he said he felt like the party didn't want him," Caron said.
Laura Kleiner, a Democratic activist who lives in Staunton, said she dated Kessler for several months in 2013. She said Kessler was very dedicated to his liberal principles, and that he was a strict vegetarian, abstained from alcohol and drugs, embraced friends of different ethnicities and was an atheist.
"He broke up with me, and a lot of it was because I was not liberal enough," she said. "I am a very progressive Democrat … but he didn't like that I ate fish and that I'm a Christian."
Kleiner said Kessler was well aware that she was of Jewish heritage, and that he showed no signs of being anti-Semitic. She also said he had a roommate for several years who was an African immigrant.
In an interview earlier this week, one of Kessler's neighbors, Zoe Wheeler, said she knew of two different African roommates who lived with him, and never thought Kessler was a racist, even after he started to make waves in the local news late last year.
"I met him 12 years ago, before he got really obsessed" with white identity issues, Wheeler said. "I think he went off the deep end … There was no stopping it, and then he was fueled by being an enemy and having something to stand for."
"If you spend too much time on the web and you're alone, you've got a lot of guys plying you with all kinds of ideas," she said. "You want to grab hold of something. He wants to stand for something — I get that. But I feel like he's all over the place."
"I celebrate a diversity of cultures, and that was something that seemed to have been a part of his life, too," Kleiner said. "I was really surprised to hear the stories that he's changed and is now far-right. It's really shocking and disappointing."
"He's an extremist in whatever he decides to do. That's all I can really say."
Kessler's ties to Emancipation Park and the statue of Robert E. Lee go beyond the past year, when he decided to target Charlottesville City Councilor Bellamy for his effort to remove the statue of the Confederate general. The rally Saturday was ostensibly intended to be a protest of the council's decision to remove the statue.
According to a woman (who wished to remain anonymous) who was part of the Occupy movement camp in what was then called Lee Park, Kessler was present there for several weeks in late 2011. She said Kessler ultimately removed himself from the camp after activists there started to make it known that his presence was not welcomed.
"He was just so disagreeable that he'd start fights between other people. He was very manipulative and very aggressive," the woman said.
"He wanted people to be more violent and aggressive. He wanted to be the leader of things. ... Even if his politics had been good, I don't think people would have liked him," she said.
The former occupier said Kessler also tried to attach himself to other "leftist" groups around that time, such as Food Not Bombs and an atheist social club. She said Kessler had attempted to insert himself in those groups and radicalize them.
"I don't think he knew what they really did. They just feed people — that's it," she said. "It's like he got the idea that he could make it into some more militant group."
"I don't think he actually has any central beliefs at all — not that that makes what he's doing any less dangerous."
Kessler did not reply to messages seeking comment for this story. But essays he published on his blog through late 2015 seemed to demonstrate a shift in thinking. (The blog, "Jason Kessler, American Author," recently was taken down. It remains unclear why.)
Last fall, The Daily Progress reported that Kessler published a blog post in February 2016 in which he reflected on the potential of war between different racial groups in the future. He argued that white people would need to fight to avoid becoming a minority in America — a phenomenon he's described in recent months as "white genocide."
"Cultures, tribes and civilizations are meant to clash just as we always have in the past, just like it is with nearly every other beast in the animal kingdom," Kessler wrote last year.
Kessler used his blog to excoriate Bellamy in November. After uncovering a trove of offensive and inappropriate tweets Bellamy had written between 2009 and 2014, before he was elected to office, Kessler used his blog to expose the city councilor and call for his removal.
In his other blog posts that have been archived and shared with The Daily Progress, Kessler seemed to foreshadow his future role in the community and the events that took place at the Unite the Right rally.
"I can't think of any occupation that I admire more than the professional provocateur, who has the courage and self-determination to court controversy despite all slings and arrows of the world," he wrote in December 2015 as part of a blog post he updated a few times over a span of about two months — his "running thoughts."
Also that December, he published his "historical perspective on mass violence."
"We get so caught up in the emotion of the violence that we don't consider the long-term, historical consequences," he said.
"Perhaps we'd be happier if we made peace with the fact that rabid animals are going to dwindle the herd from time to time (as they have in much greater volume throughout history) and that's not really a bad thing in the long run."