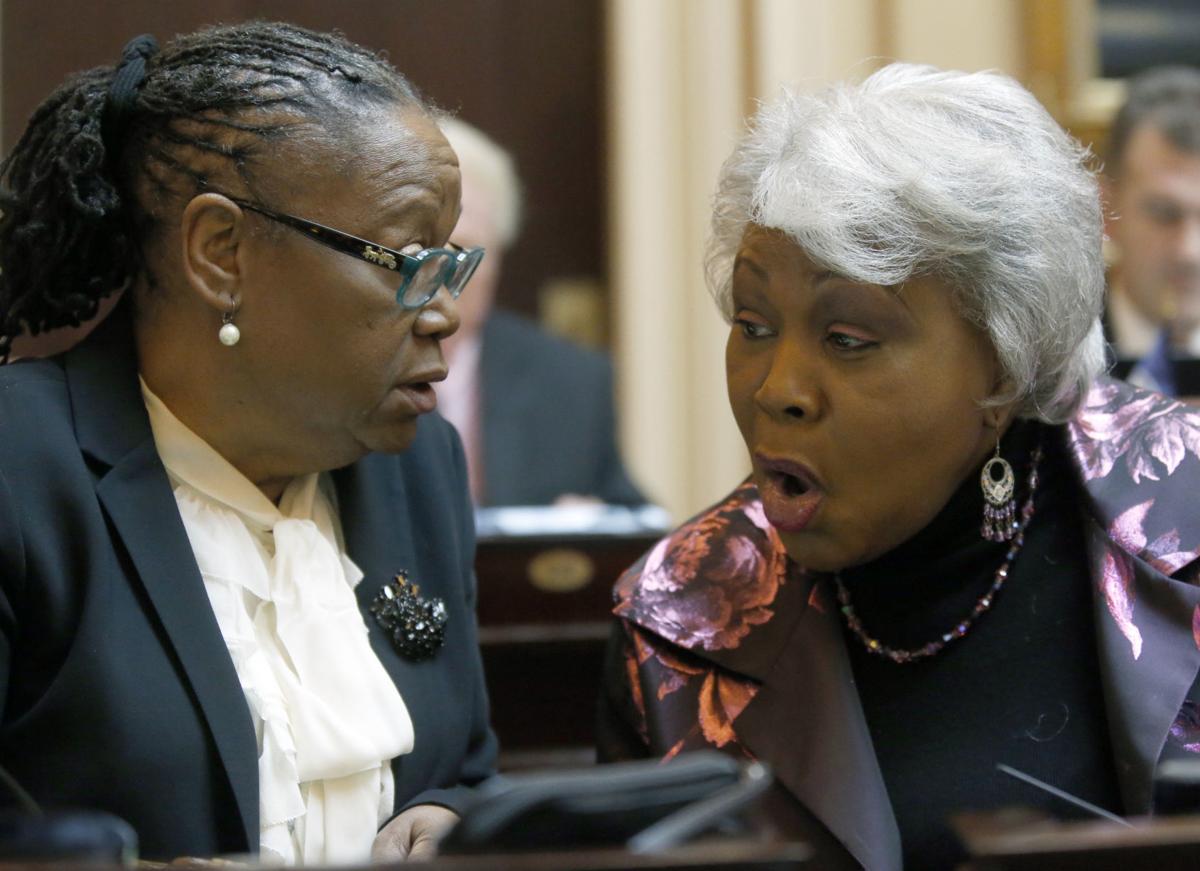 Registered voters in Virginia could find themselves with ample time to cast election ballots, no questions asked, under proposed voting reforms widely supported by Democrats.
Democrats — who will now control the General Assembly and the governor's veto pen — have long supported easing the voter experience to allow more Virginians to participate. Ahead of the 2020 legislative session, that could mean a wider window for absentee voting that doesn't require voters to have a sanctioned reason for wanting to do so.
Democrats are also seeking to eliminate the requirement that voters show a photo ID, while adding other possible ID forms.
"Why do we make it difficult for individuals to exercise their right to vote?" said Sen. Mamie Locke, D-Hampton, the Senate Democratic Caucus chairwoman. Locke and Del. Joe Lindsey, D-Norfolk, filed legislation that would allow registered voters to present employee and student ID cards, utility bills and other forms of identification.
"They are making voting on Election Day sacrosanct, when it shouldn't be that way. We should be finding any possible way to help voters participate in elections."
Virginia recently expanded absentee voting to seven days before an election, allowing voters to cast ballots in person without listing an excuse. Virginia became the 40th state with some form of no-excuse early voting.
Bills filed by Lindsey, Del. Charniele Herring, D-Alexandria, and Sen. Lionell Spruill Sr., D-Chesapeake, would eliminate the need for excuses all together. Gov. Ralph Northam backs the move.
Legislation filed by Lindsey would extend the window for early voting to the second Saturday before an election, beginning in 2020.
It's a smaller window than that proposed by the State Board of Elections, which released a report proposing that absentee voting be allowed up to 45 days before an election.
John McGlennon, a policy professor at the College of William & Mary, said the wider window could present challenges that will need to be hashed out before implementation. Local governments, he said, might request state funding to sustain the opening of polling places for more than a month before the election.
At what time early voting polling places should open, on what days of the week, and where they should be — all are questions that state lawmakers would have to work out, or leave up to localities.
"Those are real issues. It'll be a matter of how much the state will prescribe and how much flexibility they'll leave to localities," McGlennon said. "You'll need to have a lot of staff operating these polling places, and security. It's a very good thing, but there are a lot of issues that will need serious attention."
Del. Todd Gilbert, R-Shenandoah, the incoming House minority leader, expressed concerns about the ability to keep elections secure with a voting period that is too wide.
"I certainly think we should do whatever we can to encourage people to participate in the democratic process, but we have always been concerned about the potential for fraud at the ballot box," Gilbert said. "I would continue to express concerns about the integrity of the process if it were to be opened up too broadly and without sufficient checks on legitimacy of voting."
Other voting-related proposals already pitched by Democrats include: a bill to allow 16-year-olds to preregister to vote, filed by Sen. David Marsden, D-Fairfax; and a bill to create a pilot Election Day voter registration program, filed by Sen. Creigh Deeds, D-Bath.
Locke also filed a proposed constitutional amendment that establishes that the only qualifications to vote in Virginia are U.S. citizenship, being at least 18 years old and being registered. It would remove the current barriers for people who have been convicted of a felony or who have been deemed mentally incompetent in court. In order to be enacted, a proposed constitutional amendment must pass the legislature twice, in separate years, and the state's voters must then back it in a referendum.
U.S. Sen. Tim Kaine, D-Va., who dealt with a GOP-controlled legislature as governor, said in an interview that he sought unsuccessfully to expand access to the ballot box in Virginia during his time as a governor. With Democrats now in control, he hopes to see Democrats take action.
"Virginia does not make it easy for people to vote," Kaine said. "If you want to vote early, you should be able to vote early. We could never get those no-excuse, early-voting bills through GOP-controlled chambers."
Kaine is hoping Democrats will also take up Locke's constitutional amendment to protect the voting rights of felons and those who have struggled with a mental illness.
"We made efforts to expand voting by doing the constitutional amendment so that people aren't disenfranchised. We could never get it through both," he said. "Now we can do that."
(804) 649-6254
Twitter: @MelLeonor_