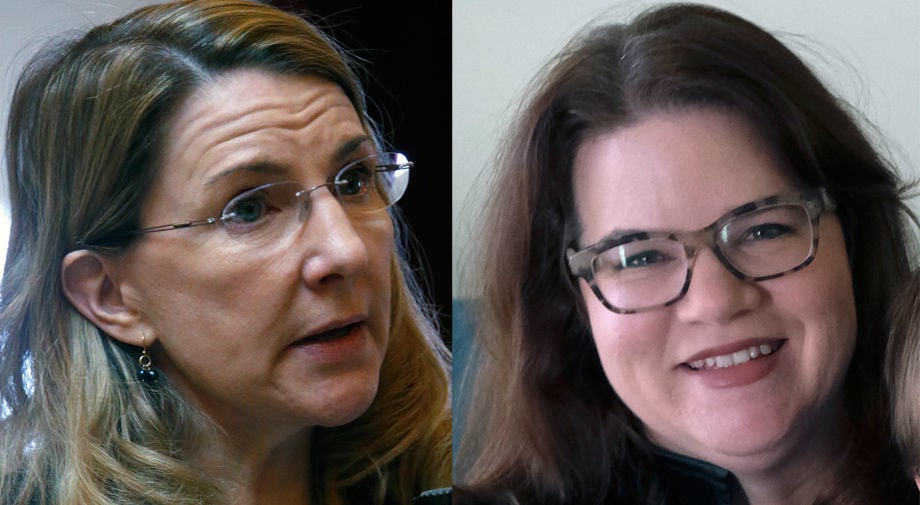 Sen. Siobhan Dunnavant says in a TV ad that she supports a federal ban on bump stocks, the devices that allow continuous firing of a semiautomatic firearm with one trigger pull.
Not so fast, says Everytown for Gun Safety, one of the leading national organizations lobbying for restrictions on firearms.
Dunnavant, R-Henrico, voted no on that issue in 2018 as a member of the Virginia General Assembly.
Dunnavant thought "anything short of a federal ban would be ineffective because it was easy to bring a bump stock across state lines," her campaign manager, Marshall Moreau, said in a statement.
The first-term senator is in a hotly contested race for re-election against Del. Debra Rodman, D-Henrico. Both parties are fighting for the seat in a Nov. 5 election that could help determine control of the Senate, where Republicans hold a 20-19 edge with one seat vacant.
The Dunnavant-Rodman race leads all Senate contests in spending on TV ads, now over $1.3 million, according to the Virginia Public Access Project. Everytown is paying for an ad on Rodman's behalf.
In campaign mail and on TV, Rodman has attacked Dunnavant for receiving an "A" rating from the NRA in 2015, for voting against expanded background checks on gun sales, and for joining Republicans in voting to end a July special session on guns by sending all bills to a commission for study.
Dunnavant presents a softer image in her TV ad.
"I supported a federal ban on bump stocks used in mass shootings," she says.
But when that issue came before the state legislature, she did not support a ban.
Sen. Adam Ebbin, D-Alexandria, sponsored Senate Bill 1 in 2018, which would have made it a misdemeanor under state law to sell or own a bump stock.
The legislation followed the Oct. 1, 2017, shooting of concertgoers in Las Vegas, in which a gunman in a hotel room, with bump stocks on his firearms, killed 58 people and injured hundreds more.
Ebbin's bill passed the Senate Courts of Justice Committee. Cortney Carroll of Henrico County, who was at the concert, lobbied Virginia lawmakers to pass a ban, but the bill was voted down in a subcommittee of the Senate Finance Committee.
Republicans argued that it could potentially cost public money to convict and jail people who broke the new law, and the bill was voted down in the full Finance Committee by a vote of 10-6. Dunnavant joined Republicans in voting no on the bill.
"Our ad highlights Senator Dunnavant's record in working to reduce gun violence," Moreau, the Dunnavant campaign manager, said in the statement. He added: "The federal government, at that time, was already initiating a ban. The federal government did indeed ban bump stocks and it is now a federal felony offense to possess one."
Moreau said Dunnavant had "actively sought to reduce gun violence by creating easy, electronic access for a 24/7 mental health hotline and a uniform statewide reporting system that could prevent these tragedies."
Everytown said in a news release that Dunnavant's TV ad "is pretending to support gun violence prevention measures in a blatant effort to mislead voters about her actual record of opposing gun safety legislation in the Virginia General Assembly."
The organization said part of Dunnavant's ad — "as a mother, I believe in action" — sounded awfully similar to the well-known subset of Everytown called Moms Demand Action for Gun Sense in America.