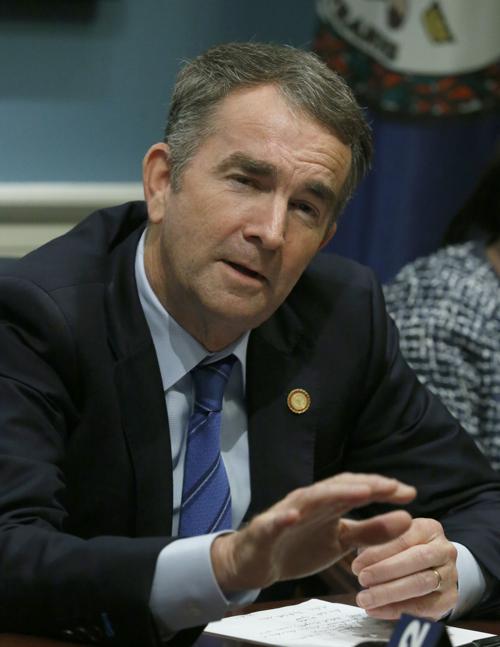 Gov. Ralph Northam made clear to his revenue advisory council on Monday that he does not support repeal of Virginia's right-to-work law that forbids compulsory union membership.
With Democrats preparing to take complete control of the General Assembly for the first time in more than 25 years, Northam sought to reassure Virginia business leaders that the state won't take a sharp leftward turn on an issue that has long been a political fire alarm in a pro-business state.
"I can't foresee Virginia taking actions [that would include] repeal of the right-to-work law," he told the Governor's Advisory Council on Revenue Estimates.
Virginia's right-to-work law says participation in a union may not be a condition for employment in the state. In 2016, Virginia voters rejected a proposal to put provisions of the law in the state constitution.
The revenue advisory council, known as GACRE, was preparing a closed-door review of the state's economic and revenue forecast for the next two-year budget, which Northam will introduce on Dec. 17 for action by the new General Assembly in a 60-day session that will begin Jan. 8.
Northam was flanked on one side by a row of business leaders that included Dominion Energy CEO Tom Farrell and on the other by legislative leaders of a politically transformed assembly. They included House Speaker Kirk Cox, R-Colonial Heights, whose party will become the minority in January, and House Appropriations Chairman Chris Jones, R-Suffolk, defeated for re-election after 22 years in the House.
Jones said of Northam's statement: "It was a very good move to reassure the engine that's driving our economy."
Destiny LeVere, communications director of the Virginia AFL-CIO, said the organization reacted with "deep disappointment" to the governor's remarks.
"Being named 1st for business and 51st overall for workers isn't something Virginia should be proud of," she said in a statement.
"This General Assembly session, workers will be joining together to ensure that there will be a robust, pro-labor agenda that values Virginia's workers, putting us at the forefront. Number one on this agenda is repealing right-to-work."
Del. Lee Carter, D-Manassas, said on Twitter that he will again introduce legislation to repeal the right-to-work law, despite Northam's assertion. This year, the GOP majority in the House left his bill in the Commerce and Labor Committee.
"Opposition doesn't stop me from putting in good bills. And repealing RTW is a good bill," Carter said in his Twitter post. "I'm gonna introduce it, and I'm gonna fight like hell to get it to the Governor's desk. And if he vetoes it, he'll be the one who has to own that."
Business groups praised Northam's remarks.
"We really appreciate his [the governor's] support and hopefully that will resonate with the new majority," said Nicole Riley, Virginia state director for the National Federal of Independent Business, which has about 6,000 members in Virginia, mostly small businesses with fewer than 25 employees.
"It certainly gives us hope that it won't happen," Riley said. "We will still have to see what are the priorities of the new majority, and we certainly know that this probably isn't going to go away."
Barry DuVal, president and CEO of the Virginia Chamber of Commerce, said in a statement that he was "encouraged to hear the governor vocalize his commitment to maintaining Virginia's positive business climate.
"Virginia's AAA bond rating and right-to-work law are key components to Virginia's economic competitiveness," DuVal said. "Any move to undermine these two important features would be perceived as a significant blow to the commonwealth's standing as a desirable place to do business."
House Majority Leader Todd Gilbert, R-Shenandoah, who will become minority leader in January, and Brett Vassey, president and CEO of the Virginia Manufacturers Association, urged Northam to say unequivocally that he would veto a repeal bill if it reaches his desk.
The governor made clear he will not support any actions that could endanger Virginia's triple-A bond rating. All three of the country's bond rating agencies give Virginia a top rating that allows the state to pay less for bonds to finance capital projects. But Northam recalled the warning Standard & Poor's issued the year before he took office that the state's rainy day fund was too low and should not be tapped when revenues were growing.
The next year, S&P and other rating agencies restored Virginia's stable economic outlook. That was shortly after Northam signed into law the current two-year budget, which included expansion of Medicaid and a hospital tax to pay the state's share of the cost.
The governor said that by the end of the next fiscal year, June 30, 2021, the state will have more than $1.6 billion in savings, including a new cash reserve fund he established in cooperation with Republican budget leaders, as well as a restored No. 1 ranking by CNBC as the best state to do business.
"We're going to work hard to keep it," he said, noting the value of the triple-A bond rating.
Northam briefly outlined the state's currently robust revenue performance, but cautioned that the Joint Advisory Board of Economists had already concluded that while a standard economic outlook was appropriate for the country, it would be "too strong for Virginia in the short term."
(804) 649-6964
Staff writers John Reid Blackwell and Mel Leonor contributed to this report.