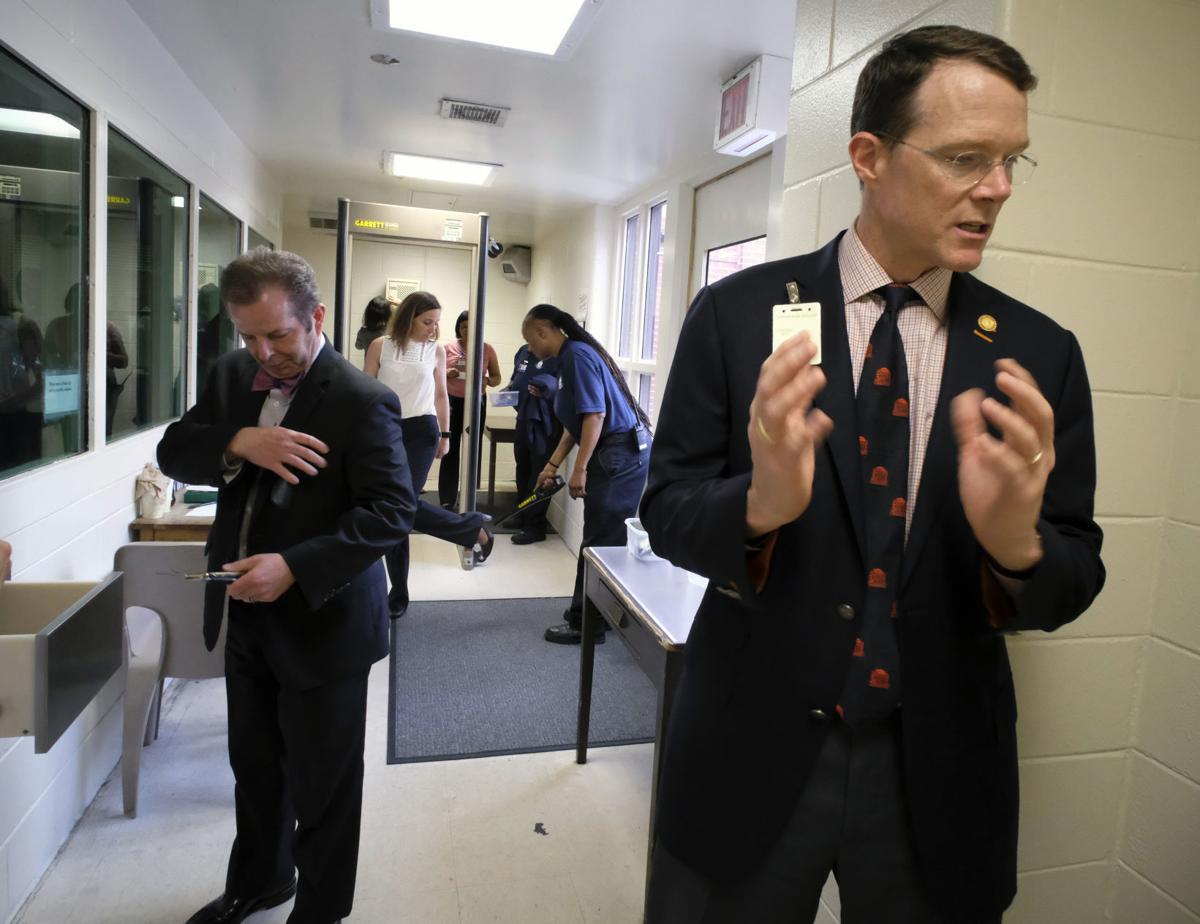 With Virginia's public mental hospitals in crisis, the state is losing a top behavioral health official who has been in charge of bolstering the overcrowded institutions.
Daniel Herr resigned as deputy commissioner for facility services on Wednesday, taking state lawmakers and local mental health agencies by surprise and raising concerns about leadership of the struggling behavioral health system.
His resignation, effective Dec. 13, comes a little more than three months after the death of Commissioner Hughes Melton from injuries in a fatal car accident and just before Gov. Ralph Northam proposes a new two-year budget expected to add funding for mental health services.
"It's just very distressing," said Sen. Creigh Deeds, D-Bath, chairman of a joint legislative subcommittee that is attempting to transform Virginia's behavioral health system.
"Daniel is the source of institutional knowledge for that place," Deeds said Wednesday. "He had, it seemed like, the broadest set of skills and knowledge of anyone there."
Virginia has had five behavioral health commissioners — two of them serving in an interim basis — since Deeds' son, Gus, attacked his father and killed himself in November 2013, just 13 hours after being released from emergency custody because a psychiatric bed was not found for him in time.
The General Assembly responded with a package of laws in 2014 to prevent mental health providers from releasing people who had been found to be a threat to themselves or others without treatment. One of the laws requires state hospitals to accept anyone under temporary detention orders as the "bed of last resort" if a private psychiatric facility doesn't take them within eight hours.
State hospitals are operating near, and sometimes beyond, their capacities because of swelling numbers of involuntarily detained patients whom they must accept when private hospitals do not take them, as well as forensic patients facing criminal charges.
The pressure has contributed to management shake-ups at Eastern State Hospital and the Commonwealth Center for Children and Adolescents, as well as escalating concerns about employee and patient safety at Central State Hospital near Petersburg.
Mira Signer, who has served as interim commissioner since Melton's death on Aug. 2, informed department leaders on Wednesday that Herr had resigned. "It is difficult to comprehend the breadth and depth of expertise, commitment and leadership that Daniel has provided to the [behavioral health] system and beyond," Signer wrote.
"He has been a valued and integral leader, has had involvement in many aspects of the community and hospital systems, and is hard-working, determined, compassionate, responsive, and always caring about the most vulnerable in Virginia's behavioral health system," she added.
Signer did not state a reason for Herr's decision, which came the day after he and other state officials took part in a discussion about the hospital census crisis at the Joint Subcommittee to Study Mental Health Services in the 21st Century, which Deeds leads.
"He explained his decision in a resignation letter but the contents of that letter are a personnel matter," spokeswoman Meghan McGuire said on Wednesday.
Herr's departure dismayed some community mental health officials, who already were concerned that Northam had not named a successor to Melton or made Signer's appointment permanent.
"It's an awkward situation — you basically keep the ship afloat but you can't take the ship anywhere," said Bill Brenzovich, board of directors chairman at the Virginia Association of Community Services Boards.
"We've been concerned as to where we're going," he said.
Brenzovich said Herr had been "easy to work with," both in the relationship between the community boards and state hospitals, and in carrying out STEP-VA, a three-year initiative to provide uniform mental health services across Virginia.
Herr's resignation will take effect four days before Northam introduces his proposed budget for July 1, 2020, through June 30, 2022. Behavioral health is expected to be a priority, as the state seeks to expand services under STEP-VA and relieve pressure on state hospitals with a proposed temporary addition of beds at Catawba Hospital near Salem.
The Catawba proposal would require $4 million in internal funds this year, as well as almost $20 million in the next two-year budget to add 56 beds for adult and geriatric patients.
However, the budget proposal has met resistance from Sen. Emmett Hanger, R-Augusta, co-chairman of the Senate Finance Committee, who said it would divert money from community mental health services and spend it instead on institutional care.
"I'm not going down that dead-end street," Hanger said Wednesday.
Northam appointed Melton as commissioner in 2018 to replace Dr. Jack Barber, a former staff psychiatrist and director of Western State Hospital who had served as interim leader for almost three years.
Barber had replaced Debra Ferguson, who held the job about 17 months after then-Gov. Terry McAuliffe appointed her to succeed Jim Stewart.
Stewart, a former Henrico County mental health official and state inspector general, retired as commissioner at the beginning of 2014, two months after the Deeds tragedy.
"It's not easy work," Deeds said.