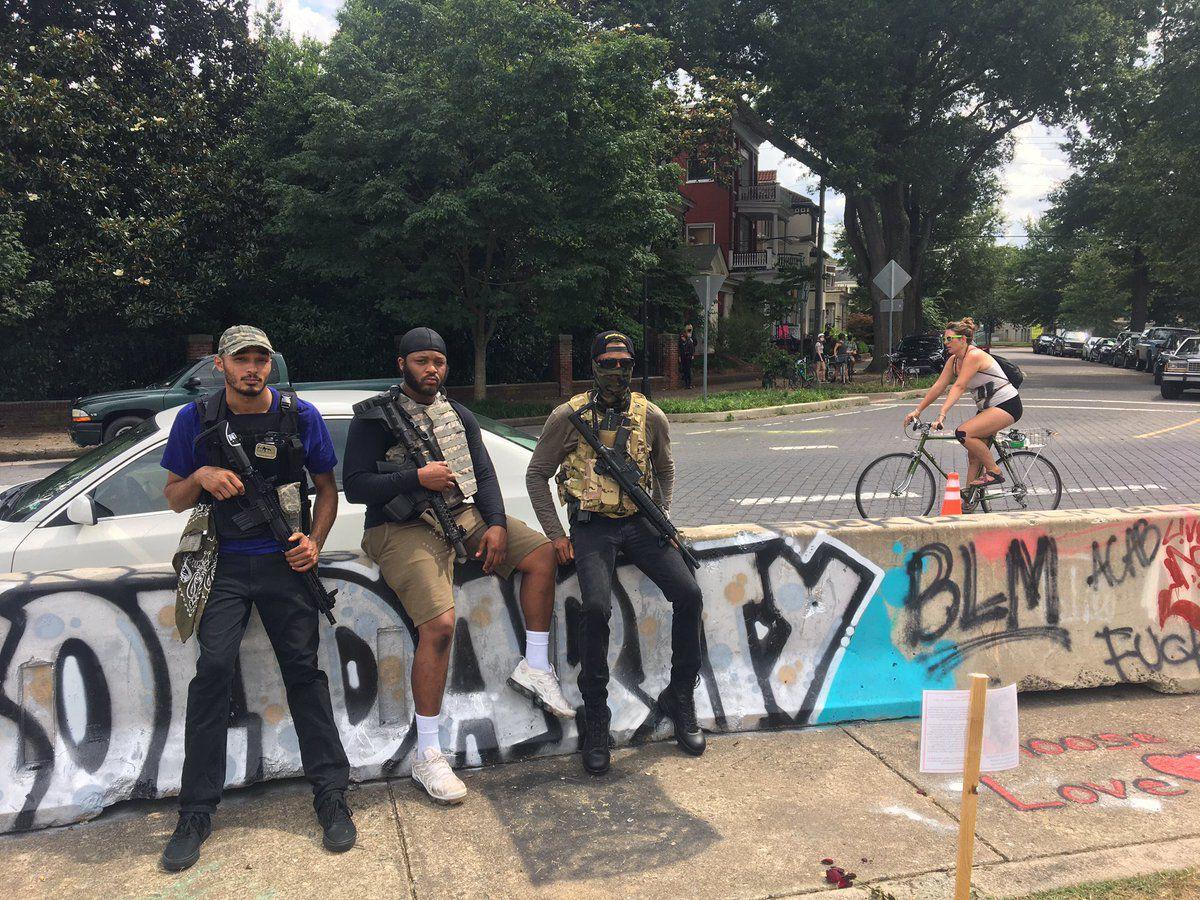 A .45-caliber handgun was tucked in the waistband of Jasmine Kelley's shorts Sunday night as she stood outside the Robert E. Lee statue on Monument Avenue. She purchased it for about $475 last week, and it hasn't been fired yet.
As the protests against racial prejudice began three weeks ago, Kelley, 29, quickly decided her role would be to protect others. She started by calling other protesters to check on their safety. Then, they were given walkie-talkies so they could communicate faster. Then, other protesters started showing up with guns in an effort to protect others.
Now, as groups assemble around the Lee statue every day in what has become a campground-like environment, a loosely organized group of men and women with handguns and rifles patrol the area, intent on keeping visitors safe. They chose not to divulge how many armed participants they have, except to say there are "plenty."
Asked why she felt she needed to carry a gun and participate in a volunteer security force, Kelley's answer was simple:
"I don't want to die," she said.
On Saturday, police arrested Riley O'Shaughnessey, who was carrying a handgun in an abandoned building that overlooks Lee circle. Weeks earlier, a man claiming to be a leader of the Ku Klux Klan drove his car through a group of protesters.
Another man, who declined to give his name but said he was a veteran of the Air Force, stood heavily armed near the Lee circle. An AR-15 semiautomatic rifle was strapped to the right side of his chest, and a Taurus G2C handgun strapped to his left. On his right calf was another Taurus. On the left, a Smith & Wesson.
Every person interviewed for this story said the purpose of his or her weapon was protection.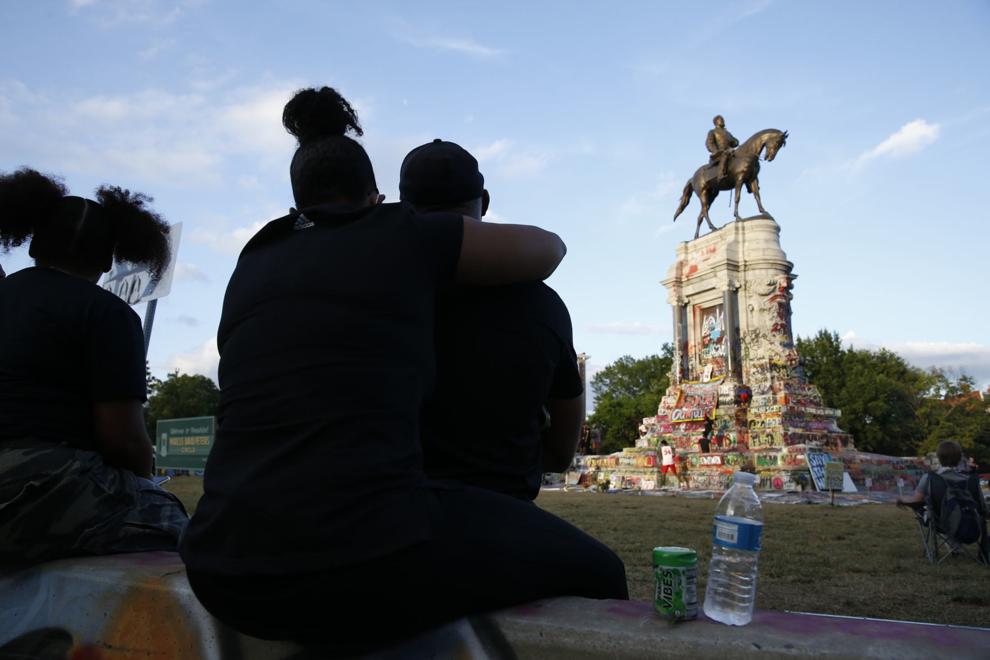 Such extensive weaponry, he said, is partly for show. He wants people to know that he and the other protesters aren't afraid.
"We've turned our last cheek," he said.
The Air Force veteran said he first experienced racial prejudice when he was 17. He was pulled over by a police officer and detained, the officer told him, because he resembled a wanted criminal. But the wanted criminal was taller, darker and had longer hair.
When he participated in a protest May 31, he said a man holding a rifle confronted his daughter, who was holding a Black Lives Matter sign. That's when he decided he needed more protection at protests. In recent weeks, he said he's gone from owning one firearm to 14.
He wants protesters to leave "uninjured, unharmed and enlightened," he said.
As he stood people asked if they could take pictures of him. Other Black people aren't used to seeing a Black man carrying large firearms, he said.
On Saturday, Harry Lee Hancock III arrived at the Lee statue in the faded black 1995 Ford Bronco he named Betty. Pulled behind it was a small silver camping trailer that serves as the security's operations center. Hancock purchased the trailer on Facebook for hunting and camping, but it now holds their supplies and keeps their drinks cold.
The group communicates on walkie-talkies, telling one another what they're seeing, sometimes identifying themselves with code names like Black Widow. Police officers don't appreciate them being there, Hancock said, though one thanked Kelley the other day. They told protesters to move their cars out of the street before they were towed. This brought an angry response, but Kelley calmed the group and asked them to move their cars.
Before the protests began, Kelley worked as a massage therapist for Hand and Stone Massage and Facial Spa. In recent weeks, she's temporarily left her job and assumed a new role in a volunteer makeshift security force. Life has changed dramatically.
"What are you turning me into? I've got a gun on my hip," she said.