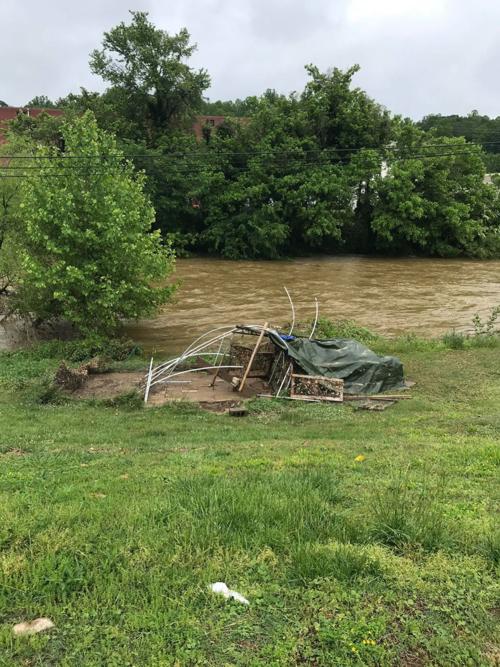 MARTINSVILLE — Elizabeth and Alfredo Huerta figured they would ride out the heavy rains of Sunday night — until they started to notice what appeared to be household items floating past their home.
They live on Riverside Drive in Bassett, across from the EMI building. The land around them had been saturated with the rain of the past week, Elizabeth Huerta said, with puddles of water all around. By Sunday, however, the water seemed to be going back down.
"Then it started pouring down rain" and created what she thinks of as a flash flood. Within an hour, the water "rose back to where it was — and then some."
The couple's house is on a level area of about 12 feet from the back of the house before the yard drops off sloping down to the Smith River. The river rose right up to the edge of that higher part of their yard.
Meanwhile, they had been moving their backyard rabbit hutches higher and higher up on their property to keep out of the water's way.
The couple was "planning to keep an eye on" the raising level of the river, but then they started noticing things floating in it that shouldn't have been — a cooler, a chair, a television. Those things had to have come from inside other people's houses, most likely from the Trent Hill, she said.
At around 9 or 9:30 p.m., "the fire department came knocking, saying we were evacuating," she said.
It took the couple about an hour to leave, with the rabbits in her SUV and the cats in his car. They spent the night at the Martinsville home of her parents, Annette and Paul Huckfeldt.
Alfredo Huerta's family live in the same area, and they were the first to return, at around 8:30 a.m. Monday, she said. They told the couple that "the water was significantly down by then," which she and her husband discovered after returning home mid-day.
Meanwhile, at around the same time, Samantha and Caroline Evans of Fieldale also had to make a quick getaway.
The couple got word Sunday evening that water had nearly reached their house, which is on Dillon's Fork Road.
A neighbor called around 7 or 7:30 that evening, describing the scene and offering that they park in her driveway because they wouldn't be able to get into theirs.
Samantha Evans rushed home — or meant to, anyway. To get to Fieldale, she had to go the long way around, which included taking The Great Road and some side roads. Roads and bridges along the direct routes were closed.
Her wife had beaten her home and already taken out the pets, a cat and a mutt.
The pets were kind of freaked out," Samantha Evans said. "They were happy to be out of the house for sure."
Water was all around them.
"There was a river in the yard," Samantha Evans said. "We were lucky — it was 3 inches from inside the house" but the water didn't go any closer.
The couple spent the night at the Dutch Inn, and things were getting back to normal at home by the time they returned on Monday. Now they've "got to do a lot of cleaning," Samantha Evans said — to the extent they'll probably end up getting a pressure washer for a heavy-duty cleaning.
It was not the way they had planned to spend Samantha Evans' graduation weekend, for sure. Both of them are students of philosophy at Hollins University. Samantha Evans, whose grade point average was 3.94, was set to graduate, but that ceremony was cancelled due to the pandemic precautions. Caroline Evans is slated for a December graduation.
Elizabeth Huerta said the experience was an eye-opener in the importance of making plans for emergencies.
While they were getting their stuff together to evacuate, her husband "was calm and collected … and I was pacing around, trying to determine what was important" to bring along," she said. "I was having a hard time with that."
Holly Kozelsky is a writer for the Martinsville Bulletin; contact her at 276-638-8801 ext. 243.