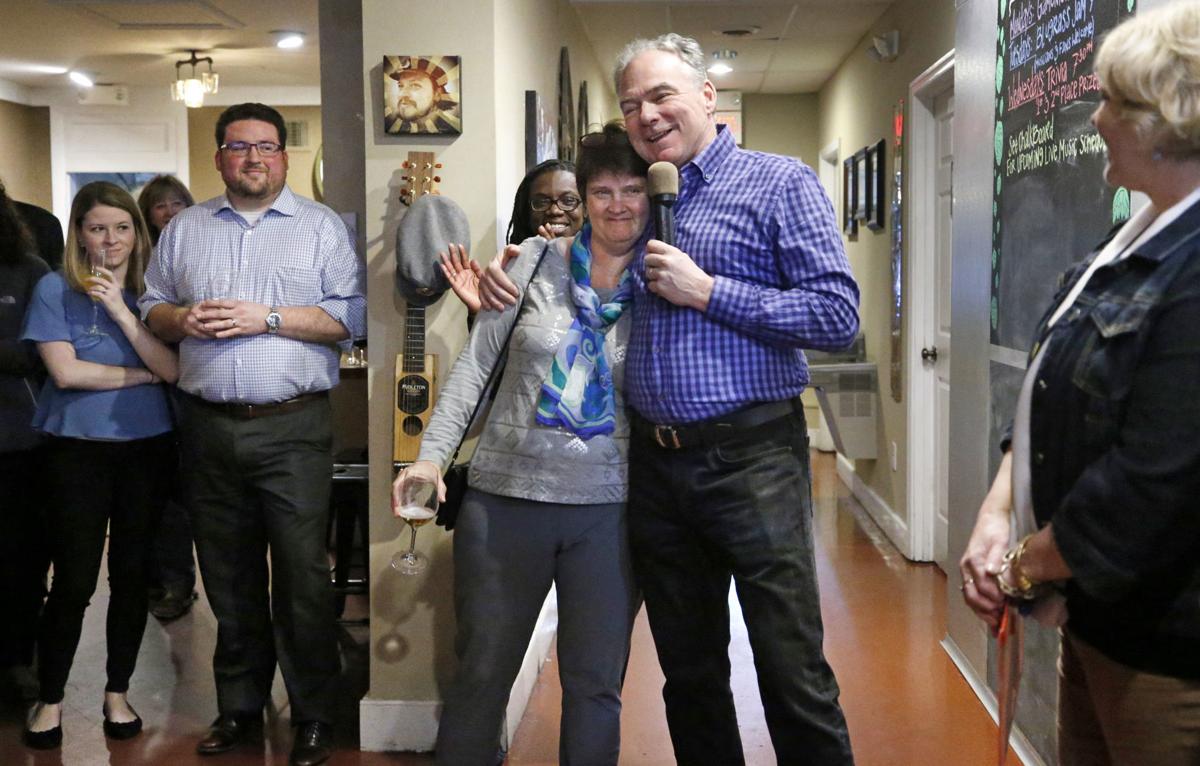 Sen. Tim Kaine, D-Va., and his wife, Anne Holton, interim president of George Mason University, have tested positive for antibodies to the coronavirus, a blood test that indicated previous exposure to COVID-19.
Kaine said he and Holton decided to be tested for potential coronavirus exposure after both fell ill earlier this year. He said he received positive test results 10 days ago and his wife on Friday.
"We're both feeling fine," he said in a ZOOM news call on Thursday after public release of a statement confirming the positive antibody tests. "We both had mild cases."
Kaine is the first member of the Senate known to have tested positive for antibodies to COVID-19, the potentially deadly disease caused by the coronavirus. Sen. Rand Paul, R-Ky., tested positive for the disease itself in March.
He informed Sen. Mark Warner, D-Va., and Gov. Ralph Northam on Thursday morning before issuing the public statement, but not Senate leadership.
"If we had tested positive right now, there would have been an obligation on our shoulders to share that information with people we were in contact with," he said.
Kaine believes now that he had been infected with COVID-19 in mid- to late-March, when he experienced symptoms that he associated with a bout with the flu diagnosed in late February and seasonal allergies. He said he didn't experience any symptoms associated with the virus, such as shortness of breath, fever and a dry cough.
"I thought it was something else," he said.
When Holton became ill at the end of March or beginning of April, they became "more concerned" about a potential COVID-19 infection. They did not seek testing because of a shortage of test supplies at the time, but chose instead to isolate themselves at their home in north Richmond and watch for any worsening of symptoms.
"We were in the house by ourselves," he said.
Kaine said he has been free of symptoms since April 15 and his wife since April 20.
Holton, Virginia's former secretary of education and the daughter of former Gov. Linwood Holton , is serving as interim president of George Mason until July 1, when Gregory Washington, dean of the school of engineering at the University of California-Irvine, will become president of the university, based in Fairfax.
Kaine said he is thankful that his staff of almost 50 people began working remotely on March 12. He said he worked almost alone in his office while the Senate was in session in March, culminating with the adoption of the CARES Act emergency relief legislation on March 26.
The Virginia Department of Health reported Thursday that, to date, there have been a total of 319,600 tests of all types for a 12.7% positivity rate.
The state recorded 285,273 tests for the presence of COVID-19, with a positivity rate of 13.8%. The difference — 34,327 — represents serology tests for antibodies, which critics say skew the numbers that Northam relies on for decisions about lifting restrictions on public life and the economy.
Federal research into COVID-19 antibodies continues. Some health care experts warn that, unlike other viral infections, like measles, a past COVID-19 infection might not mean the person is immune for life.
Kaine intends to return to the Senate when it reconvenes on Monday, although he will not ask his staff to return to the office. He said he is not counting on immunity from COVID-19 because of the antibodies his body produced in response to the disease. He said data on antibody immunity from the disease is "still murky."
"Maybe it gives us some protection, but we don't know how much or for how long," he said.
In his public statement, Kaine said, "While those antibodies could make us less likely to be re-infected or infect others, there is still too much uncertainty over what protection antibodies may actually provide."
"So we will keep following CDC guidelines — hand washing, mask wearing, social distancing," he said. "We encourage others to do so as well. It shows those around you that you care about them."
During his news briefing on Thursday, Kaine was critical of what he called President Donald Trump's "mixed messages" on the guidelines for reopening public life and the economy.
He did not criticize Northam, a fellow Democrat, for failing to wear or carry a face mask when he appeared on the boardwalk at Virginia Beach on Saturday, days before issuing an order requiring people to wear a mask indoors in public places as the state gradually reopens for business.
"I think the governor candidly acknowledged that was a mistake," he said. "We're all finding our way through this and figuring it out. I think the governor was candid."