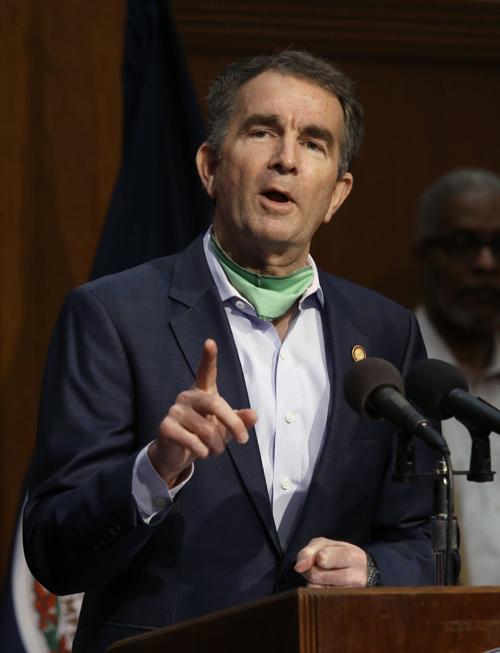 Virginia tax revenue fell by $700 million in April compared with April 2019, a 26.2% drop that is a foretaste of financial losses expected to approach $1 billion by June 30 as the state feels the economic shock from the COVID-19 pandemic that has brought business to a near standstill in the past two months.
The April revenue report Gov. Ralph Northam released on Thursday contains almost as many questions as answers to the economic crisis facing Virginia, which estimates a revenue shortfall up to $2 billion in the two-year budget that takes effect on July 1.
"As anticipated, this is the first monthly revenue report to reflect the significant negative impacts of COVID-19 on the health of our commonwealth's finances," Northam said. "We are facing an unprecedented health and economic crisis, and we must combat this virus before we can begin to repair our economy. My top priorities continue to be protecting the health and safety of all Virginians."
With the deadline for state tax payments pushed back to June 1, the state can't fully measure the effect of the coronavirus-driven economic shutdown on estimated and final income tax payments by self-employed and other Virginians, or corporate income tax collections.
"We're not going to know where we are until late June," Secretary of Finance Aubrey Layne predicted.
Through the first 10 months of the fiscal year, which began July 1, 2019, total state revenues are still up by $231 million, or 1.4%, from the same period a year ago, but that's below the 3.1% growth forecast on which spending in the current fiscal year budget is based.
"We're tracking right on that billion-dollar [revenue loss], maybe a little below," Layne said.
Income taxes withheld from paychecks, accounting for almost two-thirds of state revenues, rose by 4.2% in April, or more than $55 million, but that includes two additional payroll deposit days compared with the same month a year ago. For the first 10 months, payroll income taxes increased by more than $500 million, or 4.7%, but the results are likely to dip in May because of fewer deposit days.
The results contained some good news, as Virginia liquor and alcoholic beverage sales surged under the stay-at-home order that Northam issued on March 30 in response to the public health emergency he declared 18 days earlier. ABC sales revenues rose $331,000 in April and almost $14 million for the first 10 months of the fiscal year, a 9.8% increase that is more than double the growth rate forecast in the budget.
Sales tax collections, accounting for 17% of the state tax revenue, fell by less than a half-percent in April and grew by 7.4%, or about $205 million, in the first 10 months of the year, on track to meet the annual estimate.
"People are still spending," Layne said, citing "hoarding" of groceries and household supplies, as well as strong online sales.
The biggest question remains non-withholding income taxes, paid by sole proprietors, professionals and people who cashed in stock. Those revenues already were expected to fall considerably compared with a year ago, when the state enjoyed a windfall caused in part by the Tax Cuts and Jobs Act President Donald Trump signed into law in late 2017.
In April, non-withholding revenues fell by more than $760 million, or about 62%, compared with the same month a year ago. Those revenues are down $537 million for the first 10 months, or more than 19% compared with the same period last year.
However, the governor moved the tax payment deadline from May 1 to June 1 in response to the crisis, so the state now expects those revenues to arrive in later May or the first half of June.
Layne said that Northam was right not to delay state tax payments to mid-July, as the federal government did. The state's fiscal year ends June 30, while the federal fiscal year ends Sept. 30; he said the June 1 deadline allows the state time to balance the current year budget and gather information for a revenue reforecast that is expected to begin in July.
Northam expects to call the General Assembly back into special session in late summer to revise the state budget based on the new forecast.
With Phase One of the state's business reopening to begin on Friday in most of the state, Layne said, "We're going to have a month and a half to two months to see how the economy opens up."