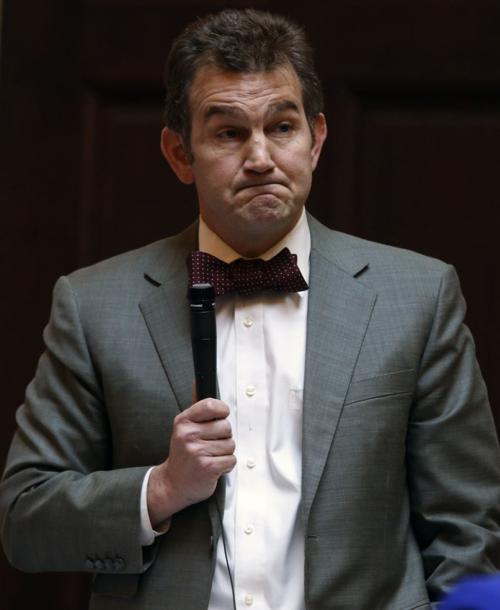 For all the complexity of the 64-page utility bill before the Senate on Thursday, Sen. Chap Petersen, D-Fairfax City, a major critic of the regulatory overhaul that Dominion Energy has pushed through the General Assembly this session, said the vote came down to a simple premise.
Consumers have a right not to be overcharged for basic needs, including electricity, Petersen said.
"You either believe that's right or you don't," he said. "We know right now that we're paying too much for electricity in this state."
Despite the calls by Petersen and Sen. David Suetterlein, R-Roanoke County, for a last-minute derailing of the House version of the sprawling utility bill — which charts a course for thousands of megawatts of new solar and wind projects, big increases in energy efficiency spending, grid upgrades, and expensive distribution and transmission line burial projects, among other provisions — the Senate sent the measure to Gov. Ralph Northam's desk on a 27-13 vote.
Northam's office convened a mediation session early on to iron out details of the bill, including boosting customer credits for past overpayments. He has endorsed past versions. His office did not respond immediately Thursday when asked if he would sign the bill. A Senate version has already passed both chambers.
Seven Republicans and six Democrats opposed the bill, which brings Dominion and Appalachian Power, Virginia's two large electric utilities, under a new rate review scheme that also imposes new restrictions on their regulators at the State Corporation Commission. The legislation allows the two utilities to offset profits above their authorized rate of return with spending on eligible projects, which must be approved by the commission in advance.
Critics contend the scheme will make it all but impossible for the commission to lower base rates and issue customer refunds.
"This legislation will prevent refunds in the future by encouraging the utility monopolies to spend down all the excess earnings into projects," Suetterlein said.
Since the General Assembly passed the 2015 rate freeze law that halted the ability of the commission to lower base rates and issue refunds, the utilities have reaped big windfalls. Dominion's overearnings were estimated by the SCC at $426 million for 2016 alone.
"People say this bill is pro-business. This ain't business. This ain't the free enterprise system. There ain't no risk here," Petersen said. "This is an industry (that) avoids risk at all cost. That's why we get bills like this."
Dominion and its allies in the assembly have said the bill will provide a path to transforming Virginia's grid to better accommodate a surge in renewable energy, to recover more quickly from storms and other outages and to enhance security while keeping base rates stable.
"I believe this is something we can walk away from proud," said Sen. Frank Wagner, a Virginia Beach Republican and a major recipient of Dominion's campaign cash who has helped shepherd the bill through the process over the past two months.
Dominion spokesman David Botkins commended the governor for "his leadership at a crucial time during the process."
"Reducing power outages, having cleaner electric supply and low, stable rates is something we can all get behind," Botkins said.
Opponents did manage to excise a "double-dip" provision that many critics found among the legislation's most objectionable pieces. The rule would have allowed utilities to, in effect, bill customers twice, the SCC and the Virginia Attorney General's Office said. The commission still considers the bill an infringement on its authority to determine whether what could be billions in spending is "actually needed to meet utilities' public service obligations and that their costs are reasonable and prudent," an SCC lawyer said last week.