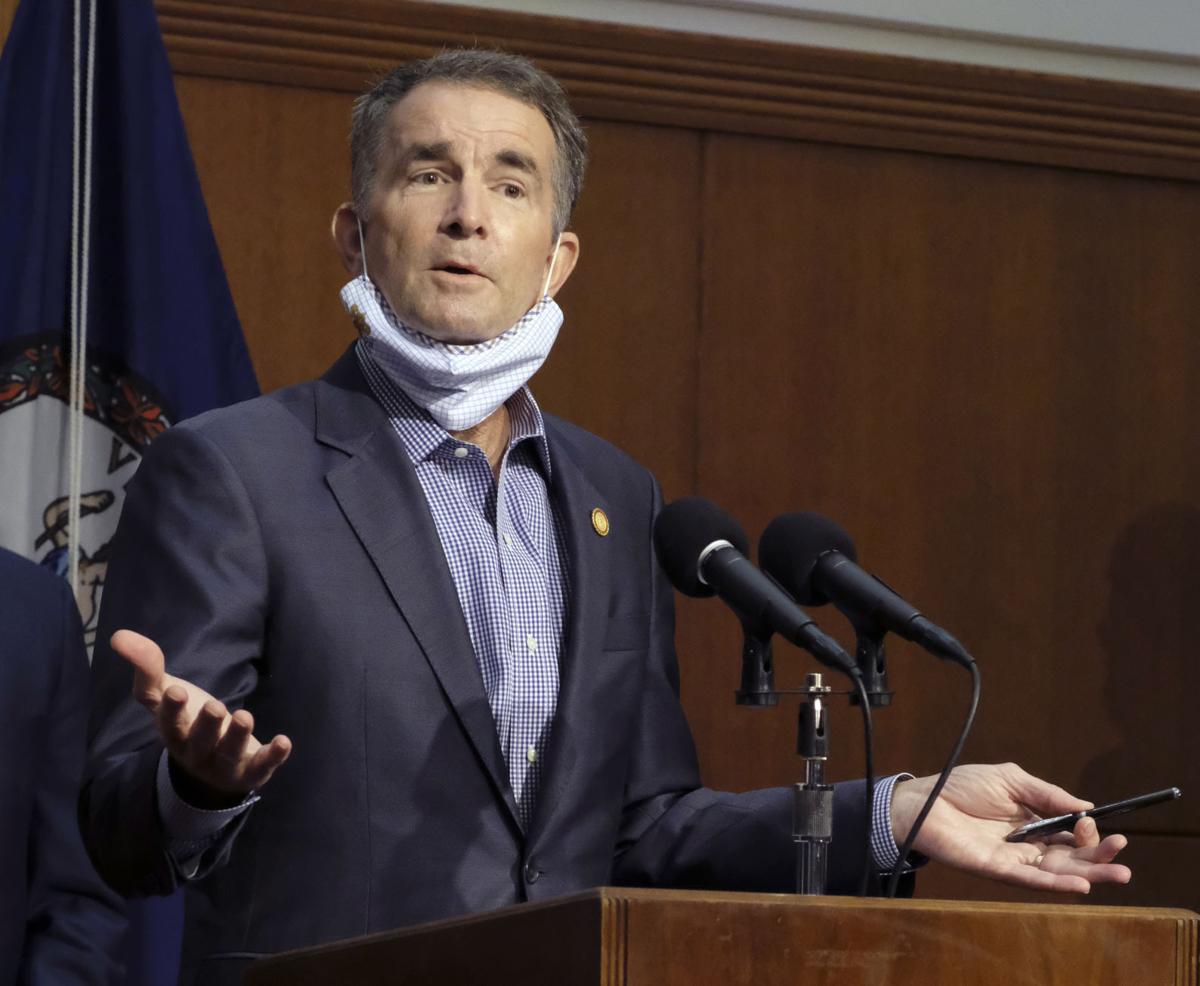 Virginia has avoided the possibility of 800,000 more COVID-19 cases since it started its phased reopening in May, according to researchers from the University of Virginia who are urging residents to stay vigilant amid surges across the state.
Most of Virginia entered the state's first reopening phase on May 15, which allowed businesses to reopen with industry-specific restrictions and let places of worship open at 50% capacity. The state has continued its reopening since, with businesses and schools in Phase Three since July 1.
"We cannot rest on our laurels though," researchers from UVA's Biocomplexity Institute wrote in their weekly update Friday. "Beating COVID-19 is a marathon, not a sprint. It requires all of us to do our part to stop the spread."
Nearly one-third (11 of 35) of Virginia's health districts are experiencing surges of COVID-19 cases, seven of them in the Hampton Roads region. Gov. Ralph Northam on Tuesday announced new restrictions in Hampton Roads, including a limit on public and private gatherings to 50 people, citing the rise in cases. The rest of the state is limited to 250 people.
Just 2.4% of adults in the state have antibodies to COVID-19, indicating that they had the virus at some point, according to preliminary data that the Virginia Department of Health announced on Wednesday.
"The big takeaway from this is the overwhelming majority, a very large portion of the population in the commonwealth, is still vulnerable to infection and we must continue to take precautionary measures," state Health Commissioner Norman Oliver said Wednesday.
UVA modeling released in May after the state entered Phase One projected that new COVID-19 cases would peak at between 5,000 and 9,300 a day in late July or early August. Modeling unveiled Friday says that on its current course, Virginia will have an expected peak for new weekly cases at 12,926 (and growing) by early September.
With a statewide surge that some areas of the state are already experiencing, that number climbs to 15,858.
Virginia's COVID-19 cases have increased by roughly 7,500 in the past week, according to data from the state Health Department. The department reported Friday that 89,888 people have tested positive for the virus, an increase of roughly 1,000 since Thursday.
"People's behavior has maybe relaxed a little bit as the summer season kicked off and people wanted to get closer back to normal," said Bryan Lewis, one of the UVA researchers. "That may have led to increased transmission, certainly in the Tidewater area."
He added: "If you have one part of the state that's a little bit hotter than the rest, it's not going to take long before people move between those areas and re-seed [the virus]."
The researchers said in their report last week that cellphone data shows residents in the state are returning to work and visiting businesses "almost at pre-pandemic levels." That's OK, they said, if residents and businesses follow the state's reopening guidance, but they warned that not doing so could lead to a rollback of reopening plans, which has happened in other states.
Virginia has been under a mask mandate since the end of May, which Madhav Marathe, another UVA researcher, said "there's no denying" has helped.
"Adherence is the real key," Marathe said. "It is easy. It is effective."
The Richmond area has already seen its peak for new confirmed cases, with 1,281 per week during the week ending May 17, according to the model, which also showed that the region has avoided potentially 134,763 additional cases since May 15. The model doesn't stretch into the fall.
"If residents and businesses adhere to good social distancing and infection control practices, new case growth rates may remain low," says the report. "Otherwise, cases may peak in the fall."
Richmond, Northern Virginia and Accomack County delayed entering Phase One on May 15, waiting two weeks longer than other localities to start reopening. Accomack, which is home to two poultry plants, sought a delay after the virus spread in the plants.
After initially declining to release data on COVID-19 at poultry plants, the Virginia Department of Health said Thursday that there have been 15 outbreaks in meat and poultry processing facilities across the state. Those outbreaks have led to 1,216 confirmed cases, 48 hospitalizations and 10 deaths, according to the Health Department. The majority of those cases (720 out of 1,216) were in the state's eastern region, where Accomack's plants are located.
"Initial cases of COVID-19 associated with meat and poultry processing plants were reported in March of 2020. Cases peaked in April and May," the agency said. "Facilities implemented multiple interventions to reduce and prevent viral transmission. Cases have since decreased significantly and only sporadic cases are being reported at this time."
There have been nine confirmed cases in the plants in July, according to Health Department data, down from 24 in June and 550 in May.
(804) 649-6012
Twitter: @jmattingly306