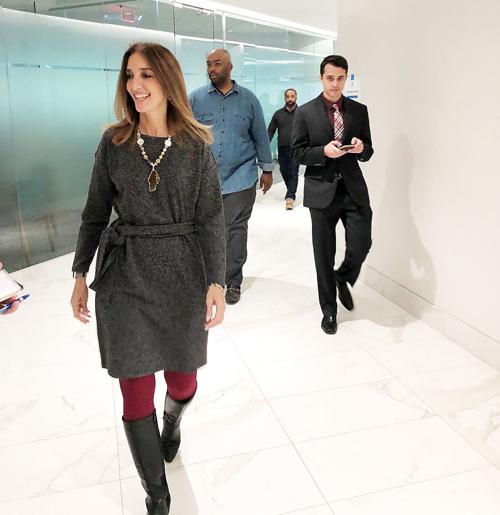 Del. Eileen Filler-Corn, D-Fairfax, will be the next speaker of the Virginia House of Delegates and the commonwealth's first female speaker.
House Democrats gathered at The James Center building in Richmond on Saturday and voted by secret ballot for Filler-Corn, 55, to lead them in January following their Tuesday takeover of the legislature.
Filler-Corn will succeed House Speaker Kirk Cox, R-Colonial Heights, whose party lost control of the House. She is already the minority leader and was challenged by Del. Lashrecse Aird, D-Petersburg, but won a majority on the first round of voting.
The 55 Democratic delegates and delegates-elect also backed Del. Charniele Herring, D-Alexandria, as the new majority leader and Del. Rip Sullivan, D-Fairfax, as the caucus chair. Herring will be the first woman and first African American to serve as majority leader.
Filler-Corn will not become speaker until the House votes in January.
"This is a tremendous honor I don't take lightly, and I'm ready to move forward," Filler-Corn said. "We had a historic night on Tuesday and we had a historic day today, so I'm looking forward to continuing to stand up for the issues and values that are so important to Virginians. And we're thrilled to be in the majority."
Filler-Corn also will be the first Jewish House speaker in Virginia. Although the three incoming House Democratic leaders are all from Northern Virginia, Filler-Corn said, she will ensure geographic diversity in committee chairmanships.
Gov. Ralph Northam said in a statement: "Virginia made history again today." He added: "Together, we will defend the rights of women and minority groups, increase access to a world-class education and health care, fight climate change, and pass common-sense gun safety legislation."
Filler-Corn is the director of government relations at Albers & Company, a lobbying and consulting firm in Arlington. She does not lobby state government and will continue to recuse herself on certain state legislative matters that lobbyists at her firm work on, a spokeswoman said last week.
Aird was viewed by some Democrats as being more progressive than Filler-Corn. Democrats who backed Aird also said it was time for an African American to hold power.
"While today's outcome was disappointing, I could not be more proud from the outpouring of support, hope, and belief that was shown in my candidacy!" Aird tweeted after the vote. "I strongly believe that although I was unsuccessful, I know that for any young, black woman that one day dreams of rising to leadership the road will be that much easier."
"I remain hopeful and optimistic about what we can accomplish as a party now unified behind a great leader in Speaker-designee Eileen Filler-Corn."
Del. Lee Carter, D-Manassas, who backed Aird, emerged from the meeting and told reporters, "Change is hard."
The current House majority leader, Del. Todd Gilbert, R-Shenandoah, issued a statement in which he congratulated Filler-Corn, but said Republicans are concerned that Democrats picked a leadership team "centered in the deepest parts of Northern Virginia." Gilbert said the interests of all regions "deserve a fair hearing" in the legislative process.
In a separate statement, Gilbert said legislators will not be taking up gun bills Nov. 18, as planned, noting that "any legislation to come out of the special session" led by the current Republican majority "would likely be met with a veto."
Dels. Luke Torian, D-Prince William, and Ken Plum, D-Fairfax, also said last week that they were putting in their names for speaker.
"To me, everyone is a leader in that room," Herring said. "We are having fun today, and we are unified and ready to get to work."
Del. Sam Rasoul, D-Roanoke, made a bid for majority leader and lost.
"We're super excited to have a majority now. I think so many good things will be done, looking forward to being able to advance a strong progressive agenda," he said. "That is clearly the mandate that came from Virginians and from the Democratic base."
Del. Delores McQuinn, D-Richmond, said she was excited to congratulate the first female House speaker.
"It's a historic moment for all of us, and it's a time for us to celebrate," she said, declining to say whom she supported. "Women have a different perspective on some things, and we get to be a part of that in terms of the leadership."