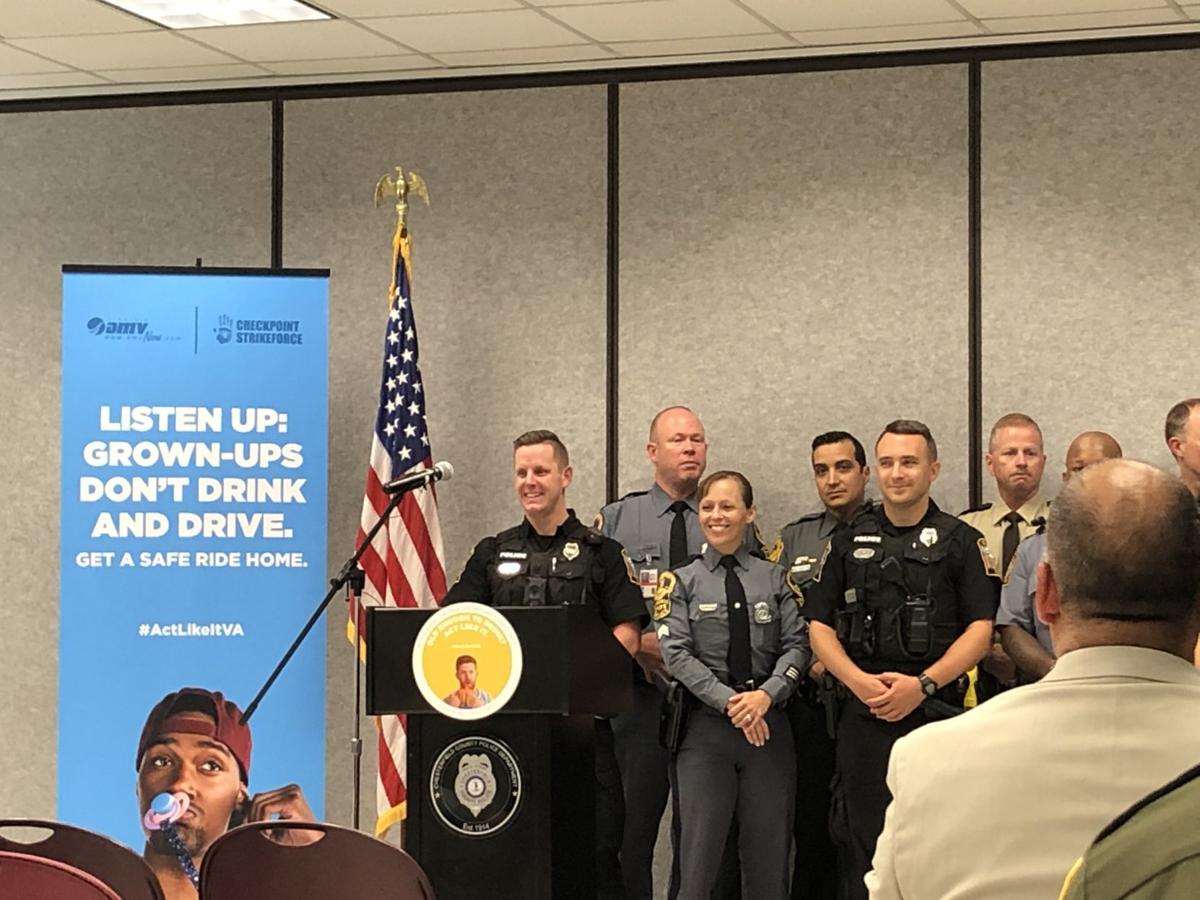 Law enforcement agencies across Virginia will monitor 120 checkpoints with 640 saturation patrols as part of the state's 18th annual Checkpoint Strikeforce DUI enforcement and outreach campaign in the weeks before Labor Day, the largest effort in years. The campaign hopes to combat a 12% rise from 2017 to 2018 in alcohol-related traffic deaths.
In the Richmond region, 21 agencies will be operating 34 checkpoints with 146 saturated patrols. Statewide, 98 agencies, including the Virginia State Police, are participating. DMV officials did not immediately provide the exact locations for the checkpoints.
This year's campaign, which includes a 30-second advertising spot and encompasses advertising on social media, through streaming, on radio and on digital billboards, is targeted at men ages 21 to 35, 49% of whom report that they have driven drunk or been in a car where the driver was drunk, said George Bishop, Virginia's DMV deputy commissioner.
The Checkpoint Strikeforce campaign will occur in waves around holidays including Halloween and Christmas, when drunken-driving incidents are highest. The Labor Day wave started Aug. 16 and will run until Sept. 3.
Funding for the program goes to localities through a federal grant from the Department of Motor Vehicles.
Kurt Erickson, president of the Virginia-based Washington Regional Alcohol Program, said the 12% increase in drunken-driving fatalities is the largest in at least five years, with 278 deaths in 2018.
"We are stepping up all efforts to have as much of a tightening of the net against drunk driving in terms of law enforcement being deployed," Erickson said. The numbers [of checkpoints] are huge ... but it's necessary because unfortunately those numbers, this year, have gone up."
He said he is hoping that the double-digit spike in alcohol-related traffic deaths is an anomaly, and is already encouraged that Chesterfield County is on pace to have fewer deaths in 2019, with eight thus far after experiencing 20 last year.
Chesterfield County Police Chief Jeffrey Katz said travelers will be able to notice the increase in law enforcement presence on the roads, and asked drivers to give police officers adequate space if they see their lights.
The penalties for drunken driving in Virginia include a mandatory ignition interlock installation on the offender's vehicle, up to a year of driver's license suspension and jail time, and up to $2,500 in fines, Henrico County Commonwealth Attorney Shannon Taylor said.
"Law enforcement in Virginia will be on the roads," Taylor said. "And they will be watching."