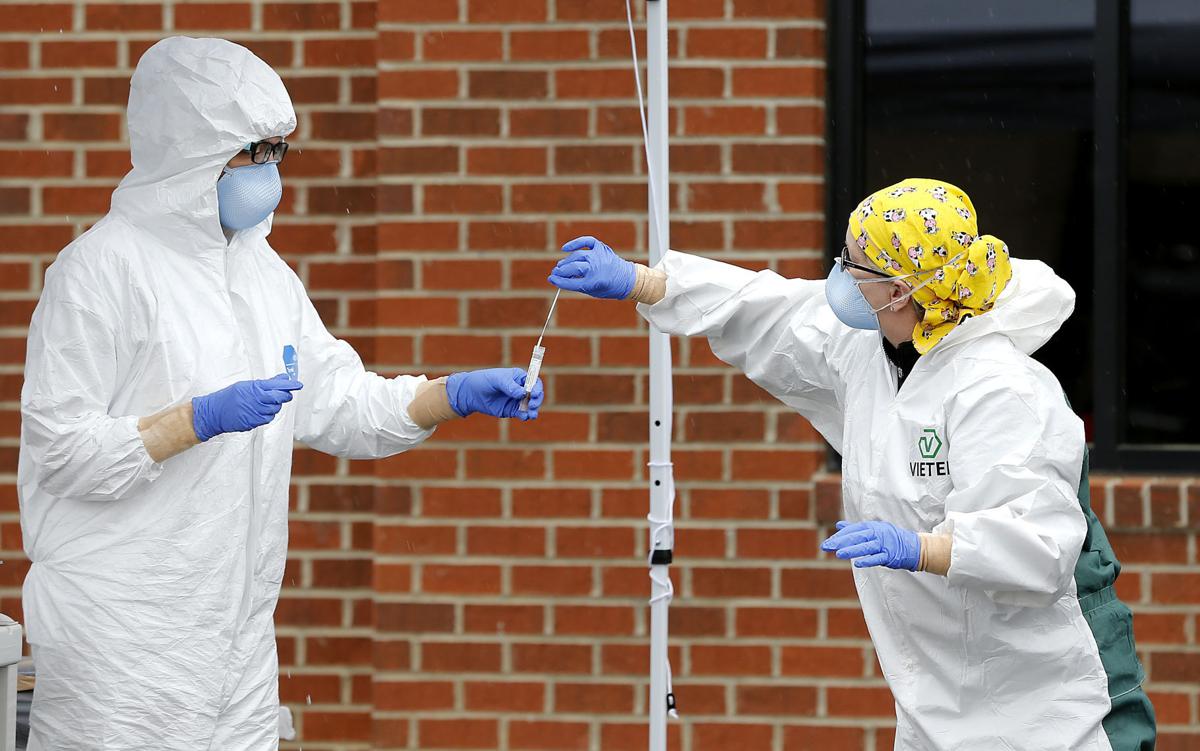 Celeste Kelly says she had to wait 17 days to receive her COVID-19 test results, which were negative.
As public activity steadily rises and the bustling fall season nears for schools and businesses, lengthy waits for COVID-19 testing continue to plague Virginia.
National backlogs for COVID-19 test results have for weeks resulted in waits of 10 days or longer for many Virginians, state health experts acknowledge, straining government efforts to contain the spread of the coronavirus by tracing known cases, and frustrating efforts by individuals and businesses to follow safety guidelines.
The source of the delays for publicly available testing rests with shortages at national labs, but health officials in Virginia are pursuing workarounds to abate the impact of the delays. They include a new multistate agreement to negotiate the purchase of quicker tests, guidance to labs to batch tests for low-risk groups and a new app to help notify people who may have been exposed to the virus.
"Delays continue. Things have improved a little bit in the last few days, particularly at hospitals and public health settings," said Dr. Parham Jaberi, who is leading the state's COVID-19 testing task force. "From our data, it's still the turnaround time in the commercial sector. Because the state doesn't have control over those, we do what we can."
The state's workarounds could take weeks to take root. For now, individuals and businesses in Virginia continue to feel the strain.
Celeste Kelly waited 17 days from the time she was swabbed to receive the results of her COVID-19 test.
Kelly, who was negative, promptly sought testing for the virus after a friend undergoing major surgery asked Kelly to be by her side. The surgery, scheduled promptly, was six days away.
"I immediately logged on and scheduled a COVID test with a CVS Minute Clinic in the Short Pump area. I was able to get a test that day — it was a half-hour away, but I was able to get it the same day," said Kelly, 26.
She was tested on July 15 and was told she would get the results in six to 10 days.
Given that Kelly was young, healthy and without symptoms, her sample was likely among those ranked in the lowest priority category, according to state and federal guidelines, which clinics and national labs say they are largely following.
Fifteen days later, staff at the clinic where Kelly was tested could not share any information about her results, or how much longer she would need to wait.
"At that point, the wait had been longer than the time you're asked to quarantine," said Kelly, who had been isolating as a precaution and supporting her ailing friend from a distance during a critical recovery time. "I talked to my friend, and she said, 'Just come. I need you to come.' "
The stakes, while different, are high for businesses, too.
When Lee Gregory's Church Hill restaurant, Alewife, reopened for in-person dining in June, it found a precarious situation.
With cases rising slowly in Richmond, Gregory discovered that when an employee feared a possible exposure to the virus outside of work, or a diner later tested positive, it proved impossible to quickly test the entire staff as a precaution.
Without the certainty of a healthy staff, Gregory said he faced a daily moral quandary about whether to open his dining room. If the restaurant closed to test everyone, it could be a week or more before results returned. In an effort to minimize exposure, Alewife announced July 20 it would return to takeout service only.
"For us specifically, that was a big part of our decision to close back down," Gregory said. "We shut back down to try to lessen some of the impact of the virus, but also because you can't get tested or get a test back on time."
Gregory said he is looking forward to a time when quick testing allows his business to operate on firmer ground in challenging times. If an employee did turn up positive, the restaurant still might have to close due to a shortage of hands, but if not, it could operate with more certainty.
"A quicker turnaround time, good Lord, at least would let you sleep at night," he said. "It would make your decision a lot easier from a health standpoint."
The Virginia Department of Health acknowledged delays in a letter to physicians on July 13, urging them to "ensure testing of priority groups," according to the agency's guidance.
The agency has so far declined to issue public guidance asking people to forgo testing if they do not fall into a high-risk group or have symptoms — a measure that would be reminiscent of the early days of the pandemic.
Jaberi, the COVID-19 testing task force leader, said the state has not ruled out the measure but that its usefulness would be limited without a concerted national strategy, since many of the labs facing backlogs serve multiple states at once.
Jaberi said prioritization at the hospital level, where wait times had gone from a single day to three days in mid-July, has been a successful strategy to help correct the testing delays.
He said that based on conversations with hospital executives, hospitals have begun to prioritize testing for high-risk patients and those who are expected to interact with others, such as people staying overnight.
"As testing delays were becoming longer, individuals were presenting to the emergency room for testing, when the best place may have been an outpatient setting," Jaberi said.
Turnaround times for Virginians who are presenting mild symptoms, have traveled from a high-risk area or are simply looking for peace of mind remain elevated.
Jaberi said the average has improved from six days to four. He said that number suggests that while high-priority patients may be waiting two to three days, "that may mean someone on the other end is going to take 10 days."
Jaberi cited a study out of the Netherlands that found testing delays beyond three days drastically reduce containment of the virus, with few returns past five days.
"If you're waiting 14 days, I don't think it's completely useless, but it's a diminishing return," he said.
'Cornerstone' vs. reality
Jaberi acknowledged that urging the broad public to seek testing as a containment strategy is butting heads with the reality on the ground.
People "may not be able to afford to stay home and miss work without knowing the results of their test," he said.
The issue, Jaberi said, is part of ongoing conversations among members of the state's testing task force, which includes government officials, hospital executives and representatives from major labs.
"We're trying to pose that question," he said. "For now, the public health message is, you should get tested. That's the cornerstone."
Jaberi said members of the testing task force and the state's top officials, including Gov. Ralph Northam and Health Commissioner Norman Oliver, have begun promoting the idea of pool testing — a process newly approved by the federal government that allows for labs to test several samples at once, and perform individual tests if the pool test comes back positive.
"Every lab knows their technical limitations. ... We're definitely looking at this as a viable means to ... decrease the delay and turnaround times," he said.
Virginia health officials are also pursuing a new type of COVID-19 test as a workaround to lengthy wait times for traditional diagnostic COVID-19 tests.
The state has joined a six-state compact in partnership with the Rockefeller Foundation that will negotiate with two private testing companies to purchase 500,000 antigen tests for Virginia. The firms developing the tests are Becton, Dickinson and Co. of New Jersey and California-based Quidel.
Antigen tests can deliver results within 15 minutes of a sample being inserted into the processing machine. But they tend to be less reliable than other tests.
"That is the one major drawback when compared to some of the other molecular tests with higher sensitivity," Jaberi said.
Still, he said state officials see the speed as a critical asset in the current landscape, and more so as back-to-school season approaches and offices amp up work after the slower summer months. It could also help the state's contact tracing program, which tracks the known contacts of a positive case and alerts people potentially exposed.
Marshall Vogt, who is leading the tracing program, said ongoing delays mean that by the time the state reaches a known positive case, or any of their contacts, it may have been two weeks or longer. That can diminish the effectiveness of the program.
"What is really turning our attention to antigen testing is getting the result very quickly. The benefit for a workplace or a school setting is knowing immediately who is positive, and quickly isolating," Vogt said.
"While it may not be as accurate as a [diagnostic test], that advantage may outweigh the fact that they are not as sensitive."
Asked on Wednesday, Northam could not say when Virginia would begin receiving its 500,000 tests. Jaberi said negotiations are ongoing, and no final deal has been reached. Once that happens, the state's testing task force will begin discussing how to best distribute the new resource.
"This is more an announcement to let our Virginians know we're working on this problem," Jaberi said. "They want to know what we're doing about delayed turnaround times, and this is just another strategy we're pursuing."
(804) 649-6254
Twitter: @MelLeonor_